University Hospital Marburg UKGM
Department of Adult and Pediatric Radiation Therapy, Radiation Oncology (

590780

)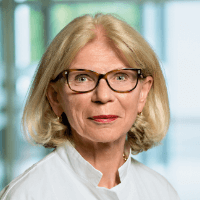 Prof. Dr. med.
Rita Engenhart-Cabillic
Specialized in: adult and pediatric radiation therapy, radiation oncology
About the department
According to the Focus magazine, the Department of Adult and Pediatric Radiation Therapy, Radiation Oncology at the University Hospital Marburg UKGM ranks among the best German medical facilities in the field of radiation therapy!
The department offers all modern types of radiation therapy for cancer patients. The unique offer of the department is proton therapy, which is carried out within the framework of the specialized center. The department treats about 2,000 patients every year. Preference is given to an individual approach to each clinical case. Therapy is provided in strict accordance with the protocols of the German Cancer Society. The department is headed by Prof. Dr. med. Rita Engenhart-Cabillic.
In addition to such advanced forms of radiation therapy as intensity-modulated radiation therapy, volumetric modulated arc therapy, 3D conformal radiation therapy, the department's tasks include stereotactic procedures on the brain, lungs, liver, as well as all forms of brachytherapy. The department's doctors also specialize in the treatment of benign joint diseases.
To conduct effective radiation therapy, the department has cutting-edge technical equipment. This includes 3 modern linear accelerators manufactured by SIEMENS and ELEKTA (PINNACLE radiation planning program based on CT scans) for electron and photon irradiation, stereotactic equipment by Leibinger for treating brain tumors, which works in conjunction with RADIO SURGERY and VIRTOUSO irradiation planning systems, medical devices by Nucletron for intracavitary and interstitial radiation therapy (PLATO and Ocentra Prostate planning systems). When conducting radiation therapy for prostate tumor, the location of the tumor and nearby organs is determined by rectal ultrasound. The amount of "radioactive seeds" with iodine-125 for prostate cancer treatment is determined using the Varian VariSeed radiation planning system.
The service range of the department includes:
3D conformal radiation therapy
Palliative radiation therapy

Lung, liver and brain metastases
Lung tumors
Bleedings caused by tumors (for example, gynecological ones)

Brachytherapy

Prostate cancer
Gynecological tumors (for example, uterine cancer)
Anal cancer
Esophageal tumors
ENT tumors

Stereotactic procedures (radiosurgery)

Metastases
Brain tumors (for example, gliomas, ependymomas and medulloblastomas)
Benign brain tumors (for example, meningiomas, neuromas)
Pituitary adenomas
Vascular malformations

Intensity-modulated radiation therapy

Certain types of ear, throat and nose tumors
Certain types of prostate cancer

Irradiation for benign diseases

Heel spur
Rhizarthrosis and arthrosis of other joints of the hands and fingers
Golfer's elbow/tennis elbow
Frozen shoulder
Knee arthrosis
Hip arthrosis

Intraoperative radiation therapy
Image-guided radiation therapy
Proton therapy (within the framework of a specialized center)

Head tumors

Meningiomas
Gliomas of WHO Grade II-III, residual or recurrent glioblastoma
Pituitary adenomas (inoperable, untreatable with radiosurgery)
Craniopharyngioma
Acoustic neuroma (inoperable, untreatable with radiosurgery)
Cerebral arteriovenous malformations

Otolaryngological tumors

Adenoid cystic carcinoma
ENT tumors, especially nasal tumors

Thoracic organs

Lung cancer (inoperable I-III stages)
Pleural mesothelioma (inoperable I-III stages)
Esophageal carcinoma

Abdominal tumors

Hepatocellular carcinoma
Pancreatic cancer (localized, progressive)

Pelvic tumors

Gynecological malignancies
Prostate cancer
Recurrence of colorectal cancer

Sarcomas

Paraspinal sarcomas/carcinomas
Skull base chordoma/chondrosarcoma
Axial skeleton osteo-/chondrosarcomas (inoperable)
Trunk soft tissue sarcomas/chordomas
Limb soft tissue sarcomas/chordomas

Pediatric tumors

Ependymomas
Retinoblastomas
Medulloblastomas
Gliomas
Lymphomas
Sarcomas
Neuroblastomas
Germ cell tumors
Craniopharyngiomas
Other tumors in children

Other types of radiation therapy, other diseases
Photo of the doctor: (c) UKGM - Universitätsklinikum Gießen und Marburg GmbH
Department of Adult and Pediatric Radiation Therapy, Radiation Oncology.
University Hospital Marburg UKGM:

Request more information now.
We will be happy to answer all your questions.
---