University Hospital Marburg UKGM
Department of Cardiology, Angiology and Internal Intensive Care (

81

)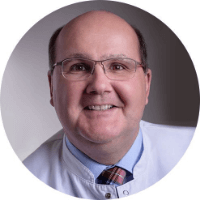 Prof. Dr. med.
Bernhard Schieffer
Specialized in: cardiology, angiology, internal intensive care
About the Department of Cardiology, Angiology and Internal Intensive Care at University Hospital Marburg UKGM
According to the prestigious Focus magazine, the Department of Cardiology, Angiology and Internal Intensive Care at the University Hospital Marburg UKGM ranks among the top medical facilities in Germany specializing in the treatment of heart diseases!
The department offers the full range of modern non-invasive and invasive studies, as well as all interventional procedures and supportive care. Clinical practice includes intensive care for emergency cardiac conditions, modern computer catheter procedures for arrhythmias, implantation of pacemakers, defibrillators and devices for resynchronizing cardiac therapy. The department's specialists also have excellent qualifications in the treatment of coronary artery stenosis. Particular attention is paid to the catheter-assisted therapy for heart valve diseases. The Chief Physician of the department is Prof. Dr. med. Bernhard Schieffer.
The department is the first certified Cardiac Arrest Center in the land of Hesse. In addition, the department includes a Section for Heart Failure and a Chest Pain Unit certified in accordance with the requirements of the German Society of Cardiology. Thus, the department has optimal conditions to provide high-quality and effective care to patients with diseases of the cardiovascular system.
The department's range of medical services includes:
Catheter-assisted diagnostics and therapy

Emergency care for patients with cardiovascular failure, heart attack and cardiogenic shock (implantable mechanical heart support systems, including Impella micropump, and a mobile heart-lung machine)
Invasive diagnostics and treatment of diseases of the coronary arteries, heart valves and ventricles (all modern methods of interventional cardiology, including implantation of drug-eluting stents, fractional flow reserve measurement, intracoronary tomography, rotablation, high-risk coronary interventions using implantable heart support systems)
Interventional treatment of structural heart diseases (transcatheter aortic valve implantation, Valve-in-Valve procedure for the degeneration of biological prosthetic heart valves, closure of a persistent oval window or atrial septal defect, closure of the atrium in atrial fibrillation, MitraClip procedure for mitral valve insufficiency)

Diagnostics and treatment of heart rhythm disturbances (arrhythmias)

Long-term ECG
Event recorder implantation
Electrophysiological studies
3D mapping systems

Diagnostics and treatment of all diseases of arterial and venous vessels, including rare pathologies in this field
Imaging diagnostics

Echocardiography (ultrasound of the heart), including with contrast enhancement
Stress echocardiography
Transthoracic echocardiography
Transesophageal echocardiography
Functional diagnostics

Functional diagnostics

Ergometry
Pacemaker functioning monitoring
Stress echocardiography
Spiroergometry
Echocardiography
Transesophageal echocardiography
Electrocardiography
Doppler scanning
Screening of the vessels of the lower and upper extremities, carotid artery

Emergency cardiological care: imaging diagnostics (CT, MRI), catheter-assisted therapy, replacement maintenance therapy (Impella system, extracorporeal membrane oxygenation, hemofiltration)
Diagnostics and treatment of rare cardiovascular diseases
Diagnostic and treatment of lipid metabolism disorders (within the framework of the specialized center)
Other diagnostic and therapeutic options
Photo of the doctor: (c) UKGM - Universitätsklinikum Gießen und Marburg GmbH
Department of Cardiology, Angiology and Internal Intensive Care.
University Hospital Marburg UKGM:

Request more information now.
We will be happy to answer all your questions.
---
Certificates