University Hospital Marburg UKGM
Department of Nephrology (

85

)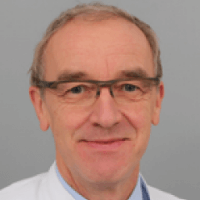 Prof. Dr. med.
Joachim Hoyer
Specialized in: nephrology
About the Department of Nephrology at University Hospital Marburg UKGM
The Department of Nephrology at the University Hospital Marburg UKGM offers the full range of medical services in this field and specializes in the treatment of kidney diseases and hypertension. The department's tasks also include the diagnostics and treatment of diseases requiring intensive care (acute kidney and multiple organ failure), chronic kidney failure (dialysis and other methods of detoxification), kidney transplantation and combined kidney and pancreas transplantation. The department is headed by Prof. Dr. med. Joachim Hoyer.
An important area of the department's work is transplant medicine. The department specializes not only in transplanting kidneys from deceased donors to adults and elderly patients (Eurotransplant Program), but also in transplanting kidneys from living donors, combined kidney and pancreas transplants, and kidney transplants in case of blood group incompatibility.
The department has all modern methods, which, combined with excellent qualifications and colossal experience of doctors, allows to regularly demonstrate high rates of treatment success.
The department's range of medical services includes:
Diagnostics and treatment of kidney diseases

Nephrotic syndrome
Acute kidney failure
Glomerulopathies
Tubulointerstitial diseases
Vascular diseases with renal artery lesions
Chronic terminal kidney failure
Water-electrolyte imbalance

Diagnostics and treatment of autoimmune diseases

Churg-Strauss syndrome
Glomerulonephritis
Goodpasture syndrome
Microscopic polyangiitis
Rheumatic fever
Systemic lupus erythematosus
Hypersensitivity vasculitis
Granulomatosis with polyangiitis (Wegener's granulomatosis)

Dialysis procedures

Chronic hemodialysis
Peritoneal dialysis
Plasmapheresis, plasma separation
Immunoadsorption

Transplant medicine

Kidney transplantation from living and deceased donors
Kidney-pancreas transplantation
Kidney transplantation in case of blood group incompatibility

Other medical services
Photo of the doctor: (c) UKGM - Universitätsklinikum Gießen und Marburg GmbH
Department of Nephrology.
University Hospital Marburg UKGM:

Request more information now.
We will be happy to answer all your questions.
---
Certificates