University Hospital Marburg UKGM
Department of Obstetrics and Perinatal Medicine (

88

)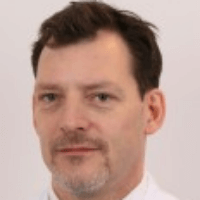 Dr. med.
Siegmund Köhler
Specialized in: obstetrics, perinatal medicine
About the Department of Obstetrics and Perinatal Medicine at University Hospital Marburg UKGM
According to the Focus magazine, the Department of Obstetrics and Perinatal Medicine at the University Hospital Marburg UKGM ranks among the top German medical facilities specializing in obstetric services!
The department offers patients comprehensive management of pregnancy, childbirth and postpartum care. The department's specialists have rich experience in the field of high-risk pregnancies, multiple pregnancies. About 1,600 babies are born annually in the department, which testifies to the credibility of the medical facility and a high credit of trust from patients. The department is headed by Dr. med. Siegmund Köhler.
The department's main focus is medical care for women with uncomplicated pregnancy. The purpose of the department's employees is to create a calm and relaxing atmosphere for women during pregnancy, childbirth and the early postpartum period. Due to the high qualification of employees and excellent technical equipment, the department is able to provide competent support and medical care in the case of complications. Non-invasive measures, for example, listening to heart sounds during childbirth through the mother's abdominal wall are one of the reliable types of childbirth monitoring.
The department has three progressive delivery rooms, three rooms for regular examinations of pregnant women, two rooms for water birth and other special rooms. In addition to childbirth in water, the patients are offered other alternative types of childbirth, for example, vertical childbirth on a special chair, childbirth in a standing position. With appropriate indications, the doctors perform a cesarean section. The specially equipped operating room is also available for this purpose. In order to relieve pain during childbirth, both classical anesthesia methods and alternative types of pain therapy (acupuncture, homeopathic medicines, massage, special breathing techniques) are used.
The service range of the department includes:
Prenatal diagnostics and therapy

Ultrasound examinations

Non-invasive diagnostics of the first trimester (11-14 weeks) for the assessment of risk of chromosomal abnormalities in the fetus, taking into account mother's age, blood counts, as well as other parameters (for example, blood flow assessment)
Examinations for the exclusion of bone malformations and fetal growth control
Fetal echocardiography (cardiac ultrasound)
Fetal growth control and Doppler ultrasound (umbilical and placental blood flow assessment)
3D ultrasound examination

Invasive diagnostics

Amniocentesis (amniotic fluid testing)
Chorionic villus sampling
Cordocentesis (cord blood testing)
Amniotic drainage (removal of excess amniotic fluid)

Intrauterine interventions (all types of therapy in the womb)

Punctures
Drainage placement
Intrauterine fetal blood transfusion

Ultrasound diagnostics

Ultrasound examinations of the first, second and third trimesters
Doppler ultrasound (blood flow testing)
Fetal echocardiography
3D ultrasound
Control examinations in case of high-risk pregnancy

Сhildbirth (including alternative types of childbirth) and postpartum care for mother and child
Pain therapy during childbirth (classic and alternative methods)
Other medical services
Photo of the doctor: (c) UKGM - Universitätsklinikum Gießen und Marburg GmbH
Department of Obstetrics and Perinatal Medicine.
University Hospital Marburg UKGM:

Request more information now.
We will be happy to answer all your questions.
---
Certificates