University Hospital Marburg UKGM
Department of Neuropathology (

89

)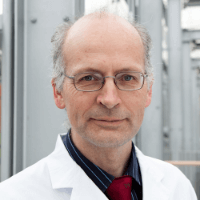 Prof. Dr. med.
Axel Pagenstecher
Specialized in: neuropathology
About the Department of Neuropathology at University Hospital Marburg UKGM
The Department of Neuropathology at the University Hospital Marburg UKGM deals with the diagnostics of pathological changes in the central and peripheral nervous system, brain meninges and skeletal muscles. The main task of the department is to make an accurate diagnosis based on the histological examination of tissues. Histological examination is especially important in cancer diagnostics. The patients receive medical care from the experienced and highly competent specialists, who make every effort to provide first-class medical service. The department is headed by Prof. Dr. med. Axel Pagenstecher.
The department also offers an innovative diagnostic method of immunohistochemical study, which improves the accuracy and reliability of tissue testng. Another department's priority is molecular biological studies, which are often used in neuropathological diagnostics. Depending on the disease and the specific situation, studies are being carried out on the genetic material (DNA) of tumor tissues, transcribed RNA or proteins. Some types of studies can be used to diagnose other, non-neuropathological, oncological diseases, such as skin or intestinal cancer.
The service range of the department includes:
Histological examination of tissue samples of the brain and spinal cord, bones of the skull, spine, peripheral nerve endings and skeleton muscles
Histological examinations of skin and intestinal samples
Muscle and nerve tissue biopsy
Molecular diagnostics
Cerebrospinal fluid testing
Electron microscopy for the diagnostics of inflammatory diseases of the central nervous system (for example, autoimmune diseases, infections), diseases of the peripheral nervous system and skeletal muscles (for example, mitochondrial diseases), as well as ciliopathies
Autopsy
Other examinations
Photo of the doctor: (c) UKGM - Universitätsklinikum Gießen und Marburg GmbH
Department of Neuropathology.
University Hospital Marburg UKGM:

Request more information now.
We will be happy to answer all your questions.
---
Certificates