Hematuria Diagnosis (program ID:

218295

)
University Hospital Marburg UKGM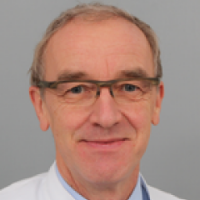 Head Physician
Prof. Dr. med.
Joachim Hoyer
Specialized in: nephrology
Department of Nephrology
Program includes:
Initial presentation in the clinic
clinical history taking
review of medical records
physical examination
laboratory tests:

complete blood count
general urine analysis
biochemical blood test
inflammation markers (CRP, ESR)
blood coagulation analysis (aPTT, PT, INR)
tumor markers

ultrasound of the abdomen and pelvic organs
cystoscopy (with biopsy if indicated clinically, additional cost is 2500€)
nursing services
services of all leading experts
explanation of individual treatment plan
Price:
Type of program :
Expected duration of the program:
You may also book

Price:
About the department
The Department of Nephrology at the University Hospital Marburg UKGM offers the full range of medical services in this field and specializes in the treatment of kidney diseases and hypertension. The department's tasks also include the diagnostics and treatment of diseases requiring intensive care (acute kidney and multiple organ failure), chronic kidney failure (dialysis and other methods of detoxification), kidney transplantation and combined kidney and pancreas transplantation. The department is headed by Prof. Dr. med. Joachim Hoyer.
An important area of the department's work is transplant medicine. The department specializes not only in transplanting kidneys from deceased donors to adults and elderly patients (Eurotransplant Program), but also in transplanting kidneys from living donors, combined kidney and pancreas transplants, and kidney transplants in case of blood group incompatibility.
The department has all modern methods, which, combined with excellent qualifications and colossal experience of doctors, allows to regularly demonstrate high rates of treatment success.
The department's range of medical services includes:
Diagnostics and treatment of kidney diseases

Nephrotic syndrome
Acute kidney failure
Glomerulopathies
Tubulointerstitial diseases
Vascular diseases with renal artery lesions
Chronic terminal kidney failure
Water-electrolyte imbalance

Diagnostics and treatment of autoimmune diseases

Churg-Strauss syndrome
Glomerulonephritis
Goodpasture syndrome
Microscopic polyangiitis
Rheumatic fever
Systemic lupus erythematosus
Hypersensitivity vasculitis
Granulomatosis with polyangiitis (Wegener's granulomatosis)

Dialysis procedures

Chronic hemodialysis
Peritoneal dialysis
Plasmapheresis, plasma separation
Immunoadsorption

Transplant medicine

Kidney transplantation from living and deceased donors
Kidney-pancreas transplantation
Kidney transplantation in case of blood group incompatibility

Other medical services
---
About hospital
Accommodation in hospital
Hematuria
Price:
Program [Description]
Hematuria Diagnosis
Hospital: University Hospital Marburg UKGM
Type:
access_time Duration:
date_range
There are 55 hematuria diagnostic hospitals on Booking Health website
Show all clinics
Certificates