Total shoulder joint replacement for shoulder arthritis (program ID:

380419

)
University Hospital Marburg UKGM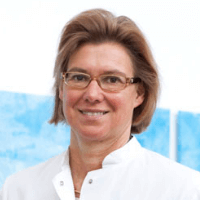 Head Physician
Prof. Dr. med.
Susanne Fuchs-Winkelmann
Specialized in: orthopedics, traumatology
Department of Orthopedics and Traumatology
Program includes:
Initial presentation in the clinic
clinical history taking
physical examination
review of medical records
laboratory tests:

complete blood count
general urine analysis
biochemical analysis of blood
indicators of inflammation (CRP, ESR)
indicators blood coagulation

x-ray examination of the shoulder
CT/MRI scan of the shoulder
preoperative care
design of the patient-specific implant using 3 d system
computer-assisted shoulder joint replacement
the cost of the implant included
symptomatic treatment
control examinations
physiotherapeutic procedures
orthopedic appliances
the cost of essential medicines and materials
nursing services
full hospital accommodation
explanation of future recommendations
Required documents
Medical records
X-ray examination, MRI/CT scan (if available)
Service
Price:
Type of program :
Expected duration of the program:
You may also book

Price:
About the department
According to the Focus magazine, the Department of Orthopedics and Traumatology at the University Hospital Marburg UKGM ranks among the top German medical facilities specializing in the treatment of injuries of any severity!
The department offers the full range of diagnostic and therapeutic services to patients with diseases and injuries of the musculoskeletal system. The department has been certified by the German Society of Traumatology as a supra-regional Trauma Center. In addition, the medical institution is a certified Center for Gerontological Traumatology, the Center for Arthroscopy and Joint Surgery. The department is headed by Prof. Dr. med. Susanne Fuchs-Winkelmann.
The department has successful experience in the field of knee and hip joint replacement surgery. With appropriate indications, the doctors initially try to help the patient using conservative techniques (drug therapy, assistive orthopedic devices). The department specializes in primary and revision joint prosthetics interventions. In clinical practice, the doctors use only high-quality prostheses of world-famous manufacturers, which are distinguished by long-term service.
Another department's priority is spinal surgery. The orthopedists of the department treat traumatic and osteoporotic spinal fractures, perform minimally invasive stabilizing interventions on the spine and conduct pain therapy for back pain. The specialists have special competence in the treatment of spinal tumors and spinal stenosis.
The therapeutic range of services of the department includes:
Joint knee replacement surgery

Conservative therapy for hip and knee arthrosis
Knee and hip arthroscopy
Primary hip replacement
Primary knee replacement
Revision Interventions
Treatment of allergic reactions to implants
Second opinion in complex cases

Hand surgery

Dupuytren's contracture
Carpal tunnel syndrome
Cubital tunnel syndrome
Trigger fingers
Ganglion
De Quervain syndrome
Finger joint cysts
Hand tumors (enchondromas, sarcomas, lipomas)
Rheumatic hand diseases (rheumatoid arthritis)
Posttraumatic joint deformities and degeneration
Hand and finger joint replacement surgery
Rhizarthrosis
Congenital deformities of the hand and fingers
Ligament tears on the thumb of the hand (skier's thumb)
Tendon injuries (injuries of the flexor and extensor tendons)
Hand fractures
Replantation
Nerve damage (including nerve transplantation)
Plastic surgery for hand defects and reconstructive surgery
Pseudoarthrosis
Avascular necrosis of the lunate bone
Scapholunate ligament injury

Arthroscopic surgery and sports traumatology

Cruciate ligament replacement
Meniscus injuries
Cartilage injuries
Knee ligament reconstruction
Patellar dislocation
Rotator cuff tear
Shoulder instability
Shoulder injuries
Impingement syndrome
Frozen shoulder
Joint replacement surgery for shoulder osteoarthritis

Foot surgery

Hallux valgus
Hallux rigidus
Hammer fingers
Flat feet
Tendon dislocation sand ruptures

Sparing minimally invasive treatment of injuries, for example, fractures
Treatment of injuries in elderly patients
Treatment for high severity injuries
Pelvic surgery
Spinal surgery

Treatment of all traumatic spinal injuries
Treatment of osteoporotic vertebral fractures (kyphoplasty and vertebroplasty)
Minimally invasive stabilizing interventions for spinal injuries
Treatment of spinal tumors
Conservative treatment of back pain
Treatment of spinal stenosis

Reconstructive surgery to correct soft tissue and bone defects
Other medical services
Curriculum vitae
Education
1986 - 1992 Study of Human Medicine at the University of Cologne.
01.06.1992 3rd state exam.
09.06.1992 Doctoral thesis defense.
Professional Career
1992 Intern, Department of Traumatology, St. Antonius Academic Hospital Eschweiler.
1993 Intern, Department of Traumatology, Clinic Duisburg-Buchholz.
Since 1994 Research Fellow in the Department of General Orthopedics at the University Hospital Muenster.
29.08.1998 Board certification in Orthopedics, additional qualifications in Sports Medicine, Manual Therapy and Physiotherapy.
Since 01.09.1999 Senior Physician of the Department of General Orthopedics at the University Hospital Muenster.
Since 01.01.2000 Responsible for radiation protection.
04.05.2000 Venia legendi in Orthopedics. Paper subject: "Causes and possible methods of treating pain in the anterior knee joint after endoprosthetics".
2006 Board certification in Traumatology.
Executive Positions
01.04.2001 - 31.03.2004 Managing Senior Physician of the Department of General Orthopedics at the University Hospital Muenster.
01.04.2004 - 30.06.2005 Leading Senior Physician and Deputy Head of the Department of General Orthopedics at the University Hospital Muenster.
Since 01.07.2005 Head of the Department of Orthopedics and Traumatology at the University Hospital Marburg UKGM.
Memberships in Professional Societies
Founding Member of European Knee Associates.
Member of the German Knee Society.
Member of the Working Group on Oncological Orthopedics.
Photo of the doctor: (c) UKGM - Universitätsklinikum Gießen und Marburg GmbH
---
About hospital
Accommodation in hospital
Shoulder arthritis
Program [Description]
Total shoulder joint replacement for shoulder arthritis
Hospital: University Hospital Marburg UKGM
Type:
Duration:
Price:
date_range
There are 57 shoulder arthritis treatment hospitals on Booking Health website
Show all clinics
Certificates