Department of Orthopedics and Traumatology (

26291

)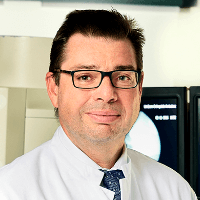 Prof. Dr. med.
Dieter Christian Wirtz
Specialized in: orthopedics, traumatology
About the Department of Orthopedics and Traumatology at University Hospital Bonn
According to the Focus magazine, the Department of Orthopedics and Traumatology at the University Hospital Bonn ranks among the top German departments specializing in joint replacement surgery!
The department specializes in the diagnostics and treatment of all diseases and injuries of the musculoskeletal system. The therapeutic options include both conservative and surgical treatments. The department has 5 modern operating rooms, which meet stringent hygienic standards and a high technological level (for example, 2D and 3D X-rays, navigation systems, surgical microscopes, etc.). Also, it is possible to perform operations on an outpatient basis. The Chief Physician of the department is Prof. Dr. med. Dieter Christian Wirtz.
The department operates a round the clock interdisciplinary emergency unit, which has special competences in the treatment of patients with all types of acute diseases and injuries of the musculoskeletal system.
The department also pays key attention to early rehabilitation, which is carried out on the basis of the personalized treatment plan immediately from the first day after surgery, with the assistance of the experienced physiotherapists. The rehabilitation team is highly qualified and offers a wide range of procedures, including classical physiotherapy, instrumental physiotherapy, manual therapy, water procedures, electrotherapy, massage, mud therapy and other methods.
The service range of the department includes:
Joint surgery

Shoulder, elbow, hip, knee and ankle replacement surgery, including the revision interventions (certified Venter for Endoprosthetics of maximum care)
Replacement of aseptic and septic poorly fixed knee and hip prostheses
Arthroscopic shoulder and elbow surgery (shoulder stabilization, subacromial decompression, rotator cuff reconstruction)
Arthroscopic knee and ankle surgery (meniscus surgery, cruciate ligament replacement surgery, cartilage surgery)
Joint-conserving transposition osteotomy of the pelvis, hip, knee, ankle joints
Transplantation of autologous cartilaginous cells to the knee and ankle
Corrective surgery in axial deformities of the lower limbs
Foot surgery with the correction of all congenital and acquired deformities

Orthopedic rheumatology

All joint-conserving surgical methods (for example, removal of the joint synovial membrane)
Radiosynoviorthesis
Resection arthroplasty (partial joint dissolution)
Endoprosthetics

Treatment of diseases and injuries of the musculoskeletal system, accompanied by hemophilia
Hand surgery

All injuries of the hand, wrist and forearm (individual injuries or polytrauma)
Thermal burns, chemical burns, frostbite, necrosis
Nerve compression syndromes, such as carpal tunnel syndrome
Tendon disorders (for example trigger fingers)
Ganglion cyst on the wrist, finger joints and tendon sheaths
Foreign body removal, for example, glass fragments
Dupuytren's contracture
Rhizarthrosis
Suturing/reconstruction of injuries of the wrist and carpal articulation
Wrist arthroscopy
Neoplasms on the skin of the hand (for example, warts)

Plastic reconstructive surgery in injuries of the musculoskeletal system

Necrotomy
Vacuum wound therapy
Split flap transplantation
Plastic surgery with local and free flaps

Sports orthopedics and traumatology
Surgical treatment of benign and malignant tumors of bone and soft tissues of the musculoskeletal system (in interdisciplinary collaboration within the Center for Integrated Oncology Bonn)
Traumatology

Life-threatening injuries (polytrauma/multiple injuries)
High-risk patients (for example, with surgical interventions in medical history, heart diseases, diabetes mellitus, infections)
Fractures and injuries of all joints of the musculoskeletal system
Complicated fractures (for example, open fractures or fractures with damage to the muscles, blood vessels, nerves and skin)
Reconstructive surgery of the articular, bone and soft tissues
Treatment of infectious complications
Correction of defects after accidents
Hand injuries
Foot injuries

Diagnostics and treatment of spinal diseases

Conservative therapy

Differentiated infiltration therapy of facet joints, nerve roots, epidural space, sclerotherapy of small vertebral joints (X-ray-guided)
Outpatient and inpatient physiotherapy
Conservative treatment of spinal inflammation (spondylodiscitis and spondylitis)

Surgical treatment (minimally invasive and endoscopic spinal surgery)

Minimally invasive, endoscopic and microscopic surgery of the intervertebral discs (for example, in spinal disc herniation)
Percutaneous laser decompression of the intervertebral disc during its symptomatic protrusions
Vertebroplasty and kyphoplasty
Intervertebral disc replacement in the cervical and lumbar spine (for example, in osteochondrosis, accompanied by spinal disc herniation)
Selective decompression surgery in spinal stenosis
Dynamic stabilization of the individual spinal segments
Mono- and multisegmental stability operations (spinal fusion) in instability caused by degenerative, traumatic, inflammatory and neoplastic changes
Spondylolisthesis correction
Ventral (transthoracic) and dorsal spinal fusion for the treatment of spinal deformities, such as scoliosis and kyphosis
Cancer surgery of all spinal sections (in interdisciplinary collaboration)
Revision spinal surgery
Surgical treatment of the inflammatory spinal diseases (spondylodiscitis and spondylitis)

Rehabilitation measures
Other diseases, treatment methods
Curriculum vitae of Prof. Dr. med. Dieter Christian Wirtz
1986 - 1992 Study of Medicine at the Medical Faculty of the RWTH Aachen.
03.12.1992 Admission to medical practice.
11.10.1993 Doctoral thesis defense, Medical Faculty, RWTH Aachen
01.1993 - 06.1994 Intern in the Department of Traumatology and Reconstructive Surgery, Surgery Center, Katherinenhospital Stuttgart, Prof. Dr. med. U. Holz.
07.1994 - 12.1994 Assistant Physician, Department of Surgery, Wiesbaden Hospital (Prof. Dr. med. H. Peters).
12.1994 - 06.1999 Physician in the Department of Orthopedics at the University Hospital Aachen (Prof. Dr. med. F. U. Niethard).
07.1999 - 08.2003 Senior Physician in the Department of Orthopedics at the University Hospital Aachen.
08.21.2001 Habilitation and Venia Legendi in Orthopedics, Medical Faculty of RWTH Aachen.
09.2003 - 10.2006 Leading Senior Physician, Department of Orthopedics, University Hospital Aachen.
Since 08.2005 Deputy Head of the Department.
21.07.2006 Extraordinary Professor, RWTH Aachen.
30.10.2006 W3 Professor, Department of Orthopedics and Traumatology, University of Bonn.
30.10.2006 Head of the Department of Orthopedics and Traumatology at the University Hospital Bonn.
22.09.2008 Managing Director of the Surgery Center at the University Hospital Bonn.
Photo of the doctor: (c) Universitätsklinikum Bonn
Department of Orthopedics and Traumatology.
University Hospital Bonn:

Request more information now.
We will be happy to answer all your questions.
---
Certificates