Department of Cardiac Surgery (

26293

)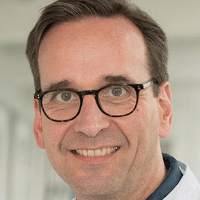 Prof. Dr. med.
Hendrik Treede
Specialized in: cardiac surgery
About the department
According to the Focus magazine, the Department of Cardiac Surgery at the University Hospital Bonn ranks among the top German departments specializing in the surgical treatment of heart diseases!
The department offers the full range of modern surgical interventions for the treatment of diseases of the heart, coronary vessels and thoracic aorta (with the exception of transplantation of the thoracic organs). An excellently trained team of specialists and state-of-the-art technologies guarantee the best medical care adapted to the individual needs and wishes of patients. The department is headed by Prof. Dr. med. Hendrik Treede.
The main clinical activities of the department include heart valve surgery, coronary artery bypass grafting, surgical interventions on the thoracic aorta, electrophysiological therapy in arrhythmias (implantation of pacemakers and defibrillators), as well as the implantation of special systems for mechanical support of the heart.
It is natural that heart surgery is quite complex in its nature, so after the intervention the patient is necessarily observed in the conditions of an ultra-modern intensive care unit equipped with heart-lung machines, devices for monitoring vital functions, such as blood circulation, respiration, kidney function, etc. In addition, the unit is staffed by the specially trained doctors and nursing staff, who have a clear and effective action plan aimed at the improvement of the patient's condition in destabilization.
The department performs more than 1,700 surgeries annually, 1,000 of which are performed using the heart-lung machine or on the open heart. In cooperation with the Department of Cardiology, there are performed about 150 heart valve implantations using catheter techniques.
The department specializes in the following surgical interventions:
Heart valve surgery

Implantation of mechanical prosthetic heart valves
Implantation of biological prosthetic heart valves
Aortic valve reconstruction
Transcatheter aortic valve implantation (TAVI)

Coronary artery bypass grafting in severe coronary artery disease
Surgical treatment of acute and chronic aortic diseases (as a rule, operations are performed using the heart-lung machine)

Supracoronary ascending aortic replacement
Bentall procedure
Wheat operation
David procedure
Aortic arch surgery
Thoracic endovascular aortic repair (TEVAR)

Surgical treatment of heart arrhythmias (electrophysiological therapy), also using modern sparing techniques

Pacemaker implantation
Cardioverter defibrillator implantation
Revision interventions for the functional correction of pacemakers and defibrillators

Implantation of mechanical heart support systems
Other surgical services and types of operations
Curriculum vitae
Education
1990 - 1997 Study of Human Medicine, University of Hamburg.
09.1995 - 10.1995 Clerkship in Massachusetts General Hospital, Department of Plastic and Reconstructive Surgery (Prof. May), Harvard Medical School, Boston, Massachusetts, USA.
07.1995 - 08.1995 Clerkship at the Brigham and Women's Hospital, Department of Thoracic Surgery (Prof. Sugarbaker), Harvard Medical School, Boston, Massachusetts, USA.
2005 Doctoral thesis defense with honors. Subject: "The effect of continuous veno-venous hemofiltration on the development and progress of experimentally induced hemorrhagic necrotic pancreatitis in the animal model of a pig", Department of General Surgery, University Hospital Hamburg-Eppendorf.
2012 Habilitation and Venia Legendi in Cardiac Surgery. Subject: "Transcatheter aortic valve implantation (TAVI): assessment of a new therapy for minimally invasive catheter implantation of the aortic valve in patients with a high risk of surgery or contraindications to the surgical treatment", University of Hamburg.
2014 W2 Professor in Minimally Invasive and Interventional Heart Surgery, University of Hamburg, Faculty of Medicine, University Hospital Hamburg.
Professional Practice
Since 04.2007 Leading Senior Physician at the University Heart Center Hamburg (Director: Prof. Dr. med. H. Reichenspurner).

Program Manager in Minimally Invasive Heart Surgery.
Responsible for Transcatheter Aortic Valve Replacement.
Surgical Director of the Program for Implantation of Event Recorders and Defibrillators.
Probe Laser Extraction.
Personal Senior Consultant.
Head of the Lung Transplantation Program (2005 - 2010).

01.2007 Medical Specialist in Heart Surgery.
07.2001 - 02.2007 Assistant Physician in the Department of Cardiac Surgery, University Medical Center Hamburg.
1997 - 2001 Intern and Assistant Physician in the Department of Cardiac Surgery at the University Hospital Grosshadern, Munich.
06.1999 Full admission to medical practice.
Membership in Professional Societies
German Society for Thoracic And Cardiovascular Surgery (DGTHG).
European Association for Cardiothoracic Surgery (EACTS).
German Society of Cardiology (DGK).
European Society of Cardiology (ESC).
International Society for Minimally Invasive Cardiothoracic Surgery (ISMICS).
International Society for Heart and Lung Transplantation (ISHLT).
Photo of the doctor: (c) Universitätsklinikum Bonn
Department of Cardiac Surgery.
University Hospital Bonn:

Request more information now.
We will be happy to answer all your questions.
---
Certificates