Department of Pediatric Surgery (

289936

)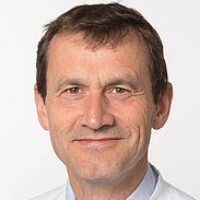 Dr. med.
Andreas Heydweiller
Specialized in: pediatric surgery
About the Department of Pediatric Surgery at University Hospital Bonn
The Department of Pediatric Surgery at the University Hospital Bonn offers the full range of surgical treatment of premature and newborn babies, infants, young children and adolescents with congenital malformations, oncological pathologies, abdominal and thoracic pathologies, as well as urological diseases and injuries. The preference is given to sparing, minimally invasive surgical techniques. All the department's specialists aim to ensure each young patient with an optimal age-appropriate treatment and care. At the same time, they also take into account the parents' wishes. The Chief Physician of the department is Dr. med. Andreas Heydweiller.
The decisive factor for the successful treatment is an interdisciplinary approach. If necessary, the therapeutic process involves pediatricians, general surgeons, pediatric anesthesiologists, radiologists, neurosurgeons, obstetricians, specialists in the field of perinatal medicine, plastic surgeons, specialists in the field of oral and maxillofacial surgery, etc.
The department provides both inpatient and outpatient surgical treatment. The operating rooms are equipped with all the advanced technologies, including special medical systems for minimally invasive surgery. The surgical interventions are performed by highly competent surgeons, who have a perfect command of the most advanced techniques and easily handle even the most complicated clinical cases.
A distinguishing feature of the department is the highest level of expertise in the treatment of rare pathologies. For example, the department successfully treats rare congenital lung malformations (diaphragmatic hernias, cystic adenomatous lung malformations, pulmonary sequestration), gastrointestinal diseases (intestinal atresia, gastroschisis), congenital malformations of the urogenital tract, spine, etc.
The department's service range includes:
Surgery for premature babies and newborns

Enterothorax/diaphragmatic hernia (ECMO Center in the Department of Neonatology)
Esophageal atresia
Bowel atresia
Abdominal wall anomalies (gastroschisis/laparoschisis, omphalocele)
Inflammatory bowel diseases (necrotizing enterocolitis)
Pulmonary malformations (for example, pulmonary sequestration and cystic lung malformations)
Urogenital malformations
Anorectal malformations
Rare diseases, such as diseases of the biliary tracts and pancreas (for example, bile duct atresia or bile duct cyst)

Pediatric urology

Kidney malformations
Reflux disease
Obstructive urinary tract diseases (ureteropelvic obstruction, urethral valves)
Kidney tumors
Hypospadias and other penile anomalies
Undescended testicles
Phimosis

Abdominal surgery and general pediatric surgery

Hirschsprung's disease
Ileus
Hiatal hernias
Abdominal wall hernias
Groin hernias
Abdominal tumors
Ear cysts/fistulas
Scalds
Hemangiomas (also usage of beta-blockers and cryotherapy)
Lymphangiomas

Thoracic surgery

Correction of funnel chest and other chest wall deformities
Cystic lung malformations, for example, pulmonary emphysema
Pulmonary sequestration
Intrathoracic tumors
Septic lung changes
Mediastinal tumors

Minimally invasive surgery

Minimally invasive funnel chest correction
Laparoscopic appendectomy
Laparoscopic cholecystectomy
Laparoscopic varicocele surgery

Pediatric traumatology

Osteosynthesis procedures
Conservative treatment of fractures

Other medical services
Curriculum vitae of Dr. med. Andreas Heydweiller
1984 - 1992 Study of Medicine at the Medical Faculty of the University of Bonn.
1991 Completion of a part of the practical year in the Department of Pediatrics at the University of Otago in Dunedin, New Zealand.
1993 Doctoral thesis defense. Subject: "The effect of the concentration of antibodies to mouse protein (HAMA) and anti-idiotypic antibodies on the determination of marker tumor antigen CA125 ", Institute for Clinical and Experimental Nuclear Medicine, University of Bonn.
1993 - 2003 Intern, and then Assistant Physician in the Department of Pediatric Surgery at the DRK Children's Hospital in Siegen.
2003 Additional qualification in Chirotherapy.
2003 - 2004 Practicing Pediatric Surgeon in Bielefeld.
2004 - 2008 Senior Physician in the Department of Pediatric Surgery at the Asklepios Children's Hospital in Sankt Augustin (Head: H. Birkhold).
Since 01.09.2018, Head of the Department of Pediatric Surgery at the University Hospital Bonn.
Photo of the doctor: (c) Universitätsklinikum Bonn
Department of Pediatric Surgery.
University Hospital Bonn:

Request more information now.
We will be happy to answer all your questions.
---
Certificates