Laser retina coagulation for macular degeneration (program ID:

87459

)
University Hospital Bonn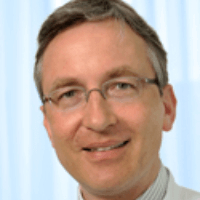 Head Physician
Prof. Dr. med.
Frank G. Holz
Specialized in: adult and pediatric ophthalmology
Department of Adult and Pediatric Ophthalmology
The program includes:
Initial presentation in the clinic
clinical history taking
review of medical records
physical examination
ophthalmologic examination:

slit-lamp examination
pupil function tests
ocular motility test
ophthalmoscopy
perimetry (visual field test)
computer perimetry
visometry (without correction and with correction)
keratometry
pachymetry
refractometry (objective, subjective, cycloplegic)
autorefractometry
non-contact tonometer
biomicroscopy
fluorescein angiography (on indication)
photokeratoscopy
laser doppler retinal vessels
electron microscopy of retinal capillaries

laboratory tests:

complete blood count
biochemical analysis of blood
blood coagulation analysis (aPTT, PT, INR)
inflammation indicators (CRP, ESR)
metabolic status (uric acid, total glucose, HbA1c)
kidney function test (creatinine, urea)

preparation according to preoperative standard
laser retina coagulation
symptomatic treatment
control examinations
nursing services
treatment by chief physician and all leading experts
explanation of individual treatment plan
Required documents:
Medical records
Optical coherence tomography (if available)
Service
Price:
Type of program :
Expected duration of the program:
You may also book:

Price:
About the department
The Department of Adult and Pediatric Ophthalmology at the University Hospital Bonn offers the full range of conservative and surgical treatment of diseases of the eye and its appendages. The department specializes in age-related macular degeneration and other diseases of the retina, corneal diseases, treatment of dry eye and blepharitis, uveitis, refractive surgery using the LASIK technique, etc. During the diagnostics, treatment and all microsurgical interventions the doctors use the very latest medical advances, which meet the highest quality standards. The Chief Physician of the department is Prof. Dr. med. Frank G. Holz.
Key attention is paid to the surgical treatment of various diseases. The department has an excellent reputation in corneal transplantation (keratoplasty), surgical treatment of cataract, glaucoma, strabismus, operations on the eyelids (in developmental defects, the problem of droopy eyelids, tumors), etc. The department also has advanced experience in the treatment of more complex pathologies. These include, for example, macular rotation in age-related macular degeneration, translocation of the retinal pigment epithelium, macular ruptures and edema, vascular eye disease, etc.
In addition, the department is the recognized Laser Surgery Center. Such diseases as retinopathy, retinal breaks, retinal vascular occlusion, secondary cataracts, etc. are successfully treated with the help of modern laser methods. Special attention is paid to the treatment of ophthalmological problems in children and adolescents, for example, laser surgery in the case of retinopathy in newborns. The department offers the very latest treatments, including photodynamic therapy, transpupillary thermotherapy, refractive surgery (LASIK, photorefractive keratectomy), etc.
The therapeutic range of the department includes the following options:
Anterior segment surgery

Corneal transplantation (keratoplasty)
Cataract
Glaucoma
Eyelid surgery

Eyelid malformations
Ptosis
Eyelid tumors

Strabismus surgery

Vitreous and retinal surgery

Macular rotation in age-related degeneration
Retinal pigment epithelium translocation
Macular tears
Macular edema
Epiretinal gliosis
Retinal detachment
Vascular diseases
Removal of the vitreous body (vitrectomy)

Laser surgery

Diabetic retinopathy
Retinal breaks
Retinal vascular occlusion
Secondary cataract
Glaucoma
Retinopathy of prematurity
Photodynamic therapy (PDT)
Transpupillary thermotherapy
Refractive surgery (LASIK, PRK)

Conservative treatment

Botulinum toxin injections
Dry eye syndrome (Sicca syndrome)
Glaucoma
Inflammation of the inner part of the eye (uveitis)
Lysis therapy in vascular occlusion
Age-related macular degeneration

Prosthetics

Institute of Ophthalmic Prosthetics

And other options of conservative and surgical treatment
Curriculum vitae
Education and Professional Experience
4/1983 - 5/1989 Study of Medicine, University of Heidelberg, Germany.
1986 - 1987 Medical thesis in Physiology: "Renovascular effects of adenosine receptor agonists" (magna cum laude), doctoral degree (Dr.med.).
9/1987 Clinical Clerkship in Hematology / Bone Marrow Transplantation, Johns Hopkins University in Baltimore.
4/1988 - 11/1988 Clinical Clerkship in Surgery and Internal Medicine, Pritzker School of Medicine, University of Chicago, Chicago, USA.
1989 - 1991, 1994 Residency, Department of Ophthalmology, University of Heidelberg, Germany.
1992 - 1993 Research and Clinical Fellowship, Institute of Ophthalmology, Moorfields Eye Hospital, London, England.
9/1993 Research Project, Schepens Eye Research Institute, Boston, USA.
1994 Board certification in Ophthalmology.
1995 - 2003 Senior Physician in the Department of Ophthalmology, University of Heidelberg, Germany; 2001 - 2003 Head of the Department.
10/1997 Habilitation (Associate Professor) in Ophthalmology: "Age-dependent changes in Bruch's membrane and retinal pigment epithelium as pathogenetic factors in age-related macular degeneration".
Since 2003, Chief Physician of the Department of Adult and Pediatric Ophthalmology, Chairman and Professor, Department of Ophthalmology, University of Bonn.
Scholarships and Awards
1987 - 1989 Fellow of the German Academic Scholarship Foundation ("Studienstiftung des Deutschen Volkes").
1988 Scholarship of the German Academic Exchange Service (DAAD).
1992 - 1993 Research Scholarship of the Gertrud Kusen Foundation, Hamburg, Germany.
1999 Macular Degeneration Research Award for the Prevention of Blindness. Pro Retina Germany and Switzerland.
1999 Research Award of the German Ophthalmological Society (DOG).
2000 Achievement Award of the American Academy of Ophthalmology (AAO).
2001 Leonhard Klein Award for Ophthalmic Surgery.
2005 DOC Award, German Ophthalmic Surgeons.
Membership in Professional Societies
American Academy of Ophthalmology (AAO).
Association for Research in Vision and Ophthalmology (ARVO).
Macula Society.
Club Jules Gonin.
Oxford Ophthalmological Congress (OOC).
European Fluorescein Angiography Club (FAN-Club).
Euretina.
German Ophthalmological Society (DOG).
German Retinological Society.
Photo of the doctor: (c) Universitätsklinikum Bonn
---
About hospital
Accommodation in hospital
Macular degeneration
Program [Description]
Laser retina coagulation for macular degeneration
Hospital: University Hospital Bonn
Type:
Duration:
Price:
date_range
There are 72 macular degeneration treatment hospitals on Booking Health website
Show all clinics
Certificates