Diagnostic tests for nasopharyngeal cancer (program ID:

274906

)
Charite University Hospital Berlin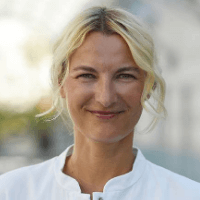 Head Physician
Prof. Dr. med.
Heidi Olze
Specialized in: adult and pediatric otolaryngology
Department of Adult and Pediatric Otolaryngology
Program includes:
Initial presentation in the clinic
clinical history taking
review of medical records
physical examination
laboratory tests:

complete blood count
biochemical analysis of blood
tumor markers
inflammation indicators (CRP, ESR)
indicators of blood coagulation

CT scan (on indication 650 €)
MRI scan (on indication 1200 €)
general otolaryngological examination
laryngoscopy with biopsy (on indication 1200 €)
histological and cytological examination (on indication 1000 €)
nursing services
tumor board involving
oncologist, radiologist, surgeon
consultation of the chief physician and all leading experts
development of individual treatment plan
written statement
Required documents
Medical records
MRI/CT scan (not older than 3 months)
Biopsy results (if available)
Service
Price:
Type of program :
Expected duration of the program:
You may also book

Price:
About the department
The Department of Adult and Pediatric Otolaryngology at the Charite University Hospital Berlin offers all modern diagnostic and therapeutic services in the field of its specialization. The priority fields of the department's work include ear surgery, including cochlear implantation and the implantation of hearing aids, otolaryngological surgical oncology, paranasal sinus surgery, plastic surgery, laser surgery, salivary gland surgery and pediatric otolaryngology. The service range is also complemented by allergology. The department began its work back in 1893, and therefore it has exceptional experience in the treatment, including complex clinical cases, as well as long traditions of high quality medical care for patients. The department is headed by Prof. Dr. med. Heidi Olze.
The department annually treats more than 40,000 patients, as well as performs about 3,500 surgical interventions and more than 140 cochlear implantations. These indicators speak for themselves and confirm the department's prestigious status within the country and at the international level.
An important component of the successful clinical practice is interdisciplinary collaboration with experts from the related disciplines. For example, the therapeutic process often involves doctors specializing in neurosurgery, robotic surgery, cancer surgery, maxillofacial surgery, etc. The surgical treatment is provided in four ultramodern operating rooms, including outpatient operating rooms. Each clinical case is considered individually, after which doctors develop an optimal treatment regimen using reliable classic and innovative techniques.
The service range of the department includes:
Diagnostics and treatment of hearing impairment and hearing loss

Drug therapy in acute hearing impairments
Surgery to improve hearing
Surgical treatment using hearing implants

Cochlear implantation
Electro-acoustic stimulation (using Hybrid N7, Sonnet EAS, Naida CI Q90 EAS systems)
Auditory brainstem implants
Middle ear implants (for example, Vibrant Soundbridge, Carina)
Bone conduction implants (for example, BONEBRIDGE, BAHA, Ponto)

Diagnostics and treatment of allergic reactions

Diagnostics

Endoscopic examination of the nasal cavity
Smell test
Rhinomanometry for the objectivization of the feeling of nasal congestion
Allergy tests: skin tests (for example, prick test, intradermal test)
Nasal and oral provocation tests

Therapy

Hyposensitization for the treatment of allergies (subcutaneous, sublingual, oral)
IgE antibody treatment in severe asthma and severe nasal polyposis
Functional endoscopic surgery of the nose and paranasal sinuses
Nasal septum straightening (septoplasty)
Nasal concha reduction (laser, radiofrequency techniques)

Middle ear surgery in hearing impairments

Diagnostics

Subjective hearing tests (for example, tonal audiometry, speech audiometry)
Objective hearing tests (for example, impedancemetry, brain-stem audiometry)
Imaging tests (for example, CT, MRI)

Therapy

Drug therapy (in acute hearing loss, for example, sudden hearing loss or acute middle ear infection)
Sanitation and operations for hearing improvement (in chronic middle ear diseases, such as ventilation or cholesteatoma)
Surgical interventions to install hearing implants

Diagnostics and treatment of head and neck tumors (in collaboration with the Comprehensive Cancer Center Charite)
Diagnostics and treatment of pediatric otolaryngological diseases

Tonsil resection (adenotomy)
Removal of palatine tonsils (tonsillectomy, also laser one)
Laser procedures in recurrent nosebleeds
Removal of lymph nodes, tissue sampling for examination, resection of fistulas, neck cysts
Plastic surgery: otoplasty, correction of missing auricles or auditory canals
Treatment of rare diseases (for example, lymphangiomas, hemangiomas) using conservative methods or sclerotherapy / ultrasound-guided laser
Diagnostics and treatment of otolaryngological tumors (benign and malignant)
Emergency treatment of acute inflammations and their complications
Extraction of foreign bodies from the ear canal, nose, throat or respiratory tract
Installation of hearing aids and cochlear implantation

Diagnostics and treatment of diseases of the nasal and paranasal sinuses (focus on acute and chronic inflammation of the nasal mucosa and paranasal sinuses, nasal polyps)

Conservative therapy
Endoscopic and microscopic interventions
CT-guided surgical interventions
Cortisone therapy in olfactory disorders

Plastic surgery

Diagnostics before plastic surgery

Detailed medical history and endoscopic examinations
Subjective and objective assessment of olfactory function
Imaging examinations
Allergy diagnostics

Therapy

Closure of the nose, face and ear defects
Treatment of ear, nose and throat fractures after accidents
Surgical treatment of facial paralysis
Aesthetic surgery (nose, auricle reshaping, eyelid lift)

Diagnostics and treatment of salivary gland diseases

Inflammation (sialadenitis)
Salivary gland stones (sialolithiasis)
Tumors
Autoimmune diseases

Diagnostics and treatment of diseases of the cervical soft tissues

Swollen lymph nodes
Malignant changes in the lymph nodes

Diagnostics: ultrasound, CT, MRI, PET-CT, biopsy

Diagnostics and treatment of snoring, obstructive sleep apnea syndrome

Basic sleep diagnostics (outpatient polygraphy)
Laser surgery
Radiofrequency therapy
Classical surgical procedures under general anesthesia
Hypoglossal nerve stimulation

Diagnostics and treatment of tinnitus (ringing in the ears)

Chronic tinnitus
Psychosomatic decompensation due to tinnitus
Tinnitus caused by hearing impairments
Hyperacusis
Tinnitus caused by Meniere's disease
Ringing in the ears accompanied by dizziness

Other medical services
Curriculum vitae
​Education
1992 Study of Medicine at the Humboldt University of Berlin.
Professional Сareer
1992 - 1998 Assistant Physician in the Department of Adult and Pediatric Otolaryngology at the Charite University Hospital Berlin.
1999 Medical Specialist in Otolaryngology.
2002 Senior Physician, Department of Adult and Pediatric Otolaryngology at the Charite University Hospital Berlin, Campus Mitte and Virchow.
2003 Leading Senior Physician and Deputy Head of the Department of Adult and Pediatric Otolaryngology at the Charite University Hospital Berlin, Campus Virchow.
Since 10.2003 Head of the Department of Adult and Pediatric Otolaryngology at the Charite University Hospital Berlin, Campus Virchow.
Since 2010 Head of the Department of Adult and Pediatric Otolaryngology at the Charite University Hospital Berlin, Campus Mitte and Virchow.
Academic Achievements
1996 Doctoral thesis defense with honors (Dr. med.). Subject: "Researches on the improvement of alloplastic tracheal replacement using epithelialized graft".
2006 Habilitation in Otolaryngology and Venia legendi, Charite University Hospital Berlin. Subject: "Cytokines, chemokines, and chemokine receptors in chronic rhinosinusitis".
2012 Appointment as Extraordinary Professor.
Professional Specialization and Additional Qualifications
2007 Additional qualification in Plastic Surgery.
2008 Additional qualification in Allergology.
Permission to train medical students in Otolaryngology, Plastic Surgery and Allergology.
2011 Additional qualifications: Healthcare Quality Management and Medical Pedagogy.
Awards and Honors
Bronze Medal Award, "Expression of cytokines in allergic and non-allergic nasal polyps".
2000 IX World Congress of the International Rhinologic Society, American Rhinologic Society and Mayo Clinic, "The Nose 2000 and beyond", Washington, USA.
Memberships in Scientific Societies (selected)
German Society of Otolaryngology, Head and Neck Surgery.
Chairman of the Council of the Working Group on Clinical Immunology, Allergology and Environmental Medicine (DGHNO).
Board Member of the Otolaryngological Society of Berlin.
European Academy of Allergy and Clinical Immunology (EAACI).
Global Allergy and Asthma European Network, GA2LEN.
German Society of Cochlear Implantation.
Research Focuses
Sanitation, microsurgery for hearing improvement and hearing implants (cochlear implant, middle ear implants, bone conduction hearing devices).
Nose and paranasal sinus endoscopic microsurgery, if necessary, using navigation systems.
Plastic and aesthetic facial surgery.
Otolaryngology (conservative and surgical therapy).
Skull base and orbital interdisciplinary surgery.
Surgery for snoring and sleep apnea syndrome.
Treatment of otolaryngological tumors.
Research Focuses
Cochlear implantation.
Treatment of inner ear diseases.
Nasal polyps.
Allergology.
Photo of the doctor: (c) Charité – Universitätsmedizin Berlin
---
About hospital
Accommodation in hospital
Nasopharyngeal cancer
Program [Description]
Diagnostic tests for nasopharyngeal cancer
Hospital: Charite University Hospital Berlin
Type:
Duration:
Price:
date_range
There are 76 nasopharyngeal cancer diagnostic hospitals on Booking Health website
Show all clinics
Certificates