Treatment of aortic valve stenosis with balloon valvuloplasty (program ID:

262925

)
Charite University Hospital Berlin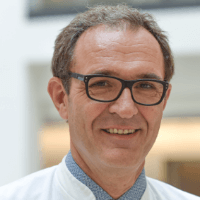 Head Physician
Prof. Dr. med.
Karl Stangl
Specialized in: cardiology, angiology
Department of Cardiology and Angiology
Program includes:
Initial presentation in the clinic
clinical history taking
physical examination
cardiological examination
laboratory tests:

complete blood count
general urine analysis
biochemical analysis of blood
TSH-basal, fT3, fT4
indicators of inflammation
indicators blood coagulation

transesophageal echocardiography (TEE)
EKG/ ECHO/ x-ray of thr chesе
holter monitoring (24h)
heart catheterization
preoperative care
balloon valvuloplasty
symptomatic treatment
control examinations
cost of essential medicines and materials
nursing services
full hospital accommodation
explanation of future recommendations
Required documents
Medical records
Echocardiography (if available)
Service
Price:
Type of program :
Expected duration of the program:
You may also book

Price:
About the department
According to the Focus magazine, the Department of Cardiology and Angiology at the Charite University Hospital Berlin ranks among the top German medical facilities specializing in the treatment of cardiovascular diseases!
The department offers the full range of medical services for the diagnostics and treatment of cardiovascular diseases. The department conducts all diagnostic and therapeutic procedures within the Cardiac Catheterization Laboratory, functional diagnostics of the heart, diagnostics and treatment of cardiac arrhythmias. The department's angiologists carry out complex diagnostics using ultrasound examination and angiography, as well as the treatment of stenoses and vascular obstructions by means of balloon dilatation, stent implantation and lysis. The department is headed by Prof. Dr. med. Karl Stangl.
The department has a modern Cardiac Catheterization Laboratory, which serves for all procedures of invasive diagnostics and interventional therapy for cardiovascular diseases. The priority focuses include the diagnostics and treatment of coronary artery disease, catheter therapy for valvular heart disease (for example, TAVI and MitraClip), interventional therapy for atrial septal defects and extracorporeal membrane oxygenation. Also, the department has an Emergency Cardiac Care Unit for the provision of emergency medical care for patients with acute thoracic pains, which in many cases are precursors to myocardial infarction.
All the department's specialists have expert knowledge and regularly undergo advanced training courses in order to keep abreast of innovations in cardiology and angiology. The patients are treated both on an inpatient and outpatient basis. The department has all the technical and professional resources in order to achieve the most favorable treatment outcome.
The service range of the department includes:
Cardiology
Invasive catheter diagnostics and interventional therapy

Diagnostics and treatment of coronary artery disease

Fractional flow reserve measurement
Optical coherence tomography
Intravascular ultrasound examination
Balloon dilatation
Stent implantation (pure metal stents, drug-coated stents and bioabsorbable stents)

Transcatheter aortic valve implantation (TAVI) for sparing treatment of aortic valve diseases
Minimally invasive catheter procedures for mitral valve replacement in patients who have previously undergone replacement surgery or plastic reconstruction of the mitral valve
Percutaneous (minimally invasive) pulmonary valve replacement
Percutaneous (minimally invasive) mitral valve reconstruction using MitraClip and Cardioband techniques in mitral regurgitation
Minimally invasive therapy in tricuspid regurgitation (Cardioband technique)
Interventional closure of atrial appendage defect (for patients with atrial fibrillation and high risk of thromboembolism)
Interventional treatment of septal defects (ventricular septal defect, open foramen ovale) using special probes
Renal denervation for the treatment of resistant hypertension
Treatment of patients with medically uncontrolled heart or pulmonary insufficiency using extracorporeal membrane oxygenation, Impella circulatory system
Transcoronary ablation of septal hypertrophy

Functional diagnostics

Functional diagnostics of the heart

Echocardiography (cardiac ultrasound examination)
Stress echocardiography
Electrocardiography
Ergometry and spiroergometry
Long-term ECG
24-hour blood pressure monitoring
12-channel daily ECG monitoring

Pulmonary function testing

Spirometry
Body plethysmography
Lung diffusion test

Electrophysiology

Electrophysiological examination (EPU) for the registration of tachycardia and bradycardia, as well as for the identification of the causes of syncope
Catheter ablation of atrial fibrillation
Catheter ablation in arrhythmogenic foci in the atria or heart ventricles

Therapy of cardiac arrhythmias

Implantation of pacemakers (in most cases – for the treatment of bradycardia)
Implantation of defibrillators (in most cases – for the treatment of tachycardia)
Cardiac resynchronization therapy (for example, in patients with impaired cardiac conduction, heart failure)
Angiology
Diagnostics of vascular diseases

Vascular ultrasound examination/Doppler ultrasonography
24-hour blood pressure monitoring
Microcirculation assessment
Ankle-brachial pressure index
Angiography (with contrast enhancement)

Vascular disease therapy

Balloon dilatation
Stent implantation
Lysis therapy

Other diagnostic and therapeutic options for the patients with cardiovascular diseases
Photo of the doctor: (c) Charité – Universitätsmedizin Berlin
---
About hospital
Accommodation in hospital
Aortic valve stenosis
Program [Description]
Treatment of aortic valve stenosis with balloon valvuloplasty
Hospital: Charite University Hospital Berlin
Type:
access_time Duration:
Price:
date_range
There are 76 aortic valve stenosis treatment hospitals on Booking Health website
Show all clinics
Certificates