Surgical removal of skin lipomas (program ID:

509792

)
Charite University Hospital Berlin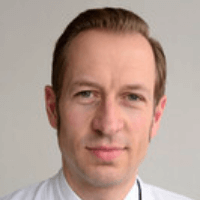 Head Physician
PD Dr. med.
Christian Witzel
Specialized in: adult and pediatric plastic, reconstructive surgery
Department of Adult and Pediatric Plastic, Reconstructive Surgery
Program includes:
Initial presentation in the clinic
clinical history taking
physical examination
review of medical records
laboratory tests:

complete blood count
biochemical analysis of blood
indicators of inflammation (CRP, ESR)
indicators blood coagulation

preoperative care
surgical removal of skin lipomas
histologically examination of the remote tissues
symptomatic treatment
control examinations
the cost of essential medicines and materials
nursing services
full hospital accommodation
explanation of future recommendations
Required documents
Medical records
Photo of the affected body regions
Service
Price:
Type of program :
Expected duration of the program:
You may also book

Price:
About the department
The Department of Adult and Pediatric Plastic, Reconstructive Surgery at the Charite University Hospital Berlin offers all modern surgical interventions, which help to repair skin and soft tissue injuries after burns, traumas or cancers. The special focus is on microsurgical reconstructive techniques. The department's surgeons have a perfect command of all the classic and innovative surgical techniques. The primary goal in the treatment of each patient is the complete elimination of particular defect with the preservation of functionality and the provision of the best aesthetic result. The department is headed by PD Dr. med. Christian Witzel.
The main clinical focuses of the department include:
Breast reconstruction surgery

Microsurgical reconstruction using the patient's own tissues

DIEP flap surgery (blood supply to the transplanted skin through vessels from the basin of the inferior epigastric arteries)
I-GAP/S-GAP flap surgery (blood supply to the transplanted skin through vessels from the basin of the inferior/superior gluteal artery)
TMG flap surgery

Breast reconstruction using implants
Reconstruction after prophylactic removal of the mammary gland

Breast surgery

Tuberous breast surgery
Breast reduction
Breast augmentation
Breast asymmetry correction
Breast lift
Gynecomastia correction

Skin tightening operations (all body parts)
Plastic interventions for the correction of defects after accidents, cancers and chronic wounds

Local flap surgery
Pedicle graft surgery
Microvascular free flap surgery
Perforator flap surgery
Functional flap surgery

Reconstructive surgery in chronic sternal wound and bedsores
Interventions for primary (congenital) and secondary (acquired) lymphedema
Reconstructive surgery after the removal of soft tissue sarcomas
Plastic reconstructive hand surgery, including in congenital hand defects in childrens
Reconstructive surgery of the lower limbs (for example, in circulatory disorders)
Other surgical options
Photo of the doctor: (c) Charité – Universitätsmedizin Berlin
---
About hospital
Accommodation in hospital
Skin lipomatosis
Program [Description]
Surgical removal of skin lipomas
Hospital: Charite University Hospital Berlin
Type:
Duration:
Price:
date_range
There are 88 skin lipomatosis treatment hospitals on Booking Health website
Show all clinics