University Hospital Duesseldorf
Department of Adult and Pediatric Ophthalmology (

26209

)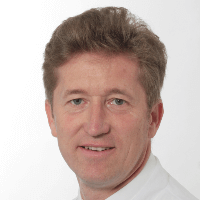 Prof. Dr. med.
Gerd Geerling
Specialized in: adult and pediatric ophthalmology
About the Department of Adult and Pediatric Ophthalmology at University Hospital Duesseldorf
The Department of Adult and Pediatric Ophthalmology at the University Hospital Duesseldorf offers the full range of services for the diagnostics and treatment of eye diseases. The outstanding quality of medical care is confirmed by numerous certificates and an ever-increasing number of patients. The department is headed by Prof. Dr. med. Gerd Geerling.
Of particular interest is the treatment of diseases of the anterior eye segment, especially corneal pathologies. The specialization also covers all types of corneal transplantation, cataract surgery and glaucoma treatment, all plastic surgeries on the eyelids, tear ducts and orbit, surgical and conservative treatment of retinal and vitreous diseases, therapy of neuro-ophthalmic diseases.
The department performs a large number of corneal transplantations (more than 10 years of experience) and is one of the largest and most reputable Transplant Centers in Germany. It has an inhouse Eye Bank, as well as the Lions Hornbank partner center, in which donor corneal transplants can be stored for several weeks. In the case of transplantation, sparing minimally invasive surgical techniques are used.
The service range of the department includes:
Diagnostics and treatment of diseases of the anterior eye segment

Corneal surgery

Perforating keratoplasty (corneal transplantation)
Posterior and anterior lamellar keratoplasty (DSAEK, DMEK, DALK)
Crosslinking in keratoconus, keratoglobus, keratotorus and keratectasia after corneal refractive surgery (LASIK)
Corneal tattoo
Corneal prosthetics

Cataract surgery

Implantation of special lenses (including toric, multifocal and aniridia lenses)
Cataract surgery combined with corneal transplantation or glaucoma surgery
Surgical removal of cataract in children

Glaucoma surgery

Trabeculectomy (with antimetabolites)
Canaloplasty
Trabeculotomy
Implantation of drainage implants in glaucoma (for example, Ahmed-Valve)
Laser trabeculoplasty
Cyclo-destructive methods using laser techniques

Diagnostics and treatment of diseases of the posterior eye segment

Retinal and vitreous surgery

Pars plana vitrectomy with seamless access
Pars plana vitrectomy
Laser surgery (argon and diode laser)
Photodynamic therapy
Intravitreal injections (vascular proliferation inhibitors and cortisone preparations)

Diagnostics and treatment of diseases of the eyelids, tear ducts and orbit

Eyelid surgery

Correction of entropion and ectropion using various methods, including the minimally invasive ones
Ptosis repair
Correction of very pronounced eyelid overhanging (blepharoplasty)
Eyelid reconstruction (grafts from the skin, oral mucosa, cartilage tissue)

Tear duct surgery

Operations in closed tear ducts, including endoscopic methods
Dry eye surgery (ranging from the restoration of tear duct patency to transplantation of the mucous membrane, salivary glands and artificial lacrimal glands (pump reservoir))

Orbital surgery

Correction of exophthalmos and enophthalmos using decompression surgery (bone and adipose tissue decompression)
Tumor removal (with and without bone tissue)
Reconstruction of bone and soft tissues, for example, after eye loss (fractures of the orbital floor, enophthalmos, etc.)

Diagnostics and treatment of neuro-ophthalmic diseases
Diagnostics and treatment of traumatic eye injuries
Strabismus correction
Other medical services
Curriculum vitae of Prof. Dr. med. Gerd Geerling
Prof. Dr. med. Gerd Geerling studied medicine at the Medical School of the RWTH Aachen University and in England. In 1994 he successfully completed his doctoral thesis (tutored by M. Reim) on examinations of cornea and conjunctiva after alkali burns by means of scanning electron microscopy and energy-dispersive of x-ray analysis. He obtained board certification as an Ophthalmologist in 1996 and worked until 2005 at the Department of Ophthalmology of the University Hospital Schleswig-Holstein in Lübeck. During this period he also was associated as an Honorary Scientist to the Institute of Biomedical Optics (former Medical Laser Center) of the University of Lübeck.
From 1997 until 2000 (funded by the DFG and Special Trustees) and in 2003 he worked at Moorfields Eye Hospital and the associated Institute of Ophthalmology, University College London receiving subspecialist training from John K.G. Dart, J. Richard O. Collin and Geoffrey E. Rose in corneal and oculoplastic surgery. He also worked in the Basic Science Laboratory of Sir Peng T. Khaw on corneal wound healing.
From 2000, Prof. Geerling worked as Corneal Consultant in Lübeck introducing corneal lamellar surgery. In 2003 he completed his habilitation and was promoted to a lecturer at the University of Lübeck with a thesis on Natural Tear Substitutes. In 2005 he was called to serve an Assistant Professor for Ophthalmology at the University of Würzburg and became Deputy Director of the Department of Ophthalmology. In Würzburg he received subspecialist training in glaucoma surgery. In 2011 he moved as Professor for Ophthalmology and Director of the Department of Adult and Pediatric Ophthalmology at the University Hospital Duesseldorf.
Prof. Geerling is a Member of the German Society of Ophthalmology. He has received several national and international awards. Since 2005, he is an Editor of Current Eye Research.
Research Activities
Prof. Geerling's clinical and scientific interests and activities are focused on natural tear substitutes, tissue constructs for ocular surface reconstruction and regeneration as well as new transplantation techniques for the treatment of corneal and ocular surface disorders, in particular dry eye, corneal diseases and keratectasia. He was one of the first to introduce modern lamellar corneal graft techniques in Germany and intraoperative optical coherence tomography in ophthalmology.
His surgical specialty lies in the anterior segment of the eye, with a particular focus on corneal transplantation. In addition he is specialised in glaucoma and oculoplastic surgery, including lacrimal and orbital tumor surgery. He has published more than 150 manuscripts in scientific journals and books and has edited two books.
Photo of the doctor: (c) Universitätsklinikum Düsseldorf
Department of Adult and Pediatric Ophthalmology.
University Hospital Duesseldorf:

Request more information now.
We will be happy to answer all your questions.
---
Certificates