University Hospital Duesseldorf
Department of Nuclear Medicine (

279219

)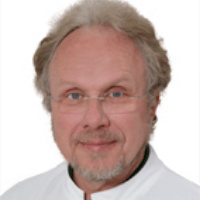 Prof. Dr. med.
Hans-Wilhelm Müller
Specialized in: nuclear medicine
About the Department of Nuclear Medicine at University Hospital Duesseldorf
The Department of Nuclear Medicine at the University Hospital Duesseldorf offers the full range of diagnostics and treatment with radioactive substances. It conducts many scintigraphic examinations, ranging from the diagnostics of the thyroid gland and skeleton to amino acid metabolism studies in brain tumors and metabolic studies in other malignant tumors. The department has at its disposal a specialized outpatient clinic for the diagnostics and treatment of thyroid diseases. The department is headed by Prof. Dr. med. Hans-Wilhelm Müller.
Along with several traditional gamma cameras, the department has two SPECT cameras, each of which is equipped with several detectors. The diagnostic capabilities are also complemented by the very latest techniques, for example, positron emission tomography (PET). This method is one of the most informative, because using it the doctor can see a complete picture of glucose metabolism in cancer, cardiac, neurological and psychiatric diseases.
The service range of the department includes:
Diagnostics and treatment of thyroid diseases
Radioiodine therapy for treating tumors, in particular, thyroid tumors
Diagnostics of coronary heart diseases and complications after myocardial infarction
Scintigraphy

Thyroid and parathyroid scintigraphy
Scintigraphy to detect oncopathology

Whole-body scintigraphy
Radioactive gallium scintigraphy
Somatostatin receptor scintigraphy with octreotide
MIBG scintigraphy
Scintigraphy using cancer embryonic antigen (CEA)

Scintigraphy in heart diseases

Myocardial scintigraphy
Radionuclide ventriculography

Brain scintigraphy

IBZM brain scintigraphy
Brain perfusion scintigraphy
Cerebrospinal fluid scintigraphy
Dopamine transporter scintigraphy (FP-CIT)

Kidney scintigraphy

Kidney tubular scintigraphy
Glomerular kidney scintigraphy
Static kidney scintigraphy

Scintigraphy of the blood system

Determination of the bleeding source
Schilling test
Scintigraphy with labeled red blood cells
Leukocyte scintigraphy

Scintigraphy of the gastrointestinal tract

Esophageal scintigraphy
Stomach scintigraphy
Salivary gland scintigraphy

Lymphatic scintigraphy
Lung scintigraphy
Liver scintigraphy
Spleen scintigraphy

Positron emission tomography
Other diagnostic and treatment methods
Curriculum vitae of Prof. Dr. med. Hans-Wilhelm Müller
Study of Medicine at the Catholic University of Leuven (Belgium) and the Heinrich Heine University Duesseldorf.
1980 German state medical exam, admission to medical practice.
1981 American preclinical medical exam.
1982 American clinical medical exam.
1986 Medical Specialist in Nuclear Medicine.
1986 Doctoral dissertation defense.
1989 Habilitation.
1978 - 1993 Numerous internships abroad (UK and USA): John Hopkins School of Medicine in Baltimore as a Fellow of the German Research Foundation (1989 - 1993).
1993 Invitation to the post of C4 Professor C4 Heinrich Heine University Duesseldorf, as well as obtaining the post of Head of the Department of Nuclear Medicine at the University Hospital Duesseldorf.
2000 Award of the European Department, College de France in Paris.
Photo of the doctor: (c) Universitätsklinikum Düsseldorf
Department of Nuclear Medicine.
University Hospital Duesseldorf:

Request more information now.
We will be happy to answer all your questions.
---
Certificates