University Hospital Duesseldorf
Department of Adult and Pediatric Radiation Therapy, Radiation Oncology (

279220

)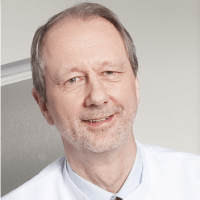 Prof. Dr. med.
Wilfried Budach
Specialized in: adult and pediatric radiation therapy, radiation oncology
About the Department of Adult and Pediatric Radiation Therapy, Radiation Oncology at University Hospital Duesseldorf
According to the Focus magazine, the Department of Adult and Pediatric Radiation Therapy, Radiation Oncology at the University Hospital Duesseldorf is included in the rating of the top German departments specializing in radiation therapy!
The department offers the full range of treatment of oncological diseases using ionizing radiation by means of external (teletherapy) or internal (brachytherapy) tumor radiation. The specialists of the department are doing their best to ensure the most effective cancer therapy, taking into account the very latest advances in science and medical technology, interdisciplinary cooperation and an individual approach. The Chief Physician of the department is Prof. Dr. med.
Wilfried Budach.
Teletherapy is based on a multimodal concept for treating breast cancer, prostate cancer, head and neck tumors, lung cancer, abdominal tumors and whole-body radiation. Radiosurgery and intensity-modulated radiation therapy refer to the most advanced radiation methods and are used in complex clinical cases (for example, localization of cancer in the brain, head and neck or in the abdominal cavity). Brachytherapy is used as an independent method or as an addition to teletherapy for the treatment of gynecological tumors, ENT tumors, lung, esophageal and soft tissue tumors.
The department specializes in the treatment of the following diseases:
Malignant pathologies

Gastrointestinal tumors
Tumors of the genitourinary system in men
Head and neck tumors
Sarcomas (soft tissue and bone tumors)
Tumors of the female reproductive system, including breast cancer
Lung cancer
Tumors of the central nervous system
Skin tumors
Pediatric tumors (for example, medulloblastomas, ependymomas, leukemias)
Malignant lymphomas

Benign pathologies

Degenerative and inflammatory diseases of the joints and soft tissues
Excessive scarring (keloid scars)
Chronic painful changes in the joints (arthrosis)
Calcium salt deposition in soft tissues (heterotopic ossification)
Orbital inflammatory diseases (endocrine ophthalmopathy)
Benign tumors of the central nervous system (for example, meningiomas, craniopharyngiomas, acoustic neuromas, pituitary adenomas)

Other benign and malignant diseases
The therapeutic spectrum of the department:
Imaging-guided conormal radiation
Intensity-modulated radiation therapy (IMRT)
Volumetric modulated arc therapy (VMAT)
Stereotactic high-precision irradiation
Stereotactic radiosurgery
Imaging-guided radiation therapy (IGRT)
Total body irradiation as a preparation for bone marrow transplantation
Palliative care
Other treatment methods
Curriculum vitae of Prof. Dr. med. Wilfried Budach
1978 - 1985 Study of Human Medicine at the Universities of Heidelberg and Kiel.
1985 Admission to medical practice, Military Doctor during the military service.
1986 Doctor of Medicine, University of Kiel.
1986 - 1991 Assistant Physician, Radiology Center at the University of Essen.
1991 Medical Specialist in Radiology.
1991 - 1992 Research Fellow (Scholarship of the German Research Foundation, 5 months), Department of Radiation Oncology at the Massachusetts General Hospital, Harvard Medical School, Boston, USA.
1992 - 1995 Medical Specialist in the Department of Radiotherapy, University Hospital Essen.
1995 Habilitation in Radiation Oncology and Venia Legendi, PD title.
1995 - 2004 Leading Senior Physician, Department of Radiation Oncology, University Hospital Tübingen.
1996 Medical Specialist in Radiation Therapy.
1997 Hanns Langendorf Prize of the Association of German Doctors for Radiation Protection and Hanns Langendorf Foundation.
2001 Extraordinary Professor.
2004 Head of the Department of Adult and Pediatric Radiation Therapy, Radiation Oncology, University Hospital Duesseldorf (C4 Professor).
2012 Congress President of the 32nd Annual Meeting of the German Society of Senology in Stuttgart.
2013 Honorary Member of the Belgian Society of Therapeutic Radiology and Oncology.
2014 Congress President of the 20th Annual Meeting of the German Society of Radiation Oncology in Duesseldorf.
2015 - 2017 Chairman of the Group on Radiation Oncology of the European Organization for Research and Treatment of Cancer (EORTC).
2017 President of the German Society of Radiation Oncology (DEGRO).
Member of various commissions engaged in the development of S3 guidelines for the treatment of breast cancer, stomach cancer, colorectal cancer, oral tumors and laryngeal cancer of the German Cancer Society.
Experience as a Research Manager and Member of the Research Commission (more than 20 clinical trials in radiation oncology).
Author of over 240 publications.
Photo of the doctor: (c) Universitätsklinikum Düsseldorf
Department of Adult and Pediatric Radiation Therapy, Radiation Oncology.
University Hospital Duesseldorf:

Request more information now.
We will be happy to answer all your questions.
---
Certificates