University Hospital Erlangen
Department of Hematology and Oncology (

251293

)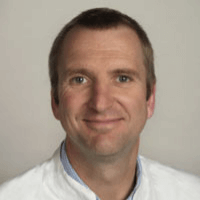 Prof. Dr. med.
Andreas Mackensen
Specialized in: hematology, oncology
About the department
The Department of Hematology and Oncology at the University Hospital Erlangen offers the full range of diagnostics and treatment of diseases of the hematopoietic system, such as acute or chronic leukemia, malignant lymphomas, as well as solid malignant tumors, which require chemotherapy or other systemic therapies. The department offers all systemic treatments, including bone marrow transplantation, antibody therapy. The main goal of each medical team employee is to provide patients with a competent medical care. The department is headed by Prof. Dr. med. Andreas Mackensen.
In addition to the inpatient beds, the department has a general outpatient clinic, a specialized outpatient clinic for patients after allogeneic transplantation, an outpatient clinic for chemotherapy and infusion therapy, and diagnostic laboratories. Each clinical case is discussed together with surgeons, radiation therapy specialists and other experts from related fields.
Moreover, the department conducts active research activities, within the framework of which many clinical trials are carried out. In some cases, such trials are the best option for the patient and can save his life. Thus, the department is proud not only of its successful clinical activities, but also of a significant contribution to the development of new treatment methods.
The department specializes in the diagnostics and treatment of the following diseases:
Neoplasms of the hematopoietic and lymphatic systems

Acute leukemia
Myelodysplasia
Chronic leukemia and myeloproliferative diseases
Malignant lymphomas
Multiple myeloma
Rare systemic diseases

Other malignant diseases (requiring systemic therapy)

Bone and soft tissue sarcomas
Malignant neoplasms of unknown primary
Gastrointestinal tumors
Testicular tumors
Head and neck tumors
Lung cancer
Genitourinary tumors
Breast cancer and other gynecological tumors

Non-malignant blood diseases

Anemia, leukopenia, thrombocytopenia
Polycythemia, leukocytosis, thrombocytosis
Other pathologies

Other pathologies
The service range of the department includes:
Cancer diagnostics and staging
Cytological diagnostics and immunophenotyping
HLA typing
Intensive inpatient chemotherapy
Bone marrow transplantation
Outpatient tumor treatment

Chemotherapy
Antibody therapy
Hormone therapy

Individual symptomatic therapy during chemotherapy
Blood transfusion and infusion therapy
Outpatient counseling and follow-up after treatment
Diagnostics of pathological changes in blood cells and non-malignant diseases
Second opinion
Other medical services
Curriculum vitae
Current Position
Since 2007 Head of the Department of Hematology and Oncology, University Hospital Erlangen.
Professional Background
1988 - 1991 University Hospital Freiburg, Department Hematology and Oncology.
1993 - 1998 Research Fellow.
1991 - 1993 Department of Tumor Immunology, Institute Gustave Roussy, Villejuif, France, Scholarship of the German Research Foundation.
1998 - 1999 University Hospital Freiburg, Department Hematology and Oncology, Assistant Medical Director.
1999 - 2007 University Hospital Regensburg, Department Hematology and Oncology, Senior Scientist.
Education
1979 - 1981 University Hospital Freiburg, training to become a Medical-Technical Laboratory Assistant.
1981 - 1988 Study of Human Medicine (state examination), Albert Ludwig University of Freiburg.
Awards
1990 Young Investigator Award from the International Association for Endotoxin Research, San Diego.
1994 Vincenz Czerny Prize from the German Society of Hematology and Oncology, Vienna.
Patents
European patent, patent number 95916557.2-2105.
Photo of the doctor: (c) Universitätsklinikum Erlangen
Department of Hematology and Oncology.
University Hospital Erlangen:

Request more information now.
We will be happy to answer all your questions.
---
Certificates