University Hospital Erlangen
Department of Neurology and Epileptology (

251299

)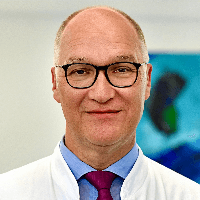 Prof. Dr. med. Dr. h. c.
Stefan Schwab
Specialized in: neurology, epileptology
About the Department of Neurology and Epileptology at University Hospital Erlangen
According to the Focus magazine, the Department of Neurology and Epileptology at the University Hospital Erlangen ranks among the best German medical facilities specializing in the treatment of multiple sclerosis and Parkinson's disease!
The department offers all the possibilities of modern medicine for the diagnostics and treatment of a wide range of diseases of the nervous system, including rare and especially complex ones. The treatment of stroke, epilepsy, movement disorders, neuromuscular diseases, chronic headaches, neurovascular diseases and nervous system cancers is of key interest for the department's medical team. The department has a specialized Stroke Unit for providing emergency care to stroke patients. Epilepsy is treated in a narrowly focused center known as one of the best in all of Germany. The treatment success is largely determined by the quality of the preliminary examination, and therefore the department has a progressive technical base allowing doctors to carry out comprehensive diagnostics of the nervous system and detect the slightest functional and structural disorders. The specialists in the field of neurosurgery and neuroradiology are actively involved in the therapeutic process. They regularly gather for boards to study complex clinical cases. With over 3,500 inpatients and about 7,000 outpatients annually, the department is one of the largest and most successful in its area of specialization in the country. The department is headed by Prof. Dr. med. Dr. h. c. Stefan Schwab.
The department is proud of its state-of-the-art Stroke Unit, which is the largest in Bavaria and the whole of Germany, and is also the leader in treatment success rates. In addition, the department operates a high-tech Intensive Care Unit specializing in the treatment of critically ill patients with neurological disorders. The department offers specialized outpatient clinics for the treatment of multiple sclerosis and neuroimmunological diseases, movement disorders, dementia, neuromuscular diseases, nervous system cancers and neurovascular disorders. In 2008, the department opened a new Section of Molecular Neurology, which combines basic clinical research with practical activities.
It is worth noting the Epilepsy Center where neurologists, neurosurgeons, neuropsychologists and other specialists work hand in hand for the benefit of their patients. The patients suffering from epilepsy are offered both classical and advanced treatment methods. Neurologists are competent in conservative therapy, which is based on an individually developed drug therapy regimen. If medications do not help the patient to get rid of epileptic seizures, neurosurgeons carry out surgical treatment – brain resections, disconnection surgery, vagus nerve stimulation and other interventions. Nevertheless, in more than 70% of cases, epilepsy can be successfully treated with drug therapy. The department's neurologists are highly qualified specialists in their field of expertise and have long clinical experience, therefore they are rightfully proud of the high success rates in epilepsy treatment.
The department's medical team often encounters neuromuscular diseases in their clinical practice, so there is a specialized center for the treatment of these pathologies. The department admits patients with polyneuropathies, muscular atrophy, amyotrophic lateral sclerosis, myopathies, myositis, myotonia, muscular dystrophy and many other pathologies. The three main elements of therapy for neuromuscular diseases are the use of individually selected medicines, physiotherapy and therapeutic exercises.
The Department of Neurology widely uses botulinum toxin injection therapy. This type of treatment helps patients achieve excellent therapeutic results for dystonia, torticollis, writer's cramp, hemifacial spasm, blepharospasm, spasticity, hyperhidrosis and other pathological conditions.
The department's neurologists cooperate with neurosurgeons, oncologists, radiologists and other specialists in order to carry out diagnostics and treatment of malignant brain tumors. The most common types of brain cancer include glioblastoma, astrocytoma, oligodendrocytoma, and meningioma. As in other cancers, surgical resection of the tumor is the first-line therapy. If the surgery is contraindicated (for example, in case of a hard-to-reach localization of the tumor or severe concomitant diseases) due to examination results, radiation therapy becomes the basis of treatment. The standard treatment protocol also includes chemotherapy.
The department has the following diagnostic options:
Ultrasound diagnostics
X-ray scanning
Computed tomography
Magnetic resonance imaging
Angiography of the cerebral vessels
Myelography
Neurophysiological studies

Electroencephalography
Electromyography
Electroneuronography
Recording of evoked potentials

Lumbar puncture
Other diagnostic tests
The department's range of medical services includes:
Diagnostics and treatment of stroke and other cerebrovascular diseases
Diagnostics and treatment of acute inflammatory diseases of the central nervous system
Diagnostics and treatment of movement disorders

Hereditary spastic paraplegia
Huntington's disease
Spinocerebellar ataxia
Restless legs syndrome
Essential tremor
Parkinson's disease

Diagnostics and treatment of dystonia (botulinum toxin therapy)

Blepharospasm
Hemifacial spasm
Oromandibular dystonia
Torticollis
Focal and provoked dystonia (for example, writer's cramp, dystonic tremor)
Rare types of dystonia

Diagnostics and treatment of spasticity, for example, after stroke or in multiple sclerosis (botulinum toxin therapy)
Diagnostics and treatment of hyperhidrosis, pseudohypersalivation, certain forms of essential tremor (botulinum toxin therapy)
Diagnostics and treatment of epilepsy (drug therapy)
Diagnostics and treatment of chronic headaches and pain syndromes (for example, migraines, tension headaches, cluster headaches, etc.)
Diagnostics and treatment of neuroimmunological diseases

Multiple sclerosis
Myelitis
Neuromyelitis optica
Retrobulbar neuritis
Acute disseminated encephalomyelitis
Myasthenia gravis
Stiff-person syndrome
Vasculitic neuropathy
Neurosarcoidosis

Diagnostics and treatment of neuromuscular diseases

Inflammatory polyneuropathies
Inflammatory muscle diseases
Myasthenia gravis
Hereditary polyneuropathies
Motor neuron diseases
Muscular dystrophies
Amyotrophic lateral sclerosis

Diagnostics and treatment of oncological diseases of the nervous system (brain tumors)

Glioblastoma
Astrocytoma
Oligodendroglioma
Meningioma

Diagnostics and treatment of peripheral nerve compression syndromes (for example, carpal tunnel syndrome, cubital tunnel syndrome)
Diagnostics and treatment of other diseases of the nervous system
Curriculum vitae of Prof. Dr. med. Dr. h. c. Stefan Schwab
Prof. Dr. med. Dr.h.c. Stefan Schwab is the Head of the Department of Neurology and Epileptology at the University Hospital Erlangen. He began his professional training in the Department of Neurology at the University Hospital Wuerzburg and at the Institute of Neuropathology at the University of Aachen. He then completed internships abroad, including at Johns Hopkins University in Baltimore, USA. Since 1992, the doctor worked in the Department of Neurology at the University Hospital Heidelberg (until 2005 as a Senior Physician). Prof. Schwab is an international expert in the treatment of acute stroke and neurological intensive care. His particular interest is the improvement of therapeutic techniques for the treatment of acute stroke. He also specializes in neuroregeneration and stem cell therapy after stroke.
Prof. Schwab was the President of the German Society for Neurocritical Care and Emergency Medicine (DGNI) and President of the German Interdisciplinary Association for Intensive Care Medicine and Emergency Medicine (DIVI) for several times.
He received numerous national and international awards for his scientific achievements. The most significant of them are the Wallenberg Prize of the German Neurological Society, the Mertens Prize and the Willis Prize for the Best Lecture of the Spanish Society of Neurology. In 2011, Prof. Schwab received the title of Doctor Honoris Causa of Grodno State Medical University, and in 2016 he became an Honorary Member of the French Society of Neurology. Prof. Schwab's list of publications includes more than 450 original works, numerous reviews and publications of books. He has published several books on resuscitation for neurological pathologies.
Photo of the doctor: (c) Universitätsklinikum Erlangen
Department of Neurology and Epileptology.
University Hospital Erlangen:

Request more information now.
We will be happy to answer all your questions.
---
Certificates