University Hospital Erlangen
Department of Thoracic Surgery (

251307

)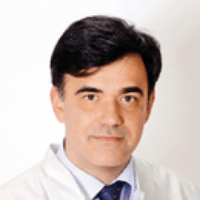 Prof. Dr. med. Dr. h.c.
Horia Sirbu
Specialized in: thoracic surgery
About the department
The Department of Thoracic Surgery at the University Hospital Erlangen offers all types of modern surgical interventions for the treatment of thoracic diseases. The patients with lung cancer are provided with the interdisciplinary treatment as part of a multidisciplinary cancer program combining tumor resection, radiation and chemotherapy. Another area of specialization is laser thoracic surgery, which allows to preserve tissues (lung parenchyma), for example, in the treatment of lung metastases. Also, the spectrum is complemented by the surgical correction of thoracic deformities, for example, pectus excavatum, and minimally invasive endoscopic hyperhidrosis treatment. The Chief Physician of the department is Prof. Dr. med. Dr. h.c. Horia Sirbu.
The department's specialists believe that close cooperation with the doctors from related disciplines, for example, radiation therapists, pulmonologists, oncologists, radiologists and experts in the field of general surgery, plays a crucial role in the successful treatment outcome. In many cases, this interaction provides the highest chances of recovery. Thanks to the cooperation with the Comprehensive Cancer Center Erlangen, the department ensures a continuous study of the results of the patient's diagnostic examinations in dynamics and close contact of all colleagues involved in his treatment.
Due to the availability of innovative technologies and modern medical equipment, the department performs many operations using sparing video-assisted thoracoscopy. This technique has got obvious advantages, such as the absence of the need in thoracotomy, which significantly reduces and simplifies the recovery period after surgery, as well as a lack of need to carry out artificial ventilation. The numerous researches confirm the high efficacy and safety of such interventions.
The service range of the department includes:
Diagnostics and treatment of lung cancer

Standardized procedures with lung resection, including lymph node resection in the interventional area and mediastinum
Extensive interventions (bronchoplasty, angioplasty), thoracic wall resection, atrial resection, pericardial and diaphragmatic resection
Interventions to treat peripheral tumors of the upper lobe of the lung using the anterior cervical thoracotomy according to Dartevel
Multimodal therapy of advanced lung cancer (chemotherapy, radiation therapy and subsequent surgical intervention)

Diagnostics and treatment of malignant pleural mesothelioma

Extended pleuropneumonectomy and diaphragmatic resection after chemotherapy and radiation therapy (multimodal therapy)

Diagnostics and treatment of mediastinal tumors (benign and malignant tumors of the thymus gland (thymoma, cysts, tumors of the thymus gland), myasthenia gravis)

Minimally invasive thymus resection

Laser surgery

Targeted resection of single and multiple metastases on one and both sides
Anatomically adapted resection of the lung segment in the presence of peripheral round-shaped pathological formation in high-risk patients

Tracheal surgery

Tracheal tumors
Tracheal stenosis

Diagnostics and treatment of thoracic wall tumors, including plastic reconstructive interventions
Imaging-guided thoracoscopic lobectomy
Bimanual imaging-guided mediastinoscopy
Anterior mediastinotomy using Chamberlain procedure
Video-assisted thoracoscopic surgery

Atypical lung resection
Resection of the lymph nodes and mediastinal tumors
Sanitation in pleural empyema
Bullectomy
Pericardial cyst resection
Pericardial fenestration
Resection of metastases
Pneumothorax (pulmonary laceration)

Thoracoscopy

Resection of solitary lymph nodes
Lung biopsy
Pleural biopsy
Sympathectomy in hyperhidrosis

Diagnostics and treatment of pulmonary emphysema

Bullous lung resection using minitoracotomy and videothoracoscopy
Lung volume reduction with video-assisted thoracoscopic surgery

Septic thoracic surgery

Pleural empyema and thoracoplasty

Other diagnostic and therapeutic options
Curriculum vitae
Education and Professional Experience
1989 - 1992 Doctoral degree, University of Bucharest.
1993 - 2001 Residency, University Hospital Göttingen.
2001 - 2008 Medical Consultant in Cardiothoracic Surgery, University Hospital Aachen.
Since 2008 Head of the Department of Cardiothoracic Surgery at the University Hospital Erlangen.
Clinical Focuses
Tracheal surgery.
Lung volume reduction surgery.
Imaging-guided thoracoscopy.
Surgical treatment of thoracic oncopathologies.
Multimodal approach to the treatment of non-small cell lung cancer.
Photo of the doctor: (c) Universitätsklinikum Erlangen
Department of Thoracic Surgery.
University Hospital Erlangen:

Request more information now.
We will be happy to answer all your questions.
---
Certificates