University Hospital Erlangen
Department of Adult and Pediatric Radiation Therapy (

289958

)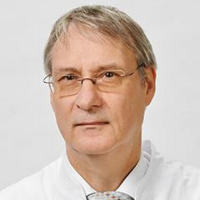 Prof. Dr. med.
Rainer Fietkau
Specialized in: adult and pediatric radiation therapy
About the Department of Adult and Pediatric Radiation Therapy at University Hospital Erlangen
According to the Focus magazine, the Department of Adult and Pediatric Radiation Therapy at the University Hospital Erlangen ranks among the best German medical facilities specializing in radiation therapy!
The department offers the full range of services in this medical field and is one of the most modern departments of this kind in Germany. The medical facility provides comprehensive treatment for various malignant diseases, which includes both radiation therapy and maintenance therapy (for example, pain therapy, diet therapy). The department uses state-of-the-art technical equipment, which allows for the most effective irradiation of the cancer focus with minimal harm to healthy tissues. In addition, the department provides innovative types of treatment – interventional radiation therapy and regional deep hyperthermia. All medical services comply with the highest international standards, and the department's medical team strictly adheres to radiation protection standards. The department's doctors have long clinical experience, and therefore they competently select the optimal course of radiation therapy for each patient to destroy cancer cells. The treatment is provided in close cooperation with oncologists, chemotherapists and other experts from related specialties. The Chief Physician of the department is Prof. Dr. med. Rainer Fietkau.
Different tumors require different forms of radiation therapy, which the department's specialists carry out in modern rooms equipped with the state-of-the-art medical equipment. On July 20, 2021, an innovative Halcyon linear accelerator manufactured by Varian was put into operation in the department. It is a unique device with an innovative circular gantry design and a patented multi-leaf double-layer collimator, which allows for targeted irradiation of the tumor with maximum preservation of healthy tissues and organs. Visually, the Halcyon device is very similar to a CT machine. Reduced noise levels, a low and smooth-moving treatment table and soft recessed lighting make the patient feel as comfortable and safe as possible during treatment. The main advantage of the new device is the fast speed of imaging and its highest quality, thanks to which the attending physician can be sure that the radiation beams are directed exactly at the tumor and do not damage healthy adjacent tissues.
Since radiation therapy is one of the main components of clinical protocols for cancer treatment, the department's medical team admits patients suffering from various types of cancer: breast cancer, oncological diseases of the female and male reproductive organs, gastrointestinal tract and urinary system, soft tissue sarcomas, head and neck tumors, lung cancer, etc.
Doctors, medical physicists, radiobiology specialists, technical assistants and nursing staff cooperate closely with other departments of the hospital, thereby ensuring the most favorable treatment outcomes. Prior to a course of radiation therapy, doctors carefully plan the upcoming treatment with computed tomography. After the completion of radiation therapy, patients receive follow-up care – the necessary medical care and medical advice.
It is worth noting that the department's specialists made a significant contribution to the development of radiation oncology in Germany. The department has also gained a reputation as a center of reference for various oncological diseases and participates in promising international research projects.
The department offers the following types of radiation therapy:
Image-guided radiation therapy
Extra- and intracranial stereotactic irradiation
Hyperthermia
Hypofractional high-precision high-dose radiation therapy
Intensity-modulated radiation therapy (IMRT, VMAT)
Interventional radiation therapy (brachytherapy)
Radiochemotherapy
Radiation therapy for pain relief
3D conformal radiation therapy
Other types of irradiation
The department's range of medical services includes:
Organ-preserving breast treatment in women – partial breast irradiation
Definitive or consolidation radiation therapy for lymphomas
Definitive radiochemotherapy for primary inoperable pancreatic cancer
Total body irradiation before bone marrow transplantation in children and adults
Neoadjuvant radiochemotherapy for esophageal cancer
Surgical radiation therapy (brachytherapy) for breast cancer, prostate cancer, tumors of the head and neck, cervix, uterus, vagina and external genital organs, penis and choroid
Radiochemotherapy with deep hyperthermia for superficial and muscle invasive bladder cancer (as an alternative to primary cystectomy)
Postoperative and definitive radiochemotherapy for brain tumors
Primary radiochemotherapy of the upper digestive tract
Primary radiochemotherapy for anal cancer
Primary radiochemotherapy for lung cancer
Radiochemotherapy for rectal cancer before surgery (neoadjuvant) or after surgery (adjuvant)
Radiation therapy for benign diseases such as degenerative joint diseases, endocrine ophthalmopathy, Dupuytren's contracture or Ledderhose disease (cicatricial degeneration of the plantar or palmar aponeurosis), as well as radiation therapy before and after joint replacement surgery (for the prevention of calcification)
Other medical services
Curriculum vitae of Prof. Dr. med. Rainer Fietkau
​Higher Education and Professional Career
1976 - 1982 Study of Medicine at the Universities of Bochum, Saarbruecken and Wuerzburg.
1976, 1983 Military Service.
1982 - 1984 Research Fellow at the Institute for Medical Radiology at the University of Wuerzburg.
1984 - 1988 Assistant Physician, Department of Adult and Pediatric Radiation Therapy, University Hospital Erlangen.
1988 - 1989 Assistant Physician, X-ray Unit in the Department of Surgery at the University Hospital Erlangen.
1989 - 1993 Senior Physician, Department of Adult and Pediatric Radiation Therapy, University Hospital Erlangen.
1990 Board certification in Radiotherapy.
1993 - 1994 Acting Head of the Department of Radiation Therapy at the University Hospital Goettingen.
1996 - 1997 C3 Professor of Radiotherapy, University of Erlangen-Nuremberg.
1997 - 2008 C4 Professor in Radiation Oncology, Radiation Therapy and Radiation Biology, University of Rostock.
Since 2008 W3 Professor of Radiation Therapy, University of Erlangen-Nuremberg, as well as Head of the Department of Adult and Pediatric Radiation Therapy at the University Hospital Erlangen.
Memberships in Professional Societies
German Society of Radiation Oncology (DEGRO).
European Society for Radiotherapy and Oncology (ESTRO).
Photo of the doctor: (c) Universitätsklinikum Erlangen
Department of Adult and Pediatric Radiation Therapy.
University Hospital Erlangen:

Request more information now.
We will be happy to answer all your questions.
---
Certificates