University Hospital Erlangen
Department of Nuclear Medicine (

289959

)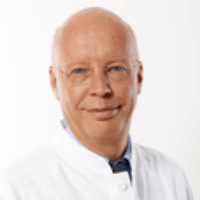 Prof. Dr. med.
Torsten Kuwert
Specialized in: nuclear medicine
About the Department of Nuclear Medicine at University Hospital Erlangen
The Department of Nuclear Medicine at the University Hospital Erlangen offers the full range of diagnostic and therapeutic services in the area of ​​its specialization. Of particular interest are PET/CT, PET/MRI, SPECT/CT, as well as innovative therapeutic methods of nuclear medicine, such as peptide radioreceptor therapy for neuroendocrine tumors, liver tumor radioembolization, and treatment of prostate cancer using radioligands to prostate-specific membrane antigen (PSMA therapy). The department is headed by Prof. Dr. med. Torsten Kuwert.
The department's doctors most often admit patients suffering from cancers, diseases of the nervous and cardiovascular system. The patients receive medical care from the highly qualified internationally renowned specialists with profound clinical training and rich experience. The department's doctors use only reliable radioisotopes, which do not have a harmful effect on the human body and do not cause any side effects. The patients are admitted both on an inpatient and outpatient basis.
The most commonly used diagnostic methods in the department are positron emission tomography combined with computed tomography (PET/CT). The diagnostic test provides high-quality imaging and has a high resolution, thanks to which it helps the doctors to detect the slightest pathological changes that cannot be diagnosed with other procedures. PET/CT allows the doctors to diagnose cancer at early stages, as well as accurately determine the size of the detected malignant tumor. In addition, PET/CT is the only diagnostic method, which can detect Alzheimer's disease at a very early stage.
The department includes a specialized outpatient clinic for the diagnosis and treatment of benign and malignant thyroid diseases. The diagnostic options include ultrasound examination (there are three state-of-the-art high-resolution ultrasound systems), thyroid scintigraphy, and SPECT/CT, which is rarely required. The tests for determining hormone levels and antibodies to the thyroid gland are carried out in the department's in-house outpatient laboratory. Additional laboratory tests are carried out in the central laboratory of the university hospital. The doctors of the outpatient clinic are experts in radioiodine therapy. Prior to starting this therapy, they always inform patients about the details of the course of therapy and the indications for it. The clinical cases of patients with thyroid malignancies are reviewed at interdisciplinary medical boards, after which the optimal treatment tactics are selected. The essence of radioiodine therapy is to take radioactive iodine in the form of capsules or in liquid form. Radioactive iodine enters the bloodstream and is actively absorbed by the malignant cells of the thyroid gland, gradually destroying them. Before starting the course of treatment, the patient must follow a special low-iodine diet.
The department's medical team also successfully treats advanced prostate cancer using the innovative Lutetium-177 PSMA therapy. As a rule, such treatment is prescribed for men who have previously had radical prostatectomy and radiation therapy with poor results. The method is used only in progressive hospitals of the world's leading countries in terms of medicine and has already proven its high efficiency. The essence of Lutetium-177 PSMA therapy is to target cancer cells with beta-radiation of the isotope Lutetium-177, which is injected into the patient's body intravenously. Lutetium-177 binds to a molecule (ligand) that is similar to prostate-specific membrane antigen (PSMA), the content of which in prostate cancer cells is several times higher than in healthy prostate cells. Metastatic cells also actively express PSMA. The treatment with the isotope Lutetium-177 results in almost complete absorption of the entire injected dose by the target tissues, destroying the malignant cells and suppressing their further reproduction. The procedure is carried out under the PET-CT guidance, on an inpatient basis.
The department's range of services includes:
Diagnostic options

PET, PET/CT and PET/MRI

Brain tumors (gliomas)
Recurrent prostate cancer
Neuroendocrine tumors
Inflammatory processes
Assessment of myocardial state

Scintigraphy and SPECT/CT

Endocrinology

Thyroid scintigraphy with 99mTc or MIBI Tc-99m sodium pertechnetate
Parathyroid scintigraphy

Gastroenterology and pulmonology

Lung perfusion scintigraphy
Salivary gland scintigraphy
Scintigraphy to assess the dynamics of gastric emptying
Scintigraphy for suspected Meckel's diverticulum
Detection of the source of hemorrhage using Tc-99m-labeled red blood cells
Spleen scintigraphy

Oncology

Bone scintigraphy
Scintigraphy to determine the expression of somatostatin receptors with Tc-99m-Tectreotyd
I-123 MIBG scintigraphy
Scintigraphy to determine the PSMA (prostate-specific membrane antigen) expression with Tc-99m MIP1404

Cardiology

Myocardial perfusion scintigraphy
Assessment of myocardial viability
Assessment of sympathetic innervation with the I-123 MIBG

Nephrology and urology

Dynamic kidney scintigraphy with TER-MAG-3 (Tc-99m-MAG-3)
Static kidney scintigraphy (Tc-99m-DMSA)

Neurology

Brain perfusion scintigraphy
Diagnostics of Parkinson's disease using FP-CIT-SPECT (dopamine transporter scintigraphy) and IBZM-SPECT (dopamine receptor-2 scintigraphy)

Orthopedics and rheumatology

Bone scintigraphy
Diagnostics of inflammatory processes using anti-granulocyte scintigraphy

Therapeutic options

Radioiodine therapy for benign and malignant thyroid diseases
Peptide radioreceptor therapy (PRRT) for neuroendocrine tumors
Lutetium-177 PSMA therapy for metastatic prostate cancer
Selective internal radiation therapy for primary malignant liver tumors and liver metastases
Xofigo® therapy (Radium-223-dichloride) for the treatment of bone metastases in prostate cancer
Radiosynoviorthesis (RSO) for chronic inflammatory joint diseases
Cevalin therapy

Other diagnostic and therapeutic services
Curriculum vitae of Prof. Dr. med. Torsten Kuwert
Higher Education
1986 Master of Engineering, Rhine-Westphalian Technical Aachen University, Germany.
Professional Career
1986 - 1992 Assistant, Institute of Microelectronics/Children with Food Allergies, Juelich, Germany.
1992 - 1994 Associate Professor, Institute of Microelectronics/Children with Food Allergies, Juelich, Germany.
1994 - 1997 Associate Professor, Department of Nuclear Medicine, University of Muenster, Germany.
1997 Head and Professor, Department of Nuclear Medicine, Institute for Nuclear Medicine, Bad Oeynhausen, Germany.
Head of the Department of Nuclear Medicine at the University Hospital Erlangen.
Photo of the doctor: (c) Universitätsklinikum Erlangen
Department of Nuclear Medicine.
University Hospital Erlangen:

Request more information now.
We will be happy to answer all your questions.
---
Certificates