University Hospital Erlangen
Department of General and Abdominal Surgery (

289966

)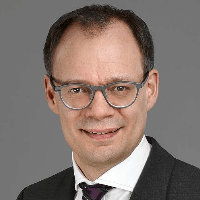 Prof. Dr. med.
Robert Grützmann
Specialized in: general and abdominal surgery
About the department
According to the Focus magazine, the Department of General and Abdominal Surgery at the University Hospital Erlangen ranks among the top German departments specializing in bowel cancer treatment!
The department offers the full range of modern surgical treatment. The clinical priority is cancer surgery, especially sparing, minimally invasive procedures and high-precision robot-assisted interventions. Each patient receives an individually adapted treatment regimen, which is discussed at daily conferences with doctors from related disciplines. Particular attention is paid to the comprehensive counseling, including on non-operational, traditional treatment methods. The department is headed by Prof. Dr. med. Robert Grützmann.
The primary focus of the department is oncology. Also, of particular interest to the department's specialists is coloproctology, which deals with the treatment of diseases of the colon, rectum and anus. The spectrum covers various clinical situations, ranging from benign and malignant pathologies, inflammatory processes up to the functional disorders. If possible, the doctors try to solve the problem in a conservative way, the experts from related medical fields are often engaged in the consultation. Other areas of specialization include the surgical treatment of all diseases of the gastrointestinal tract, endocrine glands, treatment of soft tissue tumors (sarcomas) and skin tumors (for example, malignant melanomas), as well as conservative and surgical treatment of skin and soft tissue infections.
A key component of the department's successful clinical activities is the progressive medical equipment, which allows for the performance of sparing interventions in order to ensure the best possible safety for any patient. With appropriate clinical indications, the surgeons prefer minimally invasive and robot-assisted (da Vinci surgical system) interventions. Thus, the patient receives an effective treatment with a low risk of postoperative complications, a short period of hospitalization and minimal pain.
The service range of the department includes:
Cancer surgery

Esophageal, stomach, pancreatic, liver, thyroid, parathyroid tumors
Colon and rectal tumors
Malignant melanoma, soft tissue tumors, metastases
Adrenal tumors
Peritoneal tumors (peritoneal carcinomatosis/HIPEC)

Gastrointestinal surgery

Gallbladder and biliary tract diseases
Hernias
Esophageal diseases
Stomach diseases
Pancreatic diseases
Duodenal diseases
Small and large intestine diseases
Metastases
Coloproctology

Endocrine surgery

Thyroid and parathyroid diseases
Adrenal diseases
Pancreatic diseases

Minimally invasive surgery

Gallbladder surgery
Gastric surgery, including morbid obesity and gastroesophageal reflux disease
Adrenal surgery
Surgery on the small, large intestine and rectum
Spleen surgery
Surgical treatment of hyperhidrosis

Robot-assisted surgery using the innovative da Vinci system
Transplant surgery

Liver transplantation
Pancreatic transplantation

Outpatient surgery

Hernia repair
Coloproctological interventions
Port system implantation
Tumors of the skin and superficial soft tissues
Other local interventions under local or general anesthesia

Bariatric surgery (obesity treatment)

Intragastric balloon installation
Gastric banding
Sleeve gastroplasty
Gastric bypass

Other medical services
Curriculum vitae
Education
1997 PhD thesis defense. "Interaction of cholecystokinin and glutamate in neurons of the lateral geniculate body and rat hippocampus".
2005 Habilitation. Subject: "Molecular biological characterization and validation of oncogenes in sporadic and hereditary pancreatic carcinoma".
Professional Medical Training
Board certification in Surgery.
Specialization in Abdominal Surgery.
Additional qualification in Special Abdominal Surgery, Sports Medicine.
Clinical Focuses
Cancer surgery.
Vascular surgery.
General surgery.
Pancreatic surgery.
Research Focuses
Pancreatic cancer.
Neoadjuvant therapy for pancreatic cancer.
Cystic pancreatic tumors.
Colorectal cancer.
Membership in Professional Societies
Working Group on Hepatobiliary Surgery (CALGP).
German Society of General and Abdominal Surgery (DGAV).
German Society of Surgery (DGCH).
German Society for Vascular Surgery and Vascular Medicine (DGG).
Scientific Awards
2007 Scholarship (abroad) of the German Society of Surgery (Pancreas Centers in the United States and the American Congress of Surgeons).
2004 Report Award, Days of Surgical Studies in Mannheim.
2004 Carl Gustav Carus Award.
2004 Dr. Walter Seipp Prize, Commerzbank-Stiftung Foundation.
2005 von Langenbeck Prize of the German Society of Surgery.
2005 Educational Award of the Medical Faculty of the Technical University of Dresden.
2013 Edgar Ungeheuer Prize of the German Society of Surgery for the Best Video Work.
Photo of the doctor: (c) Universitätsklinikum Erlangen
Department of General and Abdominal Surgery.
University Hospital Erlangen:

Request more information now.
We will be happy to answer all your questions.
---
Certificates