University Hospital Erlangen
Department of General, Abdominal, Endocrine, Colorectal and Bariatric Surgery (

289966

)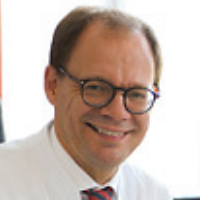 Prof. Dr. med.
Robert Grützmann
Specialized in: general, abdominal, endocrine, colorectal, bariatric surgery
About the Department of General, Abdominal, Endocrine, Colorectal and Bariatric Surgery at University Hospital Erlangen
According to the Focus magazine, the Department of General, Abdominal, Endocrine, Colorectal and Bariatric Surgery at the University Hospital Erlangen ranks among the top German departments specializing in colon cancer treatment!
The department offers the full range of modern surgical interventions. The priority field of ​​clinical activity is cancer surgery, in particular, sparing minimally invasive procedures and robot-assisted interventions. Each patient receives an individual therapy regimen, which is discussed at daily medical boards with doctors from other medical fields. In addition, the ​​responsibility of the medical facility includes surgeries for endocrine disorders and bariatric interventions for morbid obesity. The team of the department's surgeons has a wealth of experience in classical open and minimally invasive procedures on the abdominal organs, as well as specializes in the innovative da Vinci robot-assisted surgery. The department also successfully performs cytoreductive interventions. The department is headed by Prof. Dr. med. Robert Grützmann.
The key component of the department's successful clinical activity is state-of-the-art medical equipment, which allows performing sparing interventions and ensures maximum safety for patients. With appropriate clinical indications, surgeons prefer minimally invasive and robot-assisted (da Vinci surgical system) interventions. Thus, the patient receives effective treatment with a low risk of postoperative complications, a short hospital stay and minimal pain.
The department's primary focus is cancer surgery. The department's competent surgeons specialize in surgical procedures for resection of tumors of the esophagus, stomach, pancreas, liver, thyroid gland, parathyroid glands, rectum and other parts of the colon, malignant melanomas, soft tissue tumors, adrenal tumors and metastases in various organs. The medical facility also provides medical care for patients with peritoneal carcinomatosis. A modern procedure of hyperthermic intraperitoneal chemotherapy (HIPEC) demonstrates high efficiency in such patients. The essence of the therapeutic manipulation is to flush the abdominal cavity with a hot solution of high concentration chemotherapy drugs. The dose of drugs administered during the HIPEC procedure is tens of times higher than during conventional systemic chemotherapy. Chemotherapy drugs heated up to +42°C are injected into the abdominal cavity after surgical removal of malignant neoplasms. Thus, HIPEC is successfully used in the fight against metastatic cancer of the abdominal cavity. The patients get a chance for a complete cure or long-term remission. In addition, patients with colorectal cancer are offered modern cytoreductive interventions that ensure maximum removal of malignant tissues.
Of particular interest to the department's specialists is the treatment of colon diseases, including the rectum and anus. These include benign and malignant pathologies, inflammatory processes and functional disorders. The department is most often visited by the patients with anal fistulas and abscesses, pilonidal sinus, hemorrhoidal pathologies, fecal incontinence, chronic constipation, Crohn's disease and ulcerative colitis. Whenever possible, doctors try to solve the problem with conservative methods, and the specialists from related medical fields often participate in the medical board. The team of specialists in colorectal surgery has vast experience in stoma formation and caring for such patients.
In the field of endocrine surgery, surgeons perform operations for the treatment of benign and malignant diseases of the thyroid gland, parathyroid glands, adrenal glands and pancreas. Sparing endoscopic techniques are preferred, if possible. Thyroid diseases are often treated in collaboration with specialists in nuclear medicine (radioiodine therapy).
The team of the department's surgeons successfully performs bariatric interventions in patients suffering from morbid obesity. Such interventions are indicated for patients with a body mass index of 40 kg/m2 and above. In other cases, weight loss is achieved through diet therapy, physical exercises and behavioral therapy. The operation allows the doctors not only to effectively eliminate excess body weight, but also to improve the health of patients with type 2 diabetes mellitus, cardiovascular diseases, lipid metabolism disorders and other pathologies. Prior to the surgical intervention, doctors conduct comprehensive diagnostics, which helps to assess the availability of indications for surgical treatment and to exclude surgical risks. After the examination, the department's bariatric surgeons determine which type of intervention will be most effective. This can be an intragastric balloon implantation, gastric banding, sleeve gastroplasty, gastric bypass surgery and others. The treatment mostly involves the use of sparing laparoscopic techniques. After bariatric procedures, aesthetic plastic surgery is often performed to remove excess (stretched) skin. The consolidation of the results of the operation requires individual diet therapy and physical activity. Behavioral therapy (psychotherapy) is also part of the clinical protocol.
Other fields of the department's specialization include the surgical treatment of diseases of the gastrointestinal tract, including the liver, treatment of soft tissue (sarcoma) and skin tumors (for example, malignant melanoma), removal of hernias, treatment of gastroesophageal reflux disease, as well as conservative and surgical treatment of infectious lesions of the skin and soft tissues.
The department's key clinical focuses include:
General and abdominal surgery

Cancer surgery

Surgery for esophageal, stomach, pancreatic, liver, thyroid, parathyroid tumors
Surgery for colon tumors, including the rectum
Surgery for malignant melanoma, soft tissue tumors
Surgery for adrenal tumors
Surgery for peritoneal carcinomatosis (hyperthermic intraperitoneal chemotherapy – HIPEC)
Surgery for metastases

Surgery for benign diseases of the gallbladder and biliary tract
Surgery for hernia repair
Surgery for benign esophageal diseases
Surgery for benign stomach diseases
Surgery for benign pancreatic diseases
Surgery for benign duodenal diseases
Surgery for benign small intestine diseases
Surgery for benign diseases of the colon, including the rectum and anus

Endocrine surgery

Surgery for thyroid diseases
Surgery for parathyroid diseases
Surgery for adrenal diseases
Surgery for pancreatic diseases

Bariatric surgery (obesity treatment)

Intragastric balloon implantation
Gastric banding
Sleeve gastrectomy
Gastric bypass surgery

Minimally invasive surgery and robot-assisted surgery with the innovative da Vinci surgical system

Surgery for gallbladder diseases
Surgery for stomach diseases, including morbid obesity and gastroesophageal reflux disease
Surgery for adrenal diseases
Surgery for diseases of the small and large intestine, including the rectum
Surgery for spleen diseases
Surgery for pancreatic diseases
Surgery for liver diseases
Surgical treatment of hyperhidrosis

Transplant surgery (in cooperation with the specialized Transplant Center)

Liver transplantation
Pancreas transplantation

Outpatient surgery

Hernia repair surgery
Colorectal interventions
Implantation of port systems
Resection of skin tumors and superficial soft tissue neoplasms
Other interventions under local or general anesthesia

Other medical services
Curriculum vitae of Prof. Dr. med. Robert Grützmann
Higher Education
1990 - 1997 Study of Human Medicine at the Faculty of Medicine at the Free University of Berlin.
1997 Doctoral thesis defense. Subject: "Interaction of cholecystokinin and glutamate in neurons of the lateral geniculate body and rat hippocampus".
2005 Habilitation. Subject: "Molecular biological characterization and validation of oncogenes in sporadic and hereditary pancreatic carcinoma".
Master of Business Administration.
Professional Medical Training
Board certification in Surgery.
Specialization in Abdominal Surgery.
Additional qualification in Special Abdominal Surgery, Sports Medicine.
Professional Career
2007 to 2015 Work at the Mayo Clinic in Rochester, USA.
2012 Senior Physician in the Department of Abdominal, Thoracic and Vascular Surgery at the University Hospital Carl Gustav Carus Dresden.
2013 Deputy Head of the Center for Vascular Surgery at the University Hospital Carl Gustav Carus Dresden.
2014 Head of the Pancreatic Cancer Center at the University Hospital Carl Gustav Carus Dresden.
Since October 1, 2015 Chief Physician in the Department of General, Abdominal, Endocrine, Colorectal and Bariatric Surgery at the University Hospital Erlangen.
Main Clinical Focuses
Cancer surgery.
Vascular surgery.
General surgery.
Pancreatic surgery.
Main Research Focuses
Pancreatic cancer.
Neoadjuvant therapy for pancreatic cancer.
Cystic pancreatic tumors.
Colorectal cancer.
Membership in Professional Societies
Working Group on Hepatobiliary Surgery (CALGP).
German Society of General and Abdominal Surgery (DGAV).
German Society of Surgery (DGCH).
German Society for Vascular Surgery and Vascular Medicine (DGG).
Scientific Awards and Prizes
2007 Scholarship (abroad) of the German Society of Surgery (Pancreas Centers in the United States and the American Congress of Surgeons).
2004 Report Award, Days of Surgical Studies in Mannheim.
2004 Carl Gustav Carus Award.
2004 Dr. Walter Seipp Prize, Commerzbank-Stiftung Foundation.
2005 von Langenbeck Prize of the German Society of Surgery.
2005 Educational Award of the Medical Faculty of the Technical University of Dresden.
2013 Edgar Ungeheuer Prize of the German Society of Surgery for the Best Video Work.
Photo of the doctor: (c) Universitätsklinikum Erlangen
Department of General, Abdominal, Endocrine, Colorectal and Bariatric Surgery.
University Hospital Erlangen:

Request more information now.
We will be happy to answer all your questions.
---
Certificates