Diagnostics of polyembryoma ovarian (program ID:

251813

)
University Hospital Erlangen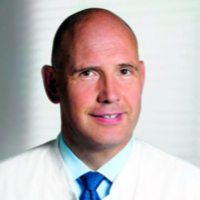 Head Physician
Prof. Dr. med.
Matthias Beckmann
Specialized in: adult and pediatric gynecology, mammology, obstetrics
Department of Adult and Pediatric Gynecology, Mammology, Obstetrics
The program includes:
Initial presentation in the clinic
clinical history taking
review of medical records
physical examination
laboratory tests:

complete blood count
general urine analysis
biochemical blood test
inflammation markers (CRP, ESR)
blood coagulation analysis (aPTT, PT, INR)
tumor markers (CEA, CA19-9, AFP, CA125)

gynecological examination
ultrasound of the abdomen
CT/MRI of the abdomen (if clinically indicated, additional cost is 650/1200€)
FNA biopsy with histological study (if clinically indicated, additional cost is 2000€)
nursing services
consultation of related specialists
services of all leading experts
explanation of individual treatment plan
Required documents:
Medical records
MRI/CT scan (not older than 3 months)
Biopsy results (if available)
Service
Price:
Type of program :
Expected duration of the program:
You may also book:

Price:
About the department
According to the Focus magazine, the Department of Adult and Pediatric Gynecology, Mammology, Obstetrics at the University Hospital Erlangen ranks among the top German departments specializing in obstetrics and breast cancer treatment!
The department offers the full range of services in the areas of its specialization and is one of the largest medical facilities of this kind in Germany. Of particular interest is the treatment of cancers of the female reproductive system, including breast cancer, medical care for hormonal imbalance of gynecological genesis, treatment of urinary incontinence and pelvic organ prolapse in women, top-class obstetric care and integrated pregnancy management. In addition, the department's gynecologists admit women suffering from infertility. They can undergo comprehensive diagnostics of the reproductive system and the further required therapeutic manipulations, such as uterine fibroid removal, treatment of endometriosis and other pathologies, which prevent the conception of a child. The department also specializes in the treatment of congenital malformations and acquired gynecological diseases in children. The highly qualified team of doctors with colossal experience, who keep pace with advanced innovations in medicine, take care of the patients' health. The specialists do everything possible to restore the health of patients, taking into account their needs and wishes.
The department is headed by Prof. Dr. med. Matthias Beckmann. Thanks to him, the department experienced radical changes that brought the medical facility to a higher medical and economic level. Among the most significant achievements, it is worth mentioning the increased number of researches in the field of molecular medicine, advances in minimally invasive surgery, including in cancer treatment.
The department admits about 9,000 inpatients and more than 27,000 outpatients every year. To provide multidisciplinary and highly qualified medical care, doctors of various specializations cooperate closely in certified centers of the hospital, for example, the Center for Perinatal Medicine, the Center for Reproductive Medicine, the Center for Urinary Incontinence and Pelvic Floor Diseases, and the Center for Endometriosis Care. These centers are specialized in particular fields and provide patients with the optimal treatment of pathologies of varying severity.
In the field of general gynecology, doctors deal with the treatment of patients with endometriosis, uterine fibroids, chronic lower abdominal pain, cervical dysplasia, polycystic ovary syndrome, menstrual irregularities and other gynecological diseases. To treat these pathologies, doctors use both conservative and surgical methods (most often minimally invasive). Whenever possible, non-invasive treatment is preferred.
One of the key areas of the department's work is the treatment of the full range of malignant tumors of the female reproductive system. The doctors specializing in gynecologic oncology regularly demonstrate successful treatment results, thanks to which the department has been awarded the prestigious certificate of the German Cancer Society (DKG). Upon admission to the department, doctors accurately study the woman's medical history and perform the necessary diagnostic tests. Should cancer be detected, a clinical case will be considered at an interdisciplinary tumor board, since cancer is a complex clinical task, and its successful cure requires the involvement of doctors from related medical fields, including gynecologists, oncologists, radiologists, surgeons, and others. Each patient benefits from an individual treatment regimen, which takes into account the type of tumor (uterine cancer, cervical cancer, ovarian cancer, vulvar cancer, endometrial cancer, etc.), its stage, age and general health condition of the patient, the presence of concomitant diseases and other important aspects. The treatment is provided in strict accordance with current clinical protocols and recommendations of professional societies. In most cases, the first-line treatment is surgery to remove the malignant tumor. The gynecologists of the medical facility perform all available surgical interventions: organ-preserving interventions, laparoscopic surgeries, pelvic exenteration, plastic reconstructive surgeries. After (sometimes also before) the surgical procedure, chemotherapy, radiation therapy, hormone therapy, targeted therapy and other conservative treatments are used to help completely cure cancer or achieve long-term remission. In addition, an obligatory component of the treatment of oncopathology in the department is the help of highly qualified psychologists.
Mammology is an integral part of the department's clinical practice. Doctors diagnose and treat all breast diseases in women and men. Particular attention is paid to malignant breast tumors. The department's specialists strive to detect such diseases at the early stages and perform tumor resection in combination with radiation therapy and/or chemotherapy. The advanced stages often require more drastic measures, including total breast removal (total mastectomy). Additionally, chemotherapy, radiation therapy, immunotherapy, hormone therapy and other techniques can be used. Thanks to long experience and advanced medical equipment, the department's specialists are able to significantly prolong the lives of patients with advanced stages of breast cancer and improve its quality. After completing the basic course of treatment, patients can undergo reconstructive surgery to restore the attractive appearance of the breast. The department's specialists have a perfect command in reconstructive surgical techniques, and therefore, after such operations, the patients can completely restore the beauty of the breast and regain self-confidence.
The department's specialists regularly admit patients with urinary incontinence and pelvic organ prolapse. As a rule, women complain of overactive bladder, sudden and unintended urination, foreign body sensation within the bladder, stress incontinence, reflex urinary incontinence, prolapse of the uterus, bladder, and rectum. The department offers all the possibilities for eliminating the above pathological conditions. If necessary, the specialists from related medical fields can be involved in the treatment. With appropriate clinical indications, the preference is given to conservative treatment methods.
The department is one of the few in Germany, which provides medical care for young children and adolescents with gynecologic disorders. This indicates the highest level of medical care, since the treatment of these diseases in children and adolescents requires special skills and qualifications. During the examination of young patients, the child's age, physiological development and hormonal status are taken into account. When an accurate diagnosis is made, doctors individually develop a treatment regimen. The department most often deals with the treatment of children with adrenogenital syndrome, hypermenorrhea, dysmenorrhea, inflammatory processes in the reproductive organs, genital malformations, genital traumas, menstrual irregularities in girls, Ullrich-Turner syndrome and other pathologies.
The department's therapeutic offer is complemented by high-quality obstetric services. The department carries out the full range of prenatal examinations to monitor the course of pregnancy, including high-risk pregnancies. The obstetricians have four state-of-the-art delivery rooms, two of which are equipped with a special bathtub for water birth. There is also a separate operating room for C-sections and other obstetric interventions. The department also has an intensive care unit for providing emergency medical care to newborns.
The department's main clinical activities include:
Gynecology

Diagnostics and treatment of uterine fibroids
Diagnostics and treatment of ovarian cysts
Diagnostics and treatment of polycystic ovary syndrome
Diagnostics and treatment of endometriosis
Diagnostics and treatment of hormonal imbalance caused by gynecological pathologies
Diagnostics and treatment of urinary incontinence
Diagnostics and treatment of pelvic organ prolapse
Diagnostics and treatment of precancerous conditions (cervical dysplasia)
Diagnostics and treatment of malignant diseases of the female reproductive system

Uterine cancer
Cervical cancer
Ovarian cancer
Vulvar cancer
Endometrial cancer

Diagnostics and treatment of gynecological diseases and congenital malformations of the female reproductive organs in children of all age groups

Mammology

Diagnostics and treatment of breast cancer, including removal of breast metastases
Diagnostics and treatment of benign breast diseases (for example, mastopathy, breast cysts, fibroadenomas)
Diagnostics and treatment of inflammatory breast diseases (mastitis)
Diagnostics and treatment of breast malformations

Amastia (absence of one or both breasts)
Polymastia (formation of accessory mammary glands in atypical places)
Breast hypoplasia (insufficient development of the breasts in relation to the general structure of the body)
Juvenile gigantomastia (rapid growth of the breast over several months)
Tuberous breast deformity (malformation in which the breast takes the form of a tube)
Breast asymmetry
Poland and Amazone syndromes

Obstetrics

Comprehensive prenatal diagnostics and management of pregnancy, including high-risk pregnancies
Childbirth (including C-section)
Postpartum care for mother and baby
Emergency medical care for the baby

Other medical services
Curriculum vitae
Academic and Professional Career
Since 2010 Director of the Comprehensive Cancer Center Erlangen-Nuremberg at the University Hospital Erlangen and Nuremberg City Hospital.
Since 2008 Chairman of the Board of the Cancer Center Erlangen-Nuremberg.
Since 2002 Scientific Director of the Institute for Women's Health GmbH (IFG®) Erlangen.
Since 2001 C4 Professor and Head of the Department of Adult and Pediatric Gynecology, Mammology, Obstetrics at the University Hospital Erlangen.
1994 - 2001 Senior Physician, Managing Senior Physician, Department of Gynecology, University Hospital Duesseldorf.
1991 - 1994 Research Fellow, Department of Gynecology, Johann Wolfgang Goethe University Frankfurt and Heinrich Heine University Duesseldorf.
1989 - 1991 Postdoctoral Fellow, Human Pharmacology, SANDOZ, Basel, Switzerland; Reproductive Medicine, Experimental Oncology, Section of Reproductive Endocrinology and Fertility, Department of Obstetrics and Gynecology, Department of Experimental Pathology, University of Chicago, USA.
1988 Diploma in Tropical Medicine and Public Health, Swiss Tropical and Public Health Institute, Basel, Switzerland.
1986 - 1988 Assistant Physician, KKH Emmendingen Hospital.
1986 Admission to medical practice, Stuttgart.
1979 - 1986 Study of Human Medicine, Albert Ludwig University of Freiburg, Germany; Catholic University of Leuven, Brussels, Belgium; Columbia University, New York, USA; Durban University, South Africa; Louis Pasteur University, Strasbourg, France.
Main Research Focuses
Genetic predisposition to breast cancer, ovarian cancer and endometrial cancer.
Molecular pathogenesis of endometriosis.
Minimally invasive methods of cancer treatment.
Memberships in Professional Societies
German Society of Gynecology and Obstetrics.
Deputy Chairman of the Gynecological Oncology Working Group (AGO).
Gynecological Endoscopy Working Group (AGE).
German Professional Association of Gynecologists.
Experimental Cancer Research Working Group (AEK).
Bavarian State Cancer Association.
German Society of Senology.
German Society of Endocrinology (DGE).
American Association for Cancer Research (AACR).
European Cancer Prevention Organisation (ECP), Multinational Breast Cancer Linkage Consortium (BCLC).
German Society for Gynecologic Endoscopy and Obstetric Endoscopy.
Expert Reviewer for Gynecologic Oncology, Bavarian State Medical Association.
Photo of the doctor: (c) Universitätsklinikum Erlangen
---
About hospital
Accommodation in hospital
Ovarian polyembryoma
Program [Description]
Diagnostics of polyembryoma ovarian
Hospital: University Hospital Erlangen
Type:
Duration:
Price:
date_range
There are 95 ovarian polyembryoma diagnostic hospitals on Booking Health website
Show all clinics
Certificates