Craniotomy and surgical removal of subdural brain hematoma (program ID:

252805

)
University Hospital Erlangen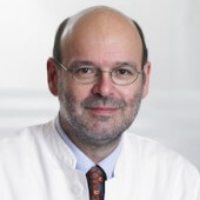 Head Physician
Prof. Dr. med.
Michael Buchfelder
Specialized in: adult and pediatric neurosurgery, spinal surgery
Department of Adult and Pediatric Neurosurgery, Spinal Surgery
The program includes:
Initial presentation in the clinic
clinical history taking
review of medical records
physical examination
laboratory tests:

complete blood count
general urine analysis
biochemical analysis of blood
inflammation indicators (CRP, ESR)
indicators blood coagulation

neurological examination
functionality x-ray
CT/MRI scan
neuropsychological tests (on indications):

ENMG (electroneuromyography)
EEG (electroencephalography)
SEPs (somatosensory evoked potentials)
VEPs (visually evoked potentials)
BAEP tests (brainstem auditory evoked potential)

preoperative care
resection of subdural brain hematoma
blood transfusions (if needed)
5-days intensive care unit stay
postoperative MRI control
symptomatic treatment
control examinations
neurorehabilitation 10 days
the cost of essential medicines and materials
nursing services
full hospital accommodation
developing of further guidance
Required documents:
Medical records
X-ray examination, MRI/CT scan (if available)
Service
Price:
Type of program :
Expected duration of the program:
You may also book:

Price:
About the department
The Department of Adult and Pediatric Neurosurgery, Spinal Surgery at the University Hospital Erlangen offers modern diagnostics and effective treatment of the full range of diseases, injuries, inflammatory processes, tumors and malformations of the brain, spinal cord and their meninges, as well as spinal diseases. Spinal surgery is performed in collaboration with doctors from the Department of Adult and Pediatric Traumatology, Orthopedic Surgery. The department admits adults and children with malformations of the nervous system, brain and spinal cord tumors, drug-resistant epilepsy and other diseases. As one of the largest medical facilities of this kind in Germany, the department's doctors annually perform more than 2,500 surgical interventions on the brain and spinal cord, peripheral nerve endings. The department's specialists also perform over 400 spinal surgical procedures annually. To achieve high success rates of the surgical treatment, doctors use the very latest equipment, including neuronavigation systems. Thanks to this, surgeons not only successfully eliminate the pathology, but also guarantee the patient maximum safety. The department has 78 beds, including 14 beds in the Intensive Care Unit. The priority goal of the department's medical team is to provide high-quality treatment focused on the patient's needs.
The Chief Physician of the department is Prof. Dr. med. Michael Buchfelder. The neurosurgeon has an excellent reputation not only in Germany, but also far beyond its borders. He can be deservely proud of over 20 years of clinical experience, as well as thousands of successful surgical procedures, which have brought patients back to a full life without pain and discomfort.
The surgical treatment of diseases of the central and peripheral nervous system is performed in four state-of-the-art operating rooms. In addition to high-tech surgical microscopes, neuronavigation systems and devices for spinal surgery with the possibility of complex 360-degree stabilization, the operating rooms are equipped with a 1,5 Tesla magnetic resonance imaging system for intraoperative imaging.
The department also offers outpatient appointments, including consultations on general pathologies of the central nervous system, diseases of the pituitary gland, spine, cancer, epilepsy, and neurovascular malformations. It also provides preoperative and postoperative care. The department's specialists annually provide outpatient medical care to more than 5,500 patients with various diseases of the central nervous system.
The primary focus of the department's neurosurgeons is on the treatment of benign and malignant tumors of the nervous system. The doctors most often deal with brain tumors. The team of neurosurgeons of the medical facility specializes in the treatment of acoustic neuroma, which is a benign tumor of one of the cranial nerves. As in many other tumors, neuroma symptoms manifest themselves only after the neoplasm reaches a large size, and therefore the tumor is quite often diagnosed by accident, during magnetic resonance imaging (MRI) for other indications. The examination for suspected neuroma involves the use of an audiogram, ultrasound ear scanning, electronystagmography, biopsy and other diagnostic tests. To treat the tumor, the department's surgeons use three main approaches: dynamic monitoring (monitoring of an auditory nerve neuroma when it is detected at the initial stages and does not manifest any symptoms), microsurgical removal of the neoplasm, and radiation therapy. The last method is most often used for contraindications to surgery or localization of a neuroma in a hard-to-reach place.
The department's therapeutic options are not limited to the treatment of benign tumors. The medical facility often admits patients with brain and spinal cord malignancies. Upon confirmation of oncology in the patient, the clinical case is considered at the tumor board with the participation of neurosurgeons, oncologists, radiologists, radiation therapists and other related specialists. The classic treatment regimen includes surgical resection of the tumor, radiation therapy, and chemotherapy. The treatment regimen is accurately thought out taking into account the particular clinical indications of the patient, on an individual basis.
The department's neurosurgeons are proud of their outstanding results in the field of surgical treatment of epilepsy, which is carried out within the specialized center. Today, there are many medications that can fight epilepsy, but in some cases the only effective way to eliminate epileptic seizures is surgery. With all the diagnostic data, neurosurgeons, neurologists, neuropsychologists, neuroradiologists and specialists in nuclear medicine have a board, during which they develop the optimal treatment tactics. If surgery is the most advisable option, doctors decide which exact intervention will be most effective for the patient. The department successfully performs interventions for resection of the epileptic focus and various modifications of hemispheric disconnection. The procedure for stimulating the vagus nerve is also widely used. The Epilepsy Center, which is part of the department, is one of the four best centers in Germany and has a 4th degree accreditation. Therefore, the patients with epilepsy can be confident that they entrust their health to highly qualified and experienced doctors.
An important area of ​​work of the team of neurosurgeons working in the medical facility is the surgical treatment of spinal diseases, as well as traumatic injuries and degenerative changes in the spine. To provide medical care to patients with spinal pathologies, the department has a highly specialized center. To achieve excellent therapeutic results, neurosurgeons cooperate closely with orthopedists and traumatologists. The specialists most often deal with the treatment of spinal disc herniation, tumors of the spine and spinal cord, spinal stenosis, spinal inflammatory diseases and injuries. Whenever possible, operations are performed using sparing minimally invasive techniques, which contributes to the rapid postoperative recovery of the patient. To ensure the maximum safety of surgical procedures, when performing surgery doctors use modern intraoperative 3D imaging, neuronavigation systems and other computer-assisted technologies.
The department is also distinguished by its rich experience in the treatment of diseases of the central nervous system in infants, young children and adolescents (in cooperation with the Department of Pediatric and Adolescent Medicine, the Department of Neuropediatrics, Pediatric Oncology). The therapeutic spectrum includes the treatment of both common and rare diseases, including cranial malformations, meningomyelocele, spina bifida, brain and spinal cord tumors. The department's pediatric neurosurgeons use all modern surgical techniques for the treatment of young patients with pathologies of any severity.
The department's main clinical focuses include:
Surgical treatment of acoustic neuroma

Follow-up monitoring using MRI after initial diagnosis
Radiosurgery or fractionated radiation therapy
Neurosurgical operation using a surgical microscope
Operations using intraoperative electrophysiological monitoring with registration of acoustic evoked potentials
Surgical interventions with intraoperative stimulation of the facial and trigeminal nerve
Surgery in sitting position to protect the facial and auditory nerves

Surgical treatment of malignant brain tumors (special focus on the treatment of gliomas)
Surgical treatment of pituitary tumors (about 250 operations per year)

Microsurgical interventions
Endoscopic interventions
Surgery using intraoperative MRI

Surgical treatment of spinal cord malignancies
Surgical treatment of spinal diseases (more than 400 operations on the spine, including more than 100 stabilization operations, as well as replacement of vertebral bodies in all parts of the spine)

Microsurgery
Navigation-assisted surgery
Open surgical interventions

Surgical treatment of pathologies of the central nervous system in children of all age groups (in cooperation with specialists from related disciplines)
Surgical treatment of epilepsy (in cooperation with the Department of Neurology)

Microsurgical resection of certain brain areas, up to total removal (usually when the focus is located in the temporal lobe)
Resection of particular brain areas, such as hippocampectomy or removal of the amygdala
Resection of the brain near functionally important areas (for example, motor center, speech center, memory center, optic tracts)
Removal of multiple lobes (multilobectomy)
Resection of epileptogenic defects (tumors, scars, malformations)
Resection of the cerebral cortex (hemispherotomy) and its connective structures (callosotomy), functionally important brain areas (multiple subpial transactions)
Implantation of a system for deep vagus nerve stimulation

Surgical treatment of cerebral aneurysms

Open neurosurgical interventions (clipping, aneurysm wall enhancement)
Neuroradiological endovascular procedures (coiling, stent implantation)

Surgical treatment of hemangiomas (arteriovenous malformations)

Classical interventions
Neuroradiological endovascular procedures (embolization)
Combination therapy (in rare cases)

Skull base surgery

Surgery in sitting position
Electrophysiological monitoring
CUSA device (ultrasonic aspiration system for the treatment of tumors)
Endoscopy
Microscopy
Intraoperative imaging
Neuronavigation
Laser surgery
Preoperative functional imaging
5-ALK fluorescence diagnostics
Highly specialized, postoperative intensive care

Surgical treatment of neurovascular compression syndromes (for example, trigeminal neuralgia, hemifacial spasm)
Intraoperative MRI and neuronavigation

Recurrent pituitary adenoma
Brain tumors with indistinct boundaries (low- and high-grade gliomas)
Surgical treatment of epilepsy
Invasive diagnostics (implantation of electrodes into the brain) to accurately determine the localization of an epileptogenic focus
Biopsy of hard-to-reach brain tumors

Neurosurgical intensive care (early detection and treatment of dysfunctions of the brain and spinal cord caused by traumatic brain and spinal cord injury, intracranial hemorrhage or inflammation of the central nervous system)
Other medical services
Curriculum vitae
Prof. Dr. med. Michael Buchfelder is the Head of the Department of Adult and Pediatric Neurosurgery, Spinal Surgery at the University Hospital Erlangen. A highly qualified neurosurgeon has over 20 years of successful clinical experience. Prof. Buchfelder leads a large team of highly qualified surgeons who perform more than 2,500 interventions annually, including about 400 spinal surgeries. The department is known as one of the largest and leading medical facilities in Germany and other European countries. Prof. Michael Buchfelder is a member of the German Society of Neurosurgery and other professional medical societies.
Doctor's clinical interests include spinal surgery, endoscopic interventions for diseases of the central nervous system, surgical treatment of epilepsy, aneurysms and hemangiomas, as well as operations for acoustic neuroma.
Photo of the doctor: (c) Universitätsklinikum Erlangen
---
About hospital
Accommodation in hospital
Subdural brain hematoma
Program [Description]
Craniotomy and surgical removal of subdural brain hematoma
Hospital: University Hospital Erlangen
Type:
Duration:
Price:
date_range
There are 65 subdural brain hematoma treatment hospitals on Booking Health website
Show all clinics
Certificates