University Hospital Frankfurt am Main
Department of Neurology (

26142

)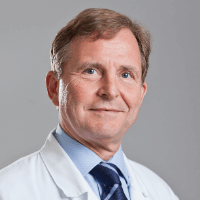 Prof. Dr. med.
Helmuth Steinmetz
Specialized in: neurology
About the Department of Neurology at University Hospital Frankfurt am Main
According to the Focus magazine, the Department of Neurology at the University Hospital Frankfurt am Main ranks among the top German medical facilities specializing in the treatment of multiple sclerosis and Parkinson's disease!
The department offers the full service range for the diagnostics and conservative treatment of diseases of the nervous system. Patient care is provided both on an outpatient and inpatient basis. Of particular interest is the treatment of movement disorders, epilepsy, neuro-oncological pathologies, stroke and other diseases. The department employs highly qualified doctors who do not only guarantee the most effective treatment, but also surround the patient with care, demonstrate respectful attitude and appreciate the needs of each patient. The department is headed by Prof. Dr. med. Helmuth Steinmetz.
The department includes the Section of Neuropsychology, which studies functions of the nervous system, such as attention, memory, critical thinking, emotional state and behavior. Thus, the specialists in this field complement the diagnostic picture by providing an analysis of all aspects of the patient's mental health. In the course of diagnostics, the doctors apply standard methods approved by the German Society of Neuropsychology.
The service range of the department includes:
Diagnostics and treatment of motor disorders

Comprehensive diagnostics of motor disorders of unknown origin
Comprehensive examinations to confirm the diagnosis (levodopa test, apomorphine test, imaging examinations, tremor analysis, cerebrospinal fluid puncture, genetic testing, etc.)
Comprehensive treatment of Parkinson's disease, tremor, dystonia and ataxia (in particular, drug therapy)
Interventional therapy for Parkinson's disease and dystonia (for example, deep brain stimulation, apomorphine pump, duodenal levodopa probes, botulinum toxin therapy)
Follow-up care and monitoring of treatment success

Diagnostics and treatment of multiple sclerosis (certification of the German Multiple Sclerosis Society)
Diagnostics and treatment of sleep disorders

Insomnia
Daytime tiredness and somnolence (hypersomnia)
Narcolepsy
Sleep disorders (parasomnias) and tendency to nocturnal epilepsy (in collaboration with special epilepsy counselor)
Involuntary leg movements during sleep and restless legs syndrome
Sleep-related breathing disorders (for example, obstructive sleep apnea)
Additional diagnostics: monitoring of respiratory and movement disorders in sleep, EEG, provocative EEG, neuropsychological tests
Polysomnography and/or long-term EEG-video monitoring in the EEG-Video Monitoring Unit (within the certified Sleep Laboratory)
Optimization of therapy, the use of new drugs in clinical trials
Refusal to take sleeping drugs in long-term period

Diagnostics and treatment of neuromuscular diseases

Muscular dystrophies
Muscular diseases due to metabolic disorders (metabolic and endocrine myopathies)
Inflammatory muscle diseases (myositis)
Myasthenia

Diagnostics and treatment of cerebrovascular pathologies
Diagnostics and treatment of various types of dementia and cognitive disorders
Deep brain stimulation in:

Progressive Parkinson's disease with severe movement disorders
Severe focal or generalized dystonias
Severe tremor

Botulinum toxin therapy in:

Focal, segmental and generalized dystonia (especially blepharospasm, convulsions) and facial hemispasm
Local spasticity of the limbs
Local excessive sweating (hyperhidrosis)
Severe refractory dystonia

Diagnostics and treatment of epilepsy
Diagnostics and treatment of stroke
Diagnostics and treatment of oncopathologies of the nervous system
Intensive care
Other diagnostic and therapeutic services
Photo of the doctor: (c) Universitätsklinikum Frankfurt
Department of Neurology.
University Hospital Frankfurt am Main:

Request more information now.
We will be happy to answer all your questions.
---
Certificates