University Hospital Frankfurt am Main
Department of Adult and Pediatric Orthopedics, Special Orthopedic Surgery and Rheumatic Orthopedics (

279207

)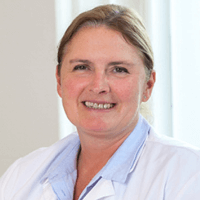 Prof. Dr. med.
Andrea Meurer
Specialized in: adult and pediatric orthopedics, special orthopedic surgery, rheumatic orthopedics
About the Department of Adult and Pediatric Orthopedics, Special Orthopedic Surgery and Rheumatic Orthopedics at University Hospital Frankfurt am Main
According to the Focus magazine, the Department of Adult and Pediatric Orthopedics, Special Orthopaedic Surgery and Rheumatic Orthopedics at the University Hospital Frankfurt am Main ranks among the top German medical facilities specializing in the treatment of orthopedic diseases in adults and children, as well as in hip surgery!
The department offers the full range of medical services in these medical fields. It carries out both diagnostics and treatment of patients of all age groups, including very elderly patients, with various musculoskeletal diseases. The therapeutic options include both conservative and surgical treatment methods. The department is distinguished by high professionalism of doctors, advanced infrastructure and invaluable experience in the field of its specialization, due to which it occupies leading positions in the European medical arena and guarantees an optimal treatment result. The Chief Physician of the department is Prof. Dr. med. Andrea Meurer.
The department carries out productive research activities, which helps to introduce into clinical practice the very latest therapeutic techniques and thereby restore the function of the musculoskeletal system, including in particularly difficult cases. The goal of each department's physician is to provide the patient with a high-quality and effective long-term treatment outcome.
The department offers 88 beds for inpatient treatment and modern operating rooms. It treats more than 4,000 inpatients and about 17,000 outpatients every year.
The department includes Endoprosthetics Center of Maximum Care (EndoProthetikZentrum). It performs operations to partially and totally replace hip, knee, shoulder, elbow, and ankle joints. Due to the use of modern prostheses from the leading world manufacturers, as well as due to the use of the very latest surgical techniques, including minimally invasive ones, the doctors achieve excellent results in this field.
A special focus of the department's orthopedicians is the treatment of musculoskeletal diseases in children. Young patients require special approach to therapy, because their body is still growing. The doctors set themselves the task not only to eliminate the health problem, but also to ensure the proper development of the child's skeleton, joints, muscles and tendons.
The main clinical focuses of the department include:
Endoprosthetics

Corrective and remodeling osteotomy in joint deformity or arthrosis
Treatment of joint lesions due to overloads, for example, after doing sports (arthroscopic interventions, procedures for the regeneration of cartilage tissue, reconstruction of tendons and ligaments)
Total and partial replacement of all joints (using cement and cementless fixation)
Replacement using minimally invasive techniques
Replacement of worn or infected endoprostheses
Bone tissue transplantation to compensate bone defects
Treatment using special reconstructive implants
Closure of massive defects using special implants (so-called individual prostheses)

Treatment of orthopedic spinal diseases (all modern and classic conservative and surgical techniques are used)

Cervical, thoracic and lumbar spinal diseases caused by degeneration of the spinal structures

Spinal disc herniation
Spinal stenosis
Arthrosis of small intervertebral joints

Spinal fractures

Due to the osteoporosis
Traumatic fractures
Due to the tumor lesions (primary tumors and metastases)

Spinal deformities

Spinal curvature (scoliosis)
Vertebral dislocation (spondylolisthesis)
Infectious lesions of the vertebral bodies (spondylitis)
Rheumatic diseases

Pediatric orthopedics

Conservative and surgical treatment of dysplasia and hip dislocation
Conservative and surgical treatment of congenital and secondary clubfoot and other foot deformities
Conservative and surgical treatment of Perthes disease
Treatment of slipped capital femoral epiphysis
Congenital and acquired axial deformities and/or lower limb shortening
Scoliosis and other spinal deformities
Congenital skeletal/metabolic dysplasias
Rheumatic joint diseases
Neuro-orthopedic diseases

Foot surgery

Valgus deformity of the great toe (hallux valgus)
Degenerative arthritis of the first metatarsophalangeal joint of the foot (hallux rigidus)
Hammer and claw fingers, Morton's neuroma
Treatment-resistant heel spur, ligament tears, foot and ankle instability
Foot and ankle arthrosis, foot and ankle fractures
Injuries and ruptures of the Achilles tendon
Aseptic bone necrosis (Keller's disease)
Discomfort caused by additional foot bones (for example, os tibiale externum, os trigonum)
Foot tumors
Plantar fibromatosis
Tarsal tunnel syndrome

Oncologic orthopedics

Diagnostics of unclear bone and soft tissue tumors
Malignant tumors of bones and cartilages (for example, osteosarcomas, chondrosarcomas, Ewing's sarcomas)
Metastases
Malignant soft tissue tumors (soft tissue sarcomas, for example, liposarcomas, synovial sarcomas, fibrosarcomas, Ewing's sarcomas, angiosarcomas, malignant tumors of the peripheral nerves, leiomyosarcoma of the extremities)
Benign bone tumors (for example, enchondromas, exostoses, osteoid osteomas, osteoblastomas)
Benign soft tissue tumors (for example, lipomas)
Plasmocytomas
Tenosynovial giant cell tumors
Bone cysts
Giant cell bone tumors (osteoclastomas)
Chondroblastomas

Treatment of shoulder diseases

Rotator cuff tear
Shoulder replacement
Shoulder dislocation and instability
Shoulder fractures
Clavicle fractures
Impingement syndrome
Forearm calcification
Frozen shoulder
Shoulder injuries

Sports orthopedics

Shoulder injuries
Elbow injuries
Hip injuries
Ankle injuries
Knee injuries

Meniscus tears
Cartilage damage
Cruciate ligament injury
Patella dislocation

Other medical services
Curriculum vitae of Prof. Dr. med. Andrea Meurer
2017 President of the German Association of Orthopedics and Orthopedic Surgery, as well as Vice President of the German Society for Orthopedics and Trauma.
2014 Congress President of the Association of South German Orthopedic Surgeons (VSOU) in Baden-Baden.
03.2009 Invitation to the Department of Orthopedics, Johann Wolfgang Goethe University Frankfurt am Main.
01.2009 Member of the Working Group on Endoprosthetics.
11.2008 Chief Physician of the Vulpiusklinik Bad Rappenau.
10.2006 ComGen Organization of the Working Group on Endoprosthetics.
09.2006 Elected as a Council Member of the German-speaking Society of Pediatric Orthopedics.
02.2006 Extraordinary Professor.
02.2005 Leading Senior Physician and Permanent Representative of the Director of the Clinic.
07.1999 Venia legendi in Orthopedics.
11.12.1997 Appointed as a Senior Physician in the Department of Orthopedics at the University Hospital Mainz.
Since 01.1997 Research Fellow, Department of Orthopedics at the University Hospital Mainz.
01.1996 - 12.1996 Research Fellow, Department of Traumatology, Hand Surgery and Reconstructive Surgery, University of Cologne.
01.1994 - 12.1995 Research Fellow, Department of Orthopedics at the University Hospital Mainz.
01.1994 Admission to medical practice.
07.1992 - 12.1993 Intern, Department of Orthopedics at the University Hospital Mainz.
Habilitation
01.07.1999 Habilitation, Faculty of Medicine, University of Mainz. Subject: "The study of normal and pathological gait using computer dynamic electromyography and goniometry. Methodical examination of healthy people of different age groups and patients with coxarthrosis and gonarthrosis".
Doctoral thesis
24.06.1992 Doctoral thesis defense, Faculty of Medicine, University of Mainz. Subject: "Determination of the stage of gastrointestinal tumors using computed tomography".
Education
1991 - 1992 One-year practice at the institution for training Lutheran Sisters of Mercy (third part of the Medical Examination).
1991 Second part of the Medical Examination.
1988 First part of the Medical Examination.
1987 Preliminary Medical Examination.
Since 1985 Study of Human Medicine at the Faculty of Medicine of the University of Mainz.
Additional Qualifications
11.2007 Board certification in Orthopedics and Traumatology.
11.2006 Additional qualification in Pediatric Orthopedics.
11.2005 Specialization in Osteology (Association of Osteology).
10.2004 Optional training in Special Orthopedic Surgery.
09.2001 Additional specialization in Rheumatology.
12.1997 Board certification in Orthopedics.
Photo of the doctor: (c) Universitätsklinikum Frankfurt
Department of Adult and Pediatric Orthopedics, Special Orthopedic Surgery and Rheumatic Orthopedics.
University Hospital Frankfurt am Main:

Request more information now.
We will be happy to answer all your questions.
---
Certificates