University Hospital Halle (Saale)
Department of Adult and Pediatric Otolaryngology, Head and Neck Surgery (

229533

)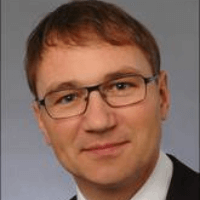 Prof. Dr. med.
Stefan Plontke
Specialized in: adult and pediatric otolaryngology, head and neck surgery
About the department
The Department of Adult and Pediatric Otolaryngology, Head and Neck Surgery at the University Hospital Halle (Saale) offers the full range of diagnostics and treatment in these medical fields, including high-quality medical care in the field of phoniatrics and pedaudiology. The department is a certified Center for Head and Neck Surgery (certificate of the German Cancer Society), as well as an interdisciplinary Center for Skull Base Surgery. An important focus is also cochlear implantation in adults and children, including rehabilitation and follow-up care after the treatment of hearing impairments. The department is headed by Prof. Dr. med. Stefan Plontke. According to the Focus magazine, the Professor has been regularly ranked among the top German doctors since 2013!
The service range of the department includes:
Diagnostics of hearing loss in children and adults
Ear microsurgery to improve hearing in chronic inflammatory processes and laser surgery in otosclerosis
Cochlear implantation to treat hearing impairment, including restoration of speech and hearing after the surgical interventions
Implantation of hearing aids (treatment of hearing loss using electronic hearing aids)
Inner ear surgery, for example, in Meniere's disease or dehydration syndrome of the semicircular canals
Diagnostics, surgery and supportive treatment of head and neck tumors (in interdisciplinary collaboration with the Cancer Center Halle)
Pharyngeal and tracheal surgery, removal of cervical lymph nodes and cysts
Laser surgery in case of oral, cervical and laryngeal tumors, as well as nasal surgery
Skull base navigation surgery (in collaboration with the Department of Neurosurgery)
Microscopic and endoscopic surgery of the nasal cavity and maxillary sinuses using navigation systems
Facial plastic and aesthetic surgery (nose, ear reshaping, etc.)
Treatment of head and neck injuries of varying severity, including skull base surgery
Diagnostics and treatment of snoring and sleep-related breathing disorders (somnology)
Conservative treatment and surgical correction of functional and pathological changes in the nasal cavity (rhinology)
Diagnostics and treatment of allergic diseases (for example, provocative skin testing)
Diagnostics and treatment of balance disorders (electrophysiology and neuro-otology)
Diagnostics and treatment of speech and voice disorders (phoniatrics and pedaudiology)
Diagnostics and treatment of otolaryngologic infectious diseases (inflamed tonsils, middle ear, erysipelas of the face and shingles, as well as life-threatening infections, such as deep neck abscess and skull base osteomyelitis)
Other medical services
Curriculum vitae
Prof. Dr. med. Plontke is the Head of the Department of Adult and Pediatric Otolaryngology, Head and Neck Surgery at the University Hospital Halle (Saale). He studied medicine at the Charité in Berlin (1990 - 1997). He graduated with the grade "summa cum laude". Between 1999 and 2003, Prof. Plontke was an Assistant Physician in the Department of Otolaryngology at the University Hospital Tuebingen and conducted research as a Team Leader at the Hearing Research Center Tuebingen (THRC). Two years later he was appointed as a Senior Physician of the department and habilitated in 2006. Prof. Plontke is a reviewer for various medical journals, whereas his professional activities were distinguished with a variety of awards. He has been working at the University Hospital Halle (Saale) since 2010.
Photo of the doctor: (c) Universitätsklinikum Halle (Saale)
Department of Adult and Pediatric Otolaryngology, Head and Neck Surgery.
University Hospital Halle (Saale):

Request more information now.
We will be happy to answer all your questions.
---
Certificates