University Hospital Halle (Saale)
Department of Cardiothoracic Surgery (

229535

)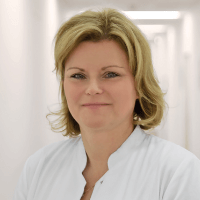 PD Dr. med.
Britt Hofmann
Specialized in: cardiothoracic surgery
About the Department of Cardiothoracic Surgery at University Hospital Halle (Saale)
The Department of Cardiothoracic Surgery at the University Hospital Halle (Saale) covers the entire range of top-class medical services in this field. Special attention is paid to minimally invasive operations, which, along with the optimal functional result, ensure minimal traumatization, fast recovery and the absence of a cosmetic defect. The optimal type of therapy is selected in collaboration with the specialists from all the necessary related disciplines and adapts to the specific clinical indications of the patient. The department is headed by PD Dr. med. Britt Hofmann.
The department has a home monitoring system for patients with implanted pacemaker or defibrillator. Such a system is called telecardiology. The advantage of this type of therapy is convenience for the patient. With its help, the doctors have the opportunity to constantly monitor the health of their patients. The team of the department's doctors has a wealth of experience and constantly develops the very latest surgical treatments.
The therapeutic options of the department include:
Minimally invasive heart interventions

Minimally invasive aortic valve surgery
Minimally invasive coronary artery bypass grafting

Minimally invasive direct coronary artery bypass bypass
Off-pump coronary artery bypass
Totally endoscopic coronary artery bypass surgery

Surgical treatment of coronary artery disease

Cardiac catheterization
Stent implantation
Coronary artery bypass grafting

Surgical treatment of heart valve diseases (focus on aortic stenosis and insufficiency)

Mechanical valve prosthesis implantation
Biological valve prosthesis implantation
Aortic valve reconstruction

Surgical treatment of thoracic aortic diseases (aortic aneurysm/aortic dissection)

Classic surgery
Endovascular interventions

Artificial heart implantation (left ventricular assist device (LVAD)) in case of end-stage heart failure
Other diseases and treatment methods
Photo of the doctor: (c) Universitätsklinikum Halle (Saale)
Department of Cardiothoracic Surgery.
University Hospital Halle (Saale):

Request more information now.
We will be happy to answer all your questions.
---
Certificates