Colon cancer diagnosis (program ID:

250069

)
University Hospital Halle (Saale)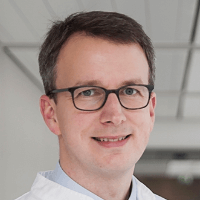 Head Physician
Prof. Dr. med.
Patrick Michl
Specialized in: gastroenterology, hepatology, pulmonology
Department of Gastroenterology, Hepatology and Pulmonology
Program includes:
Initial presentation in the clinic
clinical history taking
review of medical records
physical examination
laboratory tests:

complete blood count
biochemical analysis of blood
tumor markers
inflammation markers (CRP, ESR)
blood coagulation analysis (aPTT, PT, INR)

ultrasound of the abdomen
CT/MRI scan of the abdomen(if clinically indicated, additional cost is 650/1200€)
colonoscopy with biopsy, histological and immunohistochemical study
nursing services
services of all leading experts
explanation of individual treatment plan
Required documents
Medical records
Esophagogastroduodenoscopy (EGD), MRI/CT scan (not older than 3 months)
Biopsy results (if available)
Service
Price:
Type of program :
Expected duration of the program:
You may also book

Price:
About the department
The Department of Gastroenterology, Hepatology and Pulmonology at the University Hospital Halle (Saale) offers the full range of diagnostics and treatment in its fields of specialization. The department specializes in the diagnostic and interventional endoscopy, gastrointestinal cancer, treatment of liver, pancreatic diseases, as well as chronic inflammatory bowel diseases. In the field of pulmonology, the focus is on the diagnostics and treatment of obstructive, interstitial lung diseases, lung cancer and cystic fibrosis. The Chief Physician of the department is Prof. Dr. med. Patrick Michl.
To diagnose gastroenterologic and hepatologic diseases, the department uses the very latest endoscopic and ultrasound methods. The special focus is made on gastroenterological oncology. The department is engaged in the diagnostics and treatment of all cancers of the gastrointestinal organs, including the esophagus, stomach, pancreas, liver, biliary tract, colon and small intestine, etc. The local ablative methods (for example, radiofrequency thermoablation, percutaneous ethanol injection) and transarterial chemoembolization are used for the endoscopic diagnostics and treatment of precancerous stages (for example, polyps, intestinal adenomas), as well as the initial stages of esophageal and stomach cancer.
The treatment of oncological diseases involves the use of all modern treatment methods, such as chemotherapy, antibody therapy and modern types of targeted therapy. The participation in national and international clinical trials contributes to the achievement of optimal treatment outcomes in patients with gastrointestinal cancer.
Similarly, the department offers the best conditions for the treatment of pulmonary pathologies. For example, along with drug therapy for COPD, the department offers all methods for the treatment of pulmonary emphysema, including the implantation of endobronchial valves and coils, bronchoscopic thermal vapor ablation (BTVA). The decision on a treatment plan is made at the interdisciplinary consultations. These take place with the participation of pulmonologists/oncologists, thoracic surgeons, radiation therapists, radiologists, specialists in the field of nuclear medicine, etc.
In addition, the department is the Center of Excellence for Pulmonary Hypertension, the certified Cystic Fibrosis Center. Also, it is actively involved in sports medicine and supervises both professional athletes and amateurs of all sports.
The diagnostic and therapeutic range of the department includes:
Gastroenterology/hepatology

Gastrointestinal diseases
Diseases of the colon, anus
Peritoneal diseases
Liver diseases
Diseases of the gallbladder and bile ducts
Pancreatic diseases
Chronic inflammatory bowel diseases

Gastroenterological oncology

Tumors of the gastrointestinal tract, liver, gallbladder and pancreas
Neuroendocrine neoplasias
Precancerous conditions and early cancer stages

Pulmonology

Pulmonary oncology (lung and bronchial cancer)
All diseases of the lungs and respiratory tract
Obstructive pulmonary diseases (asthma and COPD)
Interstitial lung diseases
Cystic fibrosis (mucoviscidosis)
Pulmonary hypertension
Preparation and performance of lung transplantation

Sports medicine
Diagnostics and treatment of other diseases
Curriculum vitae
Education and Professional Background
1990 - 1998 Study of Medicine at the Universities of Munich, Los Angeles and Boston.
1998 - 2000 Internship, Department of Internal Medicine II, University Hospital Munich.
2000 - 2006 Specialization in the Department of Internal Medicine at the University Hospital Ulm.
2002 - 2004 Scholarship of the German research Foundation and research stay in London.
2006 - 2015 Physician/Senior Physician, Department of Gastroenterology, University Hospital Marburg.
2007 Habilitation at the Philipps University of Marburg.
2013 Extraordinary Professorship, Philipps University of Marburg.
2012 - 2015 Leading Senior Physician, Department of Gastroenterology, University Hospital Marburg.
Since 2015 Head of the Department of Gastroenterology, Hepatology and Pulmonology at the University Hospital Halle (Saale) and (W3) Professor of Internal Medicine/Gastroenterology, Martin Luther University Halle-Wittenberg.
Research Grants
German Research Foundation (DFG).
German Cancer Aid (DKH).
European Union (EU).
Wilhelm Sander Foundation.
Behring-Roentgen Foundation.
Clinical Focuses
Gastrointestinal tumors, including pancreatic, liver, biliary tract and neuroendocrine tumors.
Interventional endoscopy.
Infectious diseases.
Clinical trials in cancers.
Research Focuses
Molecular mechanisms of metastasis.
New treatment concepts for pancreatic cancer.
Relationship between tumor and inflammation.
Interaction between tumor cells and stromal cells.
Testing new therapeutic approaches in clinical trials.
Photo of the doctor: (c) Universitätsklinikum Halle (Saale)
---
About hospital
Accommodation in hospital
Colon cancer
Program [Description]
Colon cancer diagnosis
Hospital: University Hospital Halle (Saale)
Type:
access_time Duration:
Price:
date_range
There are 94 colon cancer diagnostic hospitals on Booking Health website
Show all clinics
Certificates