Chemotherapy for germ cell tumors of the ovary (dysgerminoma) (1 course) (program ID:

240749

)
University Hospital Hamburg-Eppendorf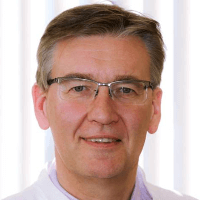 Head Physician
Prof. Dr. med.
Carsten Bokemeyer
Specialized in: hematology, oncology, pulmonology
Department of Hematology, Oncology and Pulmonology
Program includes:
Initial presentation in the clinic
clinical history taking
review of medical records
physical examination
laboratory tests:

complete blood count
general urine analysis
biochemical analysis of blood
TSH-basal, fT3, fT4
tumor markers
inflammation indicators
indicators of blood coagulation

CT scan / MRI of the abdomen and retriperitoneum
abdominal and retroperitoneal ultrasound scan
1 course of chemotherapy
nursing services
consultations of related specialists
explanation of individual treatment plan
How program is carried out
During the first visit, the doctor will conduct a clinical examination and go through the results of previous laboratory tests and instrumental examinations. After that, you will undergo an additional examination, including laboratory assessment of liver and kidney function, ultrasound scan. Based on the received results, the doctor will elaborate the chemotherapy regimen. If necessary, related medical specialists will be involved in the elaboration of a treatment regimen (tumor board).
Chemotherapy is carried out as the day hospital procedure, without mandatory admission to the hospital. After the placement of a venous catheter, you will stay in a comfortable ward. An infusion system will be connected to the catheter, through which the required drug or a drug combination will be administered. All drugs are administered by intravenous drip, slowly, so the total duration of the infusion can be up to several hours. All this time, doctors and nurses will monitor your health condition closely.
After the course of chemotherapy, you will stay under medical supervision in the ward for a few more hours. If your general condition is good, your doctor will allow you to leave the hospital. You will receive the medical report with detailed recommendations regarding further treatment. In the future, you will be able to have a distant consultation with your attending physician and schedule the next course of chemotherapy, if necessary.
Required documents
Medical records
MRI/CT scan (not older than 3 months)
Biopsy results (if available)
Service
Price:
Type of program :
Expected duration of the program:
You may also book

Price:
About the department
According to the Focus magazine, the Department of Hematology, Oncology and Pulmonology at the University Hospital Hamburg-Eppendorf ranks among the top medical facilities in Germany specializing in bowel cancer treatment!
The department offers the full range of modern diagnostics and treatment of solid tumors, benign and malignant blood and hematopoietic system diseases, including bleeding disorders, as well as pathologies of the lungs and other organs of the respiratory system. The offer is complemented by effective palliative care. All physicians of the department are highly qualified experts in their area of specialization and apply theoretical knowledge and clinical experience to ensure an optimal therapy result. The department is headed by Prof. Dr. med. Carsten Bokemeyer.
In the field of hematology and oncology, of particular interest is the diagnostics and treatment of blood cancer (leukemias), lymphomas, gonadal tumors (for example, testicular cancer), malignancies of the digestive system, such as esophageal, stomach, pancreatic and colon cancer, cancer of the respiratory tract (lung cancer), connective tissue (sarcoma), as well as bleeding disorders. The pulmonary spectrum covers all diagnostic options, including interventional endoscopy and therapy. There is a unique experience in the treatment of pulmonary hypertension, cystic fibrosis, interstitial lung diseases.
An integral part of the department's work is interdisciplinary cooperation with related doctors, such as radiologists, surgeons, radiation therapists, otolaryngologists, dermatologists, etc. An important role is also played by cooperation with all partners in the University Cancer Center Hamburg, as well as with international partners.
The department specializes in the diagnostics and treatment of the following diseases:
Oncology

Biliopancreatic tumors
Lymphomas of the central nervous system
Gastrointestinal tumors
Brain tumors
Testicular tumors
Head and neck tumors
Myelomas
Amyloidosis
Kidney cancer
Prostate cancer
Sarcomas

Hematology

Acute myeloid leukemia
Chronic lymphocytic leukemia
Chronic myeloid leukemia
Myeloproliferative neoplasia
Blood clotting disorders
Lymphomas
Myelodysplastic syndrome
Paroxysmal nocturnal hemoglobinuria
Thalassemia

Pulmonology

Lung cancer
Pulmonary hypertension
Interstitial lung diseases
Pulmonary vascular diseases
Mediastinal diseases
Respiratory diseases
Pleural diseases

Pulmonary endoscopy

Bronchoscopy (for diagnostic and therapeutic purposes)

Pulmonary function testing

Capillary blood gas test
Spirometry
Body plethysmography
Use of bronchodilators
Bronchial provocation test
Evaluation of lung diffusing capacity
Spiroergometry with the possibility of non-invasive heart rate monitoring
6-min walk test
Sleep screening

Diagnostics and treatment of other diseases
Curriculum vitae
Education
1989 Doctor of Medicine, Hannover Medical School, Hannover, Germany.
1989 FMGEMS.
1989 - 1995 Internship, Internal Medicine, Hannover Medical School, Hannover, Germany.
1995 - 2004 Faculty Member, Department of Internal Medicine, Section of of Hematology, Oncology, Immunology, Rheumatology, University Hospital Tuebingen, Germany.
Academic Appointments and Achievements
1999 Habilitation, Department of Internal Medicine, Hannover Medical School, Germany.
2000 Nominated for C3 Professorship of Internal Medicine at the University of Muenster, Germany.
2000 Associate Professor of Internal Medicine, University of Tuebingen.
2004 Professor of Internal Medicine and Head of the Department of Hematology, Oncology and Pulmonology at the University Hospital Hamburg-Eppendorf.
2007 Director of the University Cancer Center Hamburg.
Board Certification
1993 Board certification, European Society for Medical Oncology.
1995 Board certification, German Board of Internal Medicine.
1997 Board certification, German Board of Internal Medicine (Hematology and Oncology).
2000 Board certification, Quality Management in Medicine.
Memberships in Professional Societies
Since 1991 German Cancer Society (DKG).
Since 1991 Wilsede School of Oncology.
1991 European Society of Medical Oncology (ESMO).
1995 American Society of Clinical Oncology (ASCO).
1995 German Society of Hematology/Oncology (DGHO).
1998 German Association for Bone Marrow Transplantation (DAGKBT).
Honors and Awards
Fellowship of the German Academic Scholarship Fund.
Award of the Ministry of Science for Outstanding Student Achievements in Medicine.
2000 National Award of the German Cancer Society.
2000 Award for Experimental Urological Research, German Society of Urology.
2001 Award of the Cancer Society of Baden Wuerttemberg.
2001 Award of the German Society for Clinical Pharmacology.
2002 Scientific Award for Medical Oncology.
2006 Award of the University of Heidelberg (Anita and Cuno Wieland Award).
Committees
1997 - 2004 Member of the Research Advisory Committee of the University of Tuebingen.
2000 - 2004 Founding Member of the Comprehensive Cancer Center at the University of Tuebingen.
2001 - 2004 Founding Member of the Interdisciplinary Center for Soft Tissue Sarcomas at the University of Tuebingen.
Since 2002 Chairman of the ESMO Examination Committee for Medical Oncology.
Since 2002 Board Member of the German Society of Hematology and Oncology.
Since 2005 Board Member of the German Cancer Society.
Since 2005 Board Member of the Cancer Society of Hamburg.
Photo of the doctor: (c) Universitätsklinikum Hamburg-Eppendorf (UKE)
---
About hospital
Accommodation in hospital
Germ Cell Tumors of the Ovary (Dysgerminoma)
Program [Description]
Chemotherapy for germ cell tumors of the ovary (dysgerminoma) (1 course)
Hospital: University Hospital Hamburg-Eppendorf
Type:
Duration:
Price:
date_range
There are 93 germ cell tumors of the ovary (dysgerminoma) treatment hospitals on Booking Health website
Show all clinics
Certificates