University Hospital Mannheim
Department of Palliative Medicine (

405681

)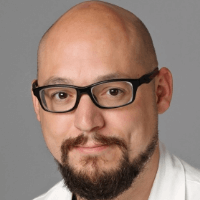 Dr. med. M.Sc.
Deniz Gencer
Specialized in: palliative medicine
About the Department of Palliative Medicine at University Hospital Mannheim
The Department of Palliative Medicine at the University Hospital Mannheim offers the full range of services in this field. The main focus is on helping patients suffering from blood diseases and cancers. Treatment can be provided on a semi-inpatient and inpatient basis. The main goal of the department's medical team is to improve the patients' quality of life. The department is headed by Dr. med. M.Sc. Deniz Gencer.
Palliative care is provided to patients with any stages of the disease, including those with progressive diseases. At the same time, all efforts are aimed at alleviating pain, solving problems caused by pathology, for example, eating disorders, shortness of breath, fears.
The medical team of the department consists of experienced doctors, specially trained nurses, psycho-oncologists, social workers, psychotherapists. The priest services are also offered. Volunteers, experts in the field of music therapy, art therapy work with patients.
Treatment is carried out in close cooperation with other departments of the hospital, for example, with the Department of Radiology, Radiation Therapy, Surgery, which provides a comprehensive approach and optimal results.
Curriculum vitae of Dr. med. M.Sc. Deniz Gencer
2017 Additional specialization in the field of Palliative Medicine.
2016 Board certification in the field of Internal Medicine, Hematology and Oncology. Title of Master of Science in Palliative Medicine.
2010 Doctoral dissertation with honors. Subject: "Patients with gastrointestinal tumors on palliative care: the reality of treatment and assessment of prognostic factors".
2009 Admission to medical practice.
2002 - 2009 Study of Human Medicine, Ruprecht and Karl University Heidelberg, clinical training at the Faculty of Clinical Medicine of Mannheim.
Research Focuses
Improving the quality of life in various pathologies.
Maintenance therapy.
Palliative care.
Photo of the doctor: (c) Universitätsklinikum Mannheim
Department of Palliative Medicine.
University Hospital Mannheim:

Request more information now.
We will be happy to answer all your questions.
---