University Hospital Muenster
Department of Pediatric and Adolescent Medicine, General Pediatrics (

113793

)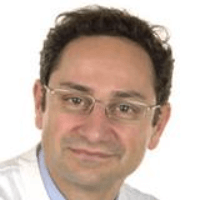 Prof. Dr. med.
Heymut Omran
Specialized in: pediatric and adolescent medicine, general pediatrics
About the Department of Pediatric and Adolescent Medicine, General Pediatrics at University Hospital Muenster
The Department of Pediatric and Adolescent Medicine, General Pediatrics at the University Hospital Muenster offers the full range of comprehensive diagnostics and effective treatment of various diseases in children of all age groups. The physicians of the department specialize in the treatment of rare pathologies, for example, cystic fibrosis. The experienced pediatricians of the department apply in their clinical practice only reliable and the most effective treatment methods, which ensure an optimal treatment outcome. In addition, the department has at its disposal an excellent infrastructure, adapted for the treatment of children, which makes the hospitalization period easy for patients. The outstanding quality of medical services rendered by the department is confirmed by the prestigious quality certificate Ausgezeichnet.FÜR KINDER. The department is headed by Prof. Dr. med. Heymut Omran.
The specialists of the department participate in numerous research projects of the national and international levels, which allows them to introduce the most advanced achievements into clinical practice in the field of pediatrics. In addition, another contributing factor to the successful clinical activities is openness and friendly attitude towards young patients and their relatives. The department also provides detailed consultations on all the questions of interest, and peculiarities of any pathologies, as well as inform patient's parents about the possible treatment options, their advantages, etc.
The department's service range includes:
Interdisciplinary treatment of rare pathologies in children and adolescents
Diagnostics and treatment of congenital metabolic disorders

Phenylketonuria
Homocystinuria
Urea metabolism disorders
Organic aciduria
Glycogenosis
Galactosemia
Mucopolysaccharidosis
Nephropathic cystinosis
Carbohydrate-deficient glycoprotein syndrome
Hereditary lipid metabolism disorders
Congenital disorders of the connective tissue (for example, Marfan syndrome, Ehlers-Danlos syndrome, osteogenesis imperfecta)
Rare metabolic disorders (for example, congenital glycosylation disorders, progeria, pediatric arterial calcification, disorders of vitamin B12 metabolism)

Methods of biochemical and enzymatic analysis
Cell culture methods
Molecular and genetic diagnostic methods
Selective screening for suspected metabolic disorders, including in newborns
Emergency treatment of decompensated metabolic crises (including dialysis, for example, hemofiltration, hemodiafiltration)
Special diets for patients with metabolic disorders
Long-term care within special counseling
Psychosocial care

Diagnostics and treatment of cystic fibrosis

Sweat test
Molecular and genetic testing
Pulmonary function test using body plethysmography
Drug therapy

Intensive care for premature babies, newborns and babies with high risk of pathologies
Pediatric intensive care

Respiratory therapy, including mechanical ventilation
Neurointensive care, traumatic brain injuries
Severe infections, shock conditions, therapy for circulatory disorders
Kidney failure and renal replacement therapy
Artificial nutrition
Syndromic and rare diseases

Diagnostics and treatment of congenital and acquired kidney diseases

Acute and chronic kidney failure in children

Dialysis
Kidney transplantation

Congenital/hereditary kidney diseases
Polycystic kidney disease, especially nephronophthisis
Urine flow disorders
Neurogenic disorders of bladder emptying

Diagnostics and treatment of lung and airway diseases

Chronic cough
Respiratory distress syndrome
Bronchial asthma
Respiratory failure
Primary ciliary dyskinesia (diagnostics of this pathology is available only in a few medical institutions in Europe)
Cystic fibrosis
Pulmonary function testing

Diagnostics and treatment of gastrointestinal diseases

Celiac disease
Food allergies
Inflammatory bowel diseases (Crohn's disease, ulcerative colitis)
Infectious gastroenteritis
Congenital diarrhea (microvilli atrophy)
Intestinal dys- and aganglionosis
Familial adenomatous polyposis (FAP)
Gastroesophageal reflux disease
Gastritis caused by Helicobacter pylori
Autoimmune hepatitis
Chronic hepatitis B and C
Primary sclerosing cholangitis
Biliary tract malformations
Portal vein thrombosis
Liver cirrhosis
Chronic pancreatitis
Constipation
Functional bowel diseases

Daily pH-metry
Multichannel intraluminal impedancemetry
Manometry
Rectal aspiration biopsy
Small intestine biopsy
Liver biopsy
Esophagogastroduodenoscopy
Colonoscopy
Breath tests for fructose, lactose, and/or sorbitol intolerance
Breath tests for Helicobacter pylori
Assessment of inflammatory markers in stool
Treatment with special diets (for celiac disease, allergic enteropathies)
Parenteral nutrition
Drug therapy (for example, in chronic inflammatory bowel diseases)
Interventional endoscopy
Care for patients after transplantation, preparation for liver transplantation
Planning of surgical interventions and postoperative care

Diagnostics and treatment of endocrine diseases

Growth disorders (for example, short stature, tall stature)
Adrenal dysfunction (for example, Addison's disease)
Thyroid dysfunction (for example, goiter, hypo-, hyperthyroidism)
Puberty disorders (for example, premature puberty, hypogonadism)
Care for children and adolescents with gender dysphoria (in collaboration with the Department of Pediatric and Adolescent Psychiatry)
Calcium and phosphorus metabolism disorders (for example, hypoparathyroidism)
Endocrinological effects of malignant diseases
Rare diseases (for example, Ulrich-Turner syndrome, Klinefelter syndrome, McCune-Albright syndrome, multiple endocrine neoplasia)

Diagnostics and treatment of diabetes mellitus (all types of insulin therapy)

Diabetes mellitus type 1
Diabetes mellitus type 2
Hereditary forms of diabetes (MODY-diabetes)
Neonatal diabetes
Diabetes mellitus as a concomitant disease (for example, in cystic fibrosis, oncological, syndromal diseases)

Diagnostics and treatment of neuropediatric diseases

Epilepsy
Syndromic disorders, retardation syndromes
Metabolic diseases
Neuromuscular diseases (for example, Duchenne muscular dystrophy, spinal muscular atrophy)
Neurodermal diseases
Congenital anomalies of the central nervous system
Benign and malignant brain tumors
Stroke
Cerebrovascular diseases

Other diseases, diagnostic and therapeutic options
Curriculum vitae of Prof. Dr. med. Heymut Omran
Education
1986 - 1987 Alternative service at German Red Cross.
1987 - 1994 Study of Human Medicine at the Albert Ludwig University of Freiburg.
Scholarships and Medical Training Abroad
Since 1988 Member of the German Scholarship Foundation (scholar of Studienstiftung des deutschen Volkes).
1990 - 1991 Medical training at the University of Manchester, England, UK.
1993 - 1994 Scholarship of the state of Baden-Württemberg for the University of Massachusetts, USA.
Professional Career
1994 - 1996 Internship in the Department of Pediatrics at the University Hospital Freiburg.
1996 - 2001 Research Fellow in the Department of Pediatrics at the University Hospital Freiburg.
2001 Medical Specialist in Pediatrics and Adolescent Medicine.
2002 Senior Physician at the Center for Pediatrics and Adolescent Medicine, Freiburg.
2002 Habilitation and Venia legendi in Pediatrics.
2004 Deputy Head of the Department of Neuropediatrics and Muscular Diseases.
2006 Appointed Extraordinary Professor in Pediatrics.
2007 Adjunct Professor of the Department of Pediatrics, University of North Carolina, USA.
2010 Head of the Department of Pediatric and Adolescent Medicine, General Pediatrics, W3 Professor for Pediatric and Adolescent Medicine at the University Hospital Muenster.
Clinical Training
2006 Board certification in Neuropediatrics.
2008 Additional qualification in Pediatric Endocrinology and Diabetology.
2009 Additional qualification in Pediatric Pulmonology.
Membership in Scientific Societies
American Society for Human Genetics (ASHG).
German Society of Pediatrics and Adolescent Medicine (DGKJ).
German Society for Clinical Neurophysiology and Functional Imaging (DGKN).
German Society for Neuropediatrics (GNP).
European Kidney Research Association (EKRA).
International Pediatric Nephrology Association (IPNA).
German Academy of Sciences Leopoldina.
Scientific Awards
1999 Else Kröner Fresenius Award.
2001 Award of the European Renal Association for "Mapping of the human adolescent nephronophthisis gene locus and demonstration of synteny to the pcy mouse model".
2002 Friedrich Linneweh Award.
Young Investigator Award of the European Society of Human Genetics for "Mutations in DNAH5 cause primary ciliary dyskinesia and randomization of left-right asymmetry".
2004 Frank Majewski Award.
2006 Manes Kartagener Award.
2007 Johannes Wenner Award.
2015 Eva Luise Köhler Award.
Expert Review Activities
Selected journals: Nature Genetics; Nature; Science; Nature Medicine; Nature Cell Biology; Neuron; American Journal of Human Genetics; Annals of Neurology; American Journal of Respiratory and Critical Care Medicine; Journal of Cell Biology; Proceedings of the National Academy of Science.
Scientific Organizations: German Research Foundation (Germany); INSERM (France), Telethon (Italy), Uitzicht (Netherlands), Wellcome Trust (UK).
Expert Advisor of the Human Genome Nomenclature Committee (HGNC).
Photo of the doctor: (c) Universitätsklinikum Münster
Department of Pediatric and Adolescent Medicine, General Pediatrics.
University Hospital Muenster:

Request more information now.
We will be happy to answer all your questions.
---
Certificates