University Hospital Muenster
Department of Cardiology and Angiology (

113889

)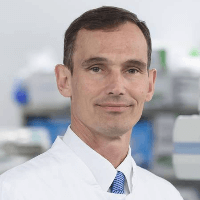 Prof. Dr. med.
Holger Reinecke
Specialized in: cardiology, angiology
About the Department of Cardiology and Angiology at University Hospital Muenster
According to the Focus magazine, the Department of Cardiology and Angiology at the University Hospital Muenster ranks among the top German medical facilities specializing in the treatment of cardiovascular diseases!
The department offers the full range of modern diagnostic and therapeutic procedures for the treatment of heart failure, coronary diseases, pathologies of the coronary and lymphatic vessels. Also, the scope of tasks of the department's specialists includes the preparation and follow-up care for patients who need heart transplantation, сardiac diagnostic imaging and intensive care. Medical care is provided both on an inpatient and outpatient basis. The Chief Physician of the department is Prof. Dr. med. Holger Reinecke.
The department has exceptional experience in the treatment of vascular pathologies (angiology). In order to make an accurate diagnosis, all modern examinations, including the imaging ones are carried out, while the therapeutic options include drug, conservative therapy and catheter interventions for the treatment of pathological lesions of arteries, veins and capillaries. As a recognized Center for Interventional Arterial Therapy, the department offers the advanced experience in the field of stent implantation, balloon dilatation in stenoses and recanalization in progressive types of arterial occlusions of the upper and lower limbs, pelvic arteries. In order to remove calcifications (plaques) and blood clots, the department's doctors use the very latest catheters (for example, Hawk-1R, JetstreamR, PhoenixR, RotarexR). An important focus of the department's work is research. There are conducted many clinical examinations, which include the use of new catheter procedures, as well as the monitoring of prescription of innovative drugs. One of the most relevant areas of research is the stem cell therapy in critical lower limb perfusion. Thus, the innovative treatment methods are always available for patients.
Another focus of the department's clinical activities is internal intensive care. The Intensive Care Unit is equipped with the advanced central monitoring system, which allows the doctor to monitor the status of critical patients more effectively and immediately respond to its changes 24 hours a day. Many necessary diagnostic measures, such as bronchoscopy, gastroscopy or ultrasound examination, can be performed directly at the patient's bed without transportation from the department. The intensive care options range from non-invasive mask ventilation to kidney, liver, lung or heart replacement therapy. The Intensive Care Unit uses air sealing, therefore it provides the safe treatment of patients with especially dangerous infectious diseases. The patient is always in the focus of attention of all doctors of the Intensive Care Unit.
The department's medical team specializes in the treatment of heart failure. The therapy of this pathology requires thorough, interdisciplinary approach, so there is maintained close cooperation with all the necessary specialists. Of particular importance in interdisciplinary cooperation is the Department of Cardiothoracic Surgery.
The service range of the department includes:
Cardiac catheterization diagnostics and interventional therapy

Treatment of heart attack (24-hour medical care)
Treatment of coronary diseases
Use of modern technologies in stent implantation
Recanalization in chronic coronary occlusion
Fractional flow reserve measurement and intravascular ultrasound examination
Formation of vascular access through the ulnar artery
Renal denervation in refractory arterial hypertension (in collaboration with the Departments of Radiology, Nephrology)
Interventional methods for the closure of atrial appendage defects (as an alternative to therapy with Marcumar)

Diagnostics and treatment of heart failure

Specialized care before and after heart transplantation
Modern non-invasive and invasive diagnostic methods for heart failure
Individual pharmacotherapy
Renal sympathetic denervation in heart failure (clinical examinations)
Participation in national and international clinical trials for the optimization of heart failure diagnostics and treatment

Imaging diagnostics of the cardiovascular system

Digital Echocardiography Laboratory with the possibility of ultrasound examinations in accordance with the DEGUM III standard
Transthoracic, transesophageal 2D/3D/4D Doppler echocardiography
Stress echocardiography, contrast-enhanced echocardiography
New quantification methods of myocardial function
Cardiac computed tomography and magnetic resonance imaging (in collaboration with the Department of Radiology)

Diagnostics and treatment of vascular diseases

Duplex ultrasonography
Light reflex rheography
Capillary microscopy
Tissue oxygen saturation measurement (tcpO2)
Percutaneous transluminal angioplasty
Balloon dilatation
Stent implantation
Local lysis therapy
Innovative techniques (for example, RotarexR, OutbackR, Hawk-1R, ShockwaveR, PhoenixR, JetstreamR)

Intensive therapy (around the clock)

Diagnostics at the patient's bed (for example, echocardiography, sonography, bronchoscopy, gastroscopy, advanced hemodynamic monitoring, etc.)
Non-invasive and invasive ventilation
Transvenous electrical stimulation
Renal and liver replacement therapy (for example, SLED, CVVHDF, MARS, OPAL dialysis)
Lung replacement therapy (vv-ECMO, ECCO2-R)
Mechanical circulatory support systems (ECLS, Impella®)
Target temperature management after cardiac arrest (TTM)

Other diagnostic and therapeutic options
Curriculum vitae of Prof. Dr. med. Holger Reinecke
Medical Training
Medical Specialist in Internal Medicine (specialization in Cardiology and Angiology).
Additional qualifications in Intensive Care.
Clinical Focuses
Arterial circulation disorders.
Venous diseases.
Vasculitides.
Research Focuses
Occlusive peripheral arterial disease and critical limb ischemia.
Diseases of the heart, blood vessels and kidneys.
Membership in Professional Societies
German Society for Angiology (DGA).
German Cardiac Society (DGK).
German Interdisciplinary Association for Intensive Care and Emergency Medicine (DIVI).
German Society of Internal Medicine (DGIM).
Photo of the doctor: (c) Universitätsklinikum Münster
Department of Cardiology and Angiology.
University Hospital Muenster:

Request more information now.
We will be happy to answer all your questions.
---
Certificates