University Hospital Muenster
Department of Mammology (

113893

)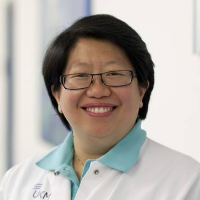 Dr. med.
Joke Tio
Specialized in: mammology
About the department
The Department of Mammology at the University Hospital Muenster offers the full range of interdisciplinary early diagnostics, surgical and conservative treatment of all diseases and pathologies of the mammary gland in women and men. The department specializes in the treatment of benign and malignant breast tumors and it is a recognized Breast Cancer Center in Muenster. When providing the diagnostics and treatment, the doctors use all modern techniques and the very latest medical advances. The Chief Physician of the department is a leading specialist in breast surgery, Dr. med. Joke Tio.
If a disease or pathology of the mammary gland is suspected, the patient undergoes the comprehensive diagnostics using the very latest methods, including mammography, ultrasound examination, etc. The department has 2 mammotomatic devices for biopsy, which allow to identify the localization of the suspicious area in the breast as accurately as possible. Should the malignant process be confirmed, there will be available all modern treatment options. The standard method is sparing surgery. In order to achieve the best results in the treatment and prevention of secondary lesions, the doctors conduct intraoperative irradiation of the tumor area. In addition, the department has advanced experience in the use of progressive techniques, for example, the detection of cytokeratin-positive cells in the spinal cord. This technique allows for detecting micrometastases in the spinal cord, which often develop even at the initial stages of the disease.
In addition to the surgical treatment, there are carried out various types of adjuvant therapy, including hormonal, chemo- and targeted therapy using antibodies and/or bisphosphonates. The decision on the selection of the appropriate type of adjuvant therapy is made within the tumor board. Also, the patients are often given the opportunity to take part in the clinical trials instead of standard therapy, in which promising innovative drugs are tested or prepared for admission to clinical practice.
The service range is complemented with all the options of plastic reconstructive surgery, with the help of which the department's specialists eliminate postoperative defects and achieve the best cosmetic results. The department also offers all common plastic surgical procedures, including breast reduction, augmentation and reshaping using the patient's own tissues and/or implants, etc.
The service range of the department includes the following options:
Diagnostics of mammary gland nodes and other suspicious detections

Mammography
Ultrasound
CT
MRI
Mammotome biopsy

Diagnostics and treatment of benign and malignant breast tumors

Organ-conserving surgery
Minimally invasive interventions, such as sentinel lymph node removal
Radiation therapy, including intraoperative irradiation (intraoperative radiation therapy)
Adjuvant therapy

Chemotherapy
Hormone therapy
Targeted antibody therapy

Prevention and treatment of familial breast cancer
Cosmetic/plastic breast surgery

Breast reconstruction after surgery using the patient's own tissues and/or implants
Breast augmentation
Breast shape correction, etc.
Gynecomastia treatment

Palliative care
Clinical examinations
Other diagnostic and therapeutic options
Department of Mammology.
University Hospital Muenster:

Request more information now.
We will be happy to answer all your questions.
---
Certificates