University Hospital Muenster
Department of Adult and Pediatric Dermatology, Venereology (

113901

)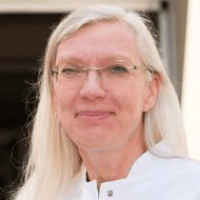 Prof. Dr. med.
Kerstin Steinbrink
Specialized in: adult and pediatric dermatology, venereology
About the Department of Adult and Pediatric Dermatology, Venereology at University Hospital Muenster
The Department of Adult and Pediatric Dermatology, Venereology at the University Hospital Muenster offers the full range of medical services in these fields. The department is one of the largest medical facilities in Germany specializing in the treatment of congenital and acquired skin diseases. The department's doctors have in their arsenal many classic and innovative treatment methods, which provide the best therapeutic and aesthetic result. For patients with incurable diseases, the doctors develop individual therapy concepts aimed at the prevention of disease progression and improvement of the patient's quality of life. The department is headed by Prof. Dr. med. Kerstin Steinbrink.
One of the priorities is the treatment of skin cancers (certification of the German Cancer Society). The specialization covers the treatment of malignant melanomas, squamous cell carcinoma, basal cell carcinoma, as well as the treatment of rare types of skin tumors, benign tumors (for example, warts, birthmarks and hemangiomas). The photodermatology methods are widely used in the clinical practice. Also, the integration into the Center for Innovative Dermatology, which operates at the university hospital, contributes to the excellent quality of medical care.
The department's specialists have managed to achieve excellent results in the treatment of chronic pruritus, and today it is a certified Center of Excellence for the treatment of this pathology. Pruritus is the most common dermatologic symptom in most dermatoses. Also, chronic pruritus can be a manifestation of other diseases, such as diabetes mellitus, diseases of the liver, kidneys, mental disorders. Therefore, such patients receive care from a competent interdisciplinary team, which ensures the proper treatment of the pathology and its complications.
In addition, the department has been certified as a Center of Excellence for Venous Diseases, therefore it offers the full range of diagnostic and therapeutic services in this field. The department's specialists mostly have to deal with such pathologies as varicose veins, thrombosis and impaired wound healing. The department's therapeutic options vary from conservative, minimally invasive to surgical treatment techniques. The innovative therapy options include stripping and radio wave therapy (VNUS Closure Fast™).
The service range of the department includes:
Diagnostics and treatment of skin cancer

Malignant melanoma
Squamous cell and basal cell carcinoma
Actinic keratoses
Mycoses and other skin lymphomas
Merkel-cell carcinoma, angiosarcoma and other rare tumors
Skin cancer screening, particularly in immunosuppressed patients before and after organ transplantation or in other risk factors

Diagnostics and treatment of common dermatologic diseases

Autoimmune dermatosis

Systemic scleroderma
Systemic lupus erythematosus
Dermatomyositis and other collagen diseases
Autoimmune blistering dermatoses (for example, pemphigus and pemphigoid)
Autoinflammatory syndromes (for example, Schnitzler syndrome)

Diagnostics and treatment of genodermatoses in adults and children

Ichthyosis vulgaris
X-linked ichthyosis
Autosomal recessive congenital ichthyosis
Keratinopathic ichthyosis
Netherton syndrome and peeling skin
Chanarin-Dorfman syndrome
Sjögren-Larsson syndrome
And other genodermatoses

Diagnostics and treatment of hair diseases and pigmentation disorders
Diagnostics and treatment of psoriasis

Diagnostics and treatment of allergic and occupational diseases

Hay fever
Allergic asthma
Food allergies
Contact dermatitis
Hives
Insect venom allergy

Diagnostics and treatment of angioedema
Dermatosurgery

General dermatosurgery

Aesthetic corrective interventions (blepharoplasty, abdominoplasty, scar revision)
Laser therapy with ablative CO2 laser (for example, in rhinophyma, warts, Hailey-Hailey disease)
Surgical treatment of acne
Treatment of congenital nevi (total and partial excision, dermabrasion)
Electrocautery in the treatment of warts, neurofibromas
Modern surgical treatment of ulcers
Circumcision (in phimosis, etc.)
Surgical correction of the nail plate

Surgery for malignant skin tumors

Micrographic-guided tumor removal
Reconstructive tumor surgery using flap surgery and free grafts
Removal of epithelial tumors (basal cell and squamous cell carcinoma, Bowen's dermatosis, etc.)
Removal of malignant melanoma
Removal of rare skin tumors (for example, Merkel-cell carcinoma, dermatofibrosarcoma)
Removal of skin lymphomas
Diagnostics of sentinel lymph nodes
Surgery for metastases, including radical lymphadenectomy
Electrochemotherapy (in skin metastases of all tumors)
Precancerous conditions (cryosurgery, photodynamic therapy)

Surgery for benign skin tumors

Surgical removal (extirpation, curettage, laser ablation, cryosurgery, etc.)
Mole removal
Removal of lipomas
Removal of atheromas and cysts
Treatment of fibroids, seborrheic keratosis

Open and minimally invasive vein surgery

Crossectomy and stripping under general and local anesthesia
Modern minimally invasive procedures (radiofrequency ablation VNUS Closure®)
Miniflebectomy (removal of small veins)

Surgical treatment of axillary hyperhidrosis

Various methods of suction-curettage of sweat glands
Botulinum toxin injections (in particular indications)

Proctological surgery

Diagnostic proctoscopy
Removal of benign and malignant tumors of the perianal mucosa
Removal of genital warts
Treatment of epithelial coccygeal passages
Removal of residual hemorrhoidal skin tags
Treatment of hemorrhoids
Treatment of perianal venous thrombosis

Diagnostics and treatment of chronic pruritus (within the specialized center)
Diagnostics and treatment of psoriasis
Diagnostics and treatment of venous diseases (within the specialized center)

Varicose veins
Thrombosis
Swollen lower limbs
Lower limb cramps
Spider veins
Lymphedema
Phlebitis
Wound healing disorders
"Heavy legs" when sitting / standing

Conservative therapy

Sclerotherapy
Manual and hardware lymphatic drainage in lymphedema and lipedema
Compression therapy in lymphedema and lipedema
Therapy of the spider veins

Surgical therapy

Stripping operation
Radio wave therapy (VNUS Closure Fast™)

Aesthetic dermatology and laser medicine

Benign vascular tumors (infantile hemangiomas)
Vascular malformations (for example, vascular nevus, venous malformations)
Warts

Photodermatology

Treatment with narrowband and broadband ultraviolet radiation
Photochemotherapy (PUVA therapy) and PUVA bath
UVA, UVA/B irradiation

Translational dermatoinfectology

Complicated skin infections
Tropical dermatoses (certificate: "Tropical and Travel Dermatology DDA")
Vascular inflammatory processes (vasculitis, vascular complications in systemic scleroderma)

Dermatohistology
Other medical services
Photo of the doctor: (c) Universitätsklinikum Münster
Department of Adult and Pediatric Dermatology, Venereology.
University Hospital Muenster:

Request more information now.
We will be happy to answer all your questions.
---
Certificates