University Hospital Muenster
Department of Adult and Pediatric Urology (

289954

)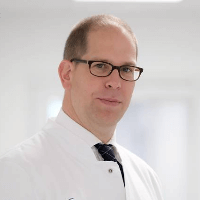 Prof. Dr. med.
Andres Jan Schrader
Specialized in: adult and pediatric urology
About the Department of Adult and Pediatric Urology at University Hospital Muenster
According to Focus magazine, the Department of Adult and Pediatric Urology at the University Hospital Muenster ranks among the top German medical facilities specializing in the treatment of prostate cancer!
The department offers the full range of diagnostics and treatment of diseases of the kidneys, urinary tract, as well as male reproductive organs in children and adults. The specialization covers the treatment of dysfunctions, acute injuries and inflammation, as well as the correction of complex malformations and treatment of cancers of the genitourinary system and male reproductive organs. Thanks to the unique competence of doctors, the department guarantees the highest standards of conservative and surgical treatment of urological pathologies. The department is headed by Prof. Dr. med. Andres Jan Schrader, who, according to the Focus magazine, ranks among the top German urologists.
The special attention is paid to the use of minimally invasive surgical procedures, which contribute to the rapid recovery of patients, minimal pain and risks of postoperative complications. Many operations are performed using the da Vinci surgical system, laser technology. Such interventions are distinguished by high accuracy and the best possible preservation of healthy tissues and nerve endings. The department's surgeons have vast experience in the field of robotic surgery and practice such operations even in complex clinical cases.
Special emphasis should also be maid on the treatment of urological diseases in children. Pediatric urologists mainly deal with the treatment of urinary tract malformations and various diseases of the kidneys, ureters, bladder, urethra and male external reproductive organs in newborns and children. Particular attention is paid to the comprehensive counseling, informing patients and their parents about the necessary diagnostic and therapeutic measures, the benefits of a particular treatment method. The treatment of children is provided in close interdisciplinary cooperation with the experts in the field of pediatrics, pediatric nephrology, pediatric radiology, nuclear medicine, etc. Many interventions for the treatment of urological pathologies in children are carried out on an outpatient basis.
The service range of the department includes:
Robotic minimally invasive surgery (da Vinci surgical system)

Interventions to treat prostate cancer
Interventions on the bladder (cystectomy with urinary diversion in bladder cancer)
Ureter implantation in severe stenosis
Sparing and radical interventions on the kidneys and upper urinary tract (benign and malignant tumors)
Renal pelvis plastic surgery in stenosis
Adrenal surgery (adrenalectomy) in benign or malignant adrenal tumors
Minimally invasive removal of residual tumors after chemotherapy in patients with metastatic testicular tumor

Reconstructive oncology, for example, the creation of an orthotopic urinary diversion (formation of the bladder from the ileum in men and women)
Multimodal interdisciplinary treatment of advanced cancers
Minimally invasive treatment of benign prostatic hyperplasia

Enucleation using thulium and holmium laser
Bipolar resection
Vaporization of the prostate

All methods for the diagnostics and treatment of urolithiasis

Ultrasound diagnostics using high-tech devices
Digital X-ray examinations
Ultrasound- and radiological-guided stone fragmentation (Siemens Lithoskop)
Ultrafine, flexible ureterorenoscopy (4.9Ch=1.7mm)
Ultrafine, semi-rigid ureteroscopy (6,4Ch=2 mm)
Mini-percutaneous nephrolithotripsy (mini-PCNL)
Holmium laser therapy
Analysis of health in patient with urolithiasis (in collaboration with one of the largest Centers of Excellence in this field)

Diagnostics and treatment of urinary incontinence in men and women

TOT and TVT sling procedures
Open and laparoscopic Burch or Marshall-Marchetti-Krantz colposuspension
Transobturator male sling (AdVance XP®)
Implantation of the ATOMS® adjustable transobturator male system
Implantation of an artificial sphincter in men (AMS 800®)
Bladder/pelvic stimulator implantation (sacral neuromodulation) in urinary incontinence and chronic pain
Botox injection in the bladder
Hydrodistention and fulguration of the bladder
EMDA® technique

Ultrasound-, MRI-guided prostate fusion biopsy
Systemic therapy in male reproductive system cancer
Treatment within the international clinical trials
Diagnostics and treatment of urological diseases in children

Diagnostics

Ultrasound examinations
Bladder pressure measurement (urodynamic diagnostics)
Uroflowmetry
Miktsionny cystourethrography
Excretory urography
Renal scintigraphy (MAG III/DMSA)
Cystoscopy

Outpatient surgery

Circumcision (including with foreskin preservation)
Preputiolysis, frenulotomy (non-extensive foreskin correction)
Orchiopexy (undescended testicle repair)
Resection in hydrocele
Varicocele correction
Separation of the labial fusion
Diagnostic urethrocystoscopy (cystoscopy)

Diagnostics and treatment of diseases of the external genital organs

Hydrocele
Cryptorchidism (undescended testicle)
Hypospadias (wrong location of the urinary tract opening)
Pediatric varicocele (varicose veins of the scrotum)
Labial fusion
Penile torsion/deviation
Meatal (urethral opening) stenosis
Acute scrotal pain (of various origins)
Buried penis
Phimosis (foreskin narrowing)

Diagnostics and treatment of diseases of the lower urinary tract

Vesicoureteral reflux
Ectopia of the urethral opening (location of the opening in wrong place with possible urinary incontinence)
Urethral valves
Urethral stenosis
Bladder diverticulum (bladder protrusion)
Small bladder volume
Megacystis (enlarged bladder)

Diagnostics and treatment of diseases of the upper urinary tract

Kidney stones
Renal pelvis outflow stenosis
Kidney dysfunction

Diagnostics and treatment of urination disorders

Nocturnal enuresis
Diurnal enuresis
Neurogenic disorders of bladder emptying

Other medical services
Curriculum vitae of Prof. Dr. med. Andres Jan Schrader
​1992 - 1999 Study of Medicine at the Hannover Medical School, Hannover.
1999 - 2000 Research Fellowship at the Helmholtz Centre for Infection Research (HZI) in Braunschweig.
2000 - 2002 Assistant Physician, Abdominal Surgery, Municipal Hospital Braunschweig.
2002 - 2010 Assistant and Senior Physician in the Department of Adult and Pediatric Urology at the University Hospital Marburg.
2010 - 2014 Leading Senior Physician and Deputy Head of the Department of Urology at the University Hospital Ulm.
Since 01.08.2014 Head of the Department of Adult and Pediatric Urology at the University Hospital Muenster.
Clinical Focuses
Surgical and conservative urologic oncology (in particular renal cell carcinoma, prostate cancer, urothelial carcinoma of the bladder).
Robot-assisted surgical techniques.
Minimally invasive therapy of prostate hyperplasia (for example, laser enucleation in benign prostate hyperplasia).
Research Focuses
Study of changes in the signal transduction pathway as a cause of the development and progression of renal cell carcinoma.
Investigation of mutations and posttranscriptional modifications of the androgen receptor in patients with prostate cancer.
Clinical studies on prognostic markers of various urologic cancers.
Photo of the doctor: (c) Universitätsklinikum Münster
Department of Adult and Pediatric Urology.
University Hospital Muenster:

Request more information now.
We will be happy to answer all your questions.
---
Certificates