University Hospital Rechts der Isar Munich
Department of Nephrology and Rheumatology (

114017

)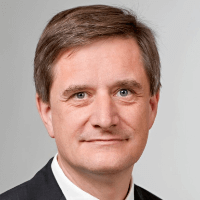 Prof. Dr. med.
Uwe Heemann
Specialized in: nephrology, rheumatology
About the department
As one of the largest Centers for Kidney Diseases in Germany, the Department of Nephrology and Rheumatology at the University Hospital Rechts der Isar Munich offers the full range of services in this field. In addition, the department specializes in rheumatology. The central focus is on the treatment of inflammatory kidney diseases, postoperative care after kidney transplantation, diagnosis and treatment of rheumatic and autoimmune diseases, as well as treatment of rare and especially severe kidney diseases. The department is headed by Prof. Dr. med. Uwe Heemann.
The Department of Nephrology and Rheumatology is the recognized Research Center of the European Society for Kidney Transplantation (ERA/EDTA) and the certified Center of the German Nephrology Society, which indicates the outstanding treatment results and excellent medical care.
The service range of the department includes:
Outpatient Clinic for Kidney Diseases

Chronic kidney diseases, such as glomerulonephritis, kidney problems in diabetes mellitus and hypertension, bacterial-inflammatory diseases of the kidneys
Systemic autoimmune diseases affecting the kidneys
Genetic kidney disease, for example, hereditary polycystic kidney disease, Fabry disease, Alport syndrome
Other diseases

Outpatient Clinic for Hypertension

Detection of secondary causes of high blood pressure, such as renal artery stenosis, hormonal disorders, for example, adrenal hyperfunction (hyperaldosteronism)
With appropriate indications – hospitalization for the necessary diagnosis
Prescription of an optimal hypertension therapy in accordance with the recommendations of both national and international medical societies
Other services

Outpatient Clinic for Metabolic Disorders

Diagnosis and treatment of metabolic diseases and other rare diseases
Enzyme replacement therapy in Fabry disease and Gaucher disease
Other services

Dialysis Section

All forms of dialysis
Dialysis at the weekend (on a prior notification)
Dialysis Centers with the possibility of intensive monitoring for seriously ill patients from all departments of the hospital
Continuous dialysis procedures in all intensive care units
Separate devices and treatment rooms for infected patients (for example, with hepatitis, HIV infection)
Emergency dialysis at any time of the day or night
Technique for a specific removal of antibodies from the blood, for example, in autoimmune diseases
All methods of peritoneal dialysis
Other services

Rheumatology

Counseling for various rheumatological diseases, including rare ones
Joint ultrasound
Capillary microscopy
Joint puncture with an urgent microscopic examination of the synovial fluid, for example, for the presence of gout crystals or infectious joint lesion
All modern imaging methods (magnetic resonance imaging, computed tomography, dual-energy CT, PET-CT, PET-MRI), in cooperation with the Departments of Radiology and Nuclear Medicine
Interdisciplinary consultation with orthopedicians, otolaryngologists, dermatologists, ophthalmologists
Other services

Ultrasound diagnostics

Abdominal ultrasound
High-frequency abdominal sonography
Doppler ultrasound of the abdominal organs and vessels
Contrast-enhanced abdominal ultrasound
Thyroid sonography
Lymph node sonography
Echocardiography
Dopplerography and compression sonography of the peripheral vessels (blood vessels that are far from the center of the body, for example, in the hands and legs)
Doppler ultrasound of the extracranial vessels (vessels outside the skull)
B-scanning and Doppler sonography of the dialysis shunts
Diagnosis, ultrasound-guided abdominal puncture biopsy
Fine needle aspiration biopsy of the thyroid
Certified Training Laboratory of the German Society of Ultrasound in Medicine (DEGUM)
Other services

Day Hospital for Nephrology

A multi-hour infusion therapy with a monitoring of vital functions
Treatment of patients with kidney diseases, autoimmune connective tissue diseases (collagenosis), inflammatory vascular diseases (vasculitis) and rheumatic diseases
Infusion therapy for patients with lysosomal storage diseases (Fabry disease, Gaucher disease)
Other services
Curriculum vitae
1980 - 1986 Study of Medicine at the Ruhr University Bochum.
1986 - 1989 St. Johannisstift Paderborn.
1989 - 1991 Center for Internal Medicine at the University Hospital Essen.
1991 - 1994 Department of Transplantology, Brigham and Women's Hospital, Harvard Medical School, Boston, USA.
1994 - 2002 Center for Internal Medicine at the University Hospital Essen.
Since 2002, Head of the Department of Nephrology and Rheumatology at the University Hospital Rechts der Isar Munich.
Memberships (selected)
2005 - 2010 President of the German Society of Transplantology.
Since 2005, Board Member of Eurotransplant (European bank of organs, tissues and blood).
2007 Doctor Honoris Causa, Semmelweis University, Budapest, Hungary.
Since 2009, Chairman of the Eurotransplant Kidney Advisory Committee.
Awards and Honors
1992 Research Award of the Transplantation Society.
1994 Young Investigators Award, Transplantation Society.
1997 and 1998 Research Award of the European Dialysis and Transplantology Association.
1999 Honorary Professor, Sun Yat Sen University, China.
2000 Award of the Hungarian Kidney Foundation.
2001 Hans Zollinger Medal of the German Society of Nephrology.
Photo of the doctor: (c) Klinikum rechts der Isar der Technischen Universität München
Department of Nephrology and Rheumatology.
University Hospital Rechts der Isar Munich:

Request more information now.
We will be happy to answer all your questions.
---
Certificates