University Hospital Rechts der Isar Munich
Department of Diagnostic and Interventional Radiology (

457634

)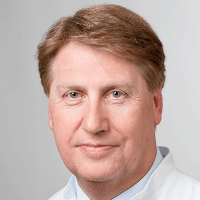 Prof. Dr. med.
Ernst Rummeny
Specialized in: diagnostic and interventional radiology
About the department
The Department of Diagnostic and Interventional Radiology at the University Hospital Rechts der Isar Munich offers the full range of imaging diagnostics, as well as innovative imaging-guided minimally invasive techniques for the treatment of tumors, diseases of the vessels and internal organs (for example CT, MRI, PET-CT, SPECT). The department is headed by Prof. Dr. med. Ernst Rummeny.
In the field of diagnostic radiology, of particular interest are studies in patients with diseases of the abdominal organs, musculoskeletal system, including joints, diseases of the mammary gland and cardiovascular system. The department also has a specialized section for breast diagnostics in patients with cancer. The doctors use in their clinical practice the advanced diagnostic devices for x-ray, ultrasound, CT, MRI, etc.
The doctors of the department have deep knowledge and tremendous experience in the application of interventional radiological treatments, which represent an excellent alternative to open surgical interventions. Despite the high level of technical equipment and the availability of advanced computerized systems, the focus remains on a person with his individual needs.
The service range of the department includes:
Diagnostic examinations
Ultrasound diagnostics
Classical X-ray studies
Computed tomography
Magnetic resonance imaging
Breast diagnostics in cancer patients Other examinations
Vascular interventions
Angiography for imaging vessels of all parts of the body
Procedures for restoring vascular patency in chronic obliterating atherosclerosis of peripheral arteries, acute ischemia, pulmonary embolism or dialysis shunt thrombosis

Percutaneous transluminal angioplasty
Stenting
Thrombectomy
Catheter implantation for lysis therapy
Other methods

Vascular preservation procedures in dissections, aneurysms and bleeding

Stenting
Endoprosthetics
Other methods

Procedures for closing blood vessels in bleeding, during preparation for surgical interventions, as well as for therapeutic purposes

Embolization and coiling
Sclerotherapy for varicocele
Uterine fibroid embolization
Liver hemangioma embolization
Other methods

Procedures for liver tumor treatment

Chemoembolization (transarterial chemoembolization)
Radioembolization (selective intra-arterial radiation therapy)
Other methods

Implantation of port systems and central venous catheters
Removal of foreign bodies
Portal vein embolization
Other treatments
Non-vascular interventions
Percutaneous interventions on the bile ducts

Percutaneous transhepatic bile duct drainage
Percutaneous transluminal angioplasty
Stenting
Other methods
Curriculum vitae
Prof. Rummeny is the Head of the Department of Diagnostic and Interventional Radiology at the University Hospital Rechts der Isar Munich. His area of expertise is diagnostic radiology and nuclear medicine. The major focus of his research is in the field of oncology imaging, in particular, the development of cross-sectional imaging processes, such as MRI and CT tomography and linked hybrid systems, such as PET-CT and MR-PET. Together with colleagues from Biomedical Physics (Prof. F. Pfeffer) and Biological Imaging (Prof. V. Ntziachristos), he develops new devices for use in patient diagnostics. Furthermore, he is involved in the optimization of contrast agents.
After studying medicine in Saarbrücken and Mainz, he completed his PhD thesis in 1984 in Mainz and acquired his postdoctoral teaching qualification (habilitation) in 1994 at the University of Muenster. His clinical and scientific career took him to the German Diagnostic Clinic in Wiesbaden, Massachusetts General Hospital (Harvard Medical School) and the Massachusetts Institute of Technology, Boston, USA. From 1988 to 1989, (until his appointment at the Technical University of Munich in 2000) Professor Rummeny worked at the Institute for Clinical Radiology at the University of Muenster. His research is conducted in close cooperation with leading international institutes, including Harvard University and the University of California San Francisco.
Awards and Achievements
2017 President of Congress of the German Radiological Society.
2016 ESGAR Honorary Lecture, Prague.
2011 Award "Ambassador against Cancer" from the Bavarian Ministry of Health.
2008 Certificate of Honor of the Bavarian X-Ray Society.
1999 MR Tomography Prize for the development of new MRT contrast media.
Photo of the doctor: (c) Klinikum rechts der Isar der Technischen Universität München
Department of Diagnostic and Interventional Radiology.
University Hospital Rechts der Isar Munich:

Request more information now.
We will be happy to answer all your questions.
---
Certificates