Chemotherapy and radiotherapy for glioblastoma (program ID:

280822

)
University Hospital Rechts der Isar Munich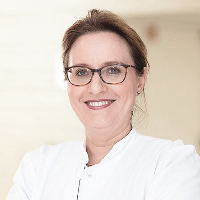 Head Physician
Prof. Dr. med.
Stephanie Combs
Specialized in: adult and pediatric radiation therapy
Department of Adult and Pediatric Radiation Therapy
The program includes:
Initial presentation in the clinic
clinical history taking
physical examination
neurological examination
laboratory tests:

complete blood count
general urine analysis
biochemical analysis of blood
TSH-basal, fT3, fT4
tumor markers
indicators of blood coagulation

CT/MRI of head
full course of chemotherapy
full course of radiation therapy
control MRI
cost of essential medicines and materials
nursing services
consultations of leading experts
explanation of individual treatment plan
How program is carried out
During the first visit, the doctor will conduct a clinical examination and go through the results of previous laboratory tests and instrumental examinations. After that, you will undergo an additional examination, including complete blood count, laboratory assessment of liver and kidney function. Based on the received results, the physician will elaborate the chemotherapy regimen, conduct radiotherapy planning with the help of CT or MRI, make the permanent tattoo marks on the skin and conduct CT simulation in order to assess the accuracy of the rays and the radiation dose. If necessary, related medical specialists will be involved in the elaboration of a treatment regimen (tumor board).
Chemotherapy and radiation therapy are carried out as the day hospital procedure, without mandatory admission to the hospital. At each visit, the physician will assess your general condition and the marks on the skin. After that, you will be placed in a shielded radiation therapy room, on a special table.
Each radiation therapy session lasts less than half an hour (including preparation). All this time, doctors and nurses are monitoring your condition, you can communicate with them through a loudspeaker. The procedure is completely painless. Depending on the planned course of treatment, you will visit the hospital from 1 to 3-5 times a week.
During the chemotherapy session, after the placement of a venous catheter, you will stay in a comfortable ward. An infusion system will be connected to the catheter, through which the required drug or a drug combination will be administered. All drugs are administered by intravenous drip, slowly, so the total duration of the infusion can be up to several hours. All this time, doctors and nurses will monitor your health condition closely.
After the completion of the chemotherapy and radiation therapy course, you will undergo control examinations aimed at assessing your condition and efficacy of treatment. After that you will receive the medical report with detailed recommendations regarding further follow-up and treatment. In the future, you will be able to have a distant consultation with your attending physician and schedule the next course of treatment, if necessary.
Required documents:
Medical records
MRI/CT scan (not older than 3 months)
Biopsy results (if available)
Service
Price:
Type of program :
Expected duration of the program:
You may also book:

Price:
About the department
The Department of Adult and Pediatric Radiation Therapy at the University Hospital Rechts der Isar Munich provides top-class conduction of all types of modern radiation therapy for the treatment of malignant and benign diseases. In most cases, irradiation is indicated to patients with cancers, but this treatment method is also effective for some benign diseases: tennis elbow, arthrosis, as well as other degenerative and inflammatory joint diseases. The department's doctors offer patients individual consultations and radiation therapy using the very latest medical technologies, which guarantee high precision of irradiation and sparing treatment. The department provides many innovative types of radiation therapy, which can effectively deal with all types of cancer. In addition, the department's doctors welcome the use of symptomatic treatment to improve the patients' quality of life and the effectiveness of irradiation. The specialists often resort to traditional Chinese medicine, acupuncture and other procedures. The department is headed by Prof. Dr. med. Stephanie Combs.
The department's medical team consists of highly qualified specialists in neuro-oncology (treatment of brain tumors), pediatric radiation therapy (treatment of cancers in children), gynecologic oncology (treatment of breast cancer and female reproductive tumors), uro-oncology (treatment of prostate cancer, bladder cancer), treatment of head and neck tumors, as well as thoracic and gastrointestinal tumors.
The department has two innovative linear accelerators, a tomotherapy system, a brachytherapy system and a Gamma Knife. Such a powerful technical base allows the specialists to carry out the most advanced and highly effective types of radiation therapy, including intensity-modulated radiation therapy, image-guided radiation therapy, respiratory-gated radiotherapy, total body irradiation, etc. In addition, the department's doctors have more than 10 years of experience in the field of stereotactic irradiation for the treatment of malignant head and neck tumors (in some cases, this type of therapy is also indicated to patients with neoplasms of a different localization).
The treatment in the department begins with a consultation, during which the doctor studies the patient's medical history, asks about his complaints and, if necessary, prescribes additional diagnostic examinations to determine the most effective irradiation technique. The doctor then tells the patient in detail about the possible treatment options, their features, possible side effects and the expected result of the therapy. The next step is treatment planning. The planning of the forthcoming radiation therapy is carried out using the results of computed tomography (CT). During the examination, the doctor applies the markings on the patient's skin. Planning allows the specialists to determine the target area for irradiation with millimeter precision, while minimizing harm to the adjacent healthy tissue. Immediately before starting radiation therapy, doctors use a CT scanner built into the linear accelerator to make sure that the previously applied markings correspond to the patient's current body position. Considering all the preparations, the first session of radiation therapy lasts about an hour, while the irradiation itself takes only a few minutes. The duration and frequency of procedures is determined for each patient individually, based on a particular clinical case. After the last irradiation session, doctors carry out a follow-up examination to assess the treatment outcome. In the future, the patient will undergo follow-up diagnostics to assess the condition in dynamics.
The department's specialists have successful experience in radiation therapy in children. Advanced equipment allows doctors of the medical facility to targetedly use high doses of radiation, while protecting healthy tissues as much as possible. Children and adolescents with oncopathology receive effective and safe treatment even for the most complex types of cancer, including medulloblastomas, ependymomas and other tumors. In addition, children receive the so-called "multitarget radiation", in which radiation therapy is carried out simultaneously on several parts of the body.
The department offers the following therapeutic options:
Stereotactic radiation therapy is performed at the Center for Stereotactic and Personalized High-Precision Radiation Therapy (STEREOTAKTUM). The particular advantages of this method include high accuracy, achievement of the results in just a few treatment sessions, and good compatibility with other therapies. This therapy is best for treating small tumors in the lungs, liver, and brain.
Gamma Knife radiosurgery is the most advanced and highly accurate treatment method for brain metastases, brain tumors and skull base tumors. With the minimum dose of radiation, the device provides high-quality results and protects adjacent healthy tissues.
Intensity modulated radiation therapy allows carrying out the most accurate (up to a millimeter) targeted irradiation. This therapy is the most common in the department's clinical practice. If indicated, this type of therapy is complemented by tomotherapy.
Image-guided radiation therapy is performed using the very latest accelerators and computed tomography scanners.
Respiratory-gated radiation therapy ("respiratory gating") is used for the postoperative treatment of patients with left-sided breast cancer. This method can significantly reduce radiation exposure to the heart.
3D conformal radiation therapy is an irradiation technique based on volumetric planning to replicate the shape of the tumor as accurately as possible. To conduct this type of radiation therapy, CT, MRI or PET scanning is most often used (only for some tumors).
Tomotherapy is one of the very latest technologies in radiation therapy. It combines computed tomography (CT) and linear accelerator in one system. During irradiation, the radiation source rotates around the patient.
Brachytherapy is a technique in which a radiation source is placed directly into the tumor. The sources of radiation are radioactive substances with a small range of ionizing particles. It is one of the most effective treatment methods for prostate cancer.
Total body irradiation is used to destroy residual malignant cells in the bone marrow. After chemotherapy and total body radiation therapy, a bone marrow or stem cell transplantation is performed to replace the affected blood stem cells. The procedure is performed with the linear accelerator.
Radiation therapy for the treatment of cancer in children, including tomotherapy and so-called multitarget irradiation.
Other types of radiation therapy
Curriculum vitae
University Education
10.1996 - 04.2003 Faculty of Medicine, Ruprecht Karl University of Heidelberg, Eastern Virginia Medical School, Norfolk, Virginia, USA, University of Texas (UTHSCSA), San Antonio, TX, USA.
04.2003 State examination.
04.2003 Doctor of Medicine, Ruprecht Karl University of Heidelberg, Institute of Neuroanatomy. Subject: "TGF-βs, pituitary adenylate cyclase-activating polypeptide and development of sympathoadrenal cell line" (magna cum laude).
Professional Career
Postdoctoral Fellowship and Residency, Department of Radiation Oncology, University Hospital Heidelberg, Germany.
Radiation Oncology, German Cancer Research Center (DKFZ).
2007 - 2014 Head of Research Group on Neuro-Radiation Oncology, Department of Radiation Oncology, University Hospital Heidelberg, Germany.
02.2009 Theoretical basis of the specialty, radiation protection.
07.2009 Board certification, Radiation Oncology.
10.2009 Consultant, Department of Radiation Oncology, University Hospital Heidelberg, Germany.
12.2009 Postdoctoral Fellowship, Habilitation in Radiation Oncology.
2011 - 2014 Deputy Head, Department of Radiation Oncology, University Hospital Heidelberg, Germany.
11.2011 Additional qualification in Palliative Care.
Since 04.2014 Professor and Head of the Department of Adult and Pediatric Radiation Therapy at the University Hospital Rechts der Isar Munich, Germany.
Since 04.2014 Director of the Institute of Innovative Radiotherapy (iRT), Helmholtz Center Munich, Germany.
Awards, Prizes and Honors
2012 Robert Janker Award in Palliative Medicine.
2010 Behnken-Berger Foundation Award (Berlin), research work in the field of ion therapy.
2010 Hermann Holthusen Award of the German Society for Radiation Oncology and Radiation Therapy.
2007 - 2009 Olympia Morata Habilitation Program, Faculty of Medicine, University of Heidelberg.
2006 Sigrid and Karl-Georg Hengstberger Award.
2004 - 2006 Young Investigator Award, Faculty of Medicine, University of Heidelberg.
2005 Particle Therapy Co-Operative Group (PTCOG) Scholarship.
Memberships in Professional Societies
Particle Therapy Co-Operative Group (PTCOG).
German Cancer Society (DKG).
Working Group on Radiation Oncology (ARO) of the German Cancer Society (DKG).
Working Group on Gynecologic Oncology (AGO) of the German Cancer Society (DKG).
European Society for Therapeutic Radiology and Oncology (ESTRO).
German Society for Radiation Oncology (DEGRO).
German Professional Association of Radiation Therapists (BVDST).
European Organization for Research and Treatment of Cancer (EORTC).
Radiation Therapy Oncology Group (RTOG).
Photo of the doctor: (c) Klinikum rechts der Isar der Technischen Universität München
---
About hospital
Accommodation in hospital
Glioblastoma
Program [Description]
Chemotherapy and radiotherapy for glioblastoma
Hospital: University Hospital Rechts der Isar Munich
Type:
Duration:
Price:
date_range
There are 52 glioblastoma treatment hospitals on Booking Health website
Show all clinics
Certificates