Treatment of acute myeloid leukemia (AML) with CAR T-cell therapy (program ID:

666061

)
University Hospital Rechts der Isar Munich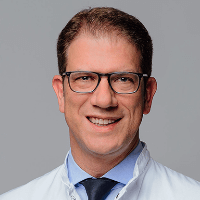 Head Physician
Prof. Dr. med.
Florian Bassermann
Specialized in: hematology, oncology
Department of Hematology and Oncology
Program includes:
Initial presentation in the clinic
Clinical history taking
Physical examination
Review of medical records
Laboratory tests:

Complete blood count
General urine analysis
Biochemical blood test (kidney and liver function tests)
Indicators of inflammation (CRP, ESR)
Indicators of blood coagulation
Immunohistochemical and genetic analysis of tumor cells (if indicated)

Leukapheresis, processing of T-cells and cultivation of CAR T-cells
Adjuvant chemotherapy
Infusion of modified CAR T-cells to a patient
Control examinations
Cost of essential medicines and materials
Nursing services
Full hospital accommodation
Explanation of future recommendations
Indications
Acute myeloid leukemia (AML) that is resistant to the conventional therapy
How program is carried out
Days 1-2. Initial presentation at the clinic. The doctor collects the patient's medical history, looks at his medical records and previous examinations. Special attention is paid to previous cancer treatments and their results, since CAR T-cell therapy is indicated only if the conventional treatment protocols are ineffective. Based on the results of the consultation, the doctor administers the examination, which includes a complete blood count with white blood cell count, assessment of liver and kidney function, immunohistochemical and genetic analysis of tumor cells (if indicated) and other studies.
Day 3. Collecting patient's blood. During the leukapheresis procedure, doctors harvest at least 100 million T-cells, which will subsequently undergo gene modification. If there are certain clinical reasons, and the patient needs to postpone the subsequent stages of CAR T-cell therapy, the harvested T-cells undergo the procedure of cryoconservation. If the patient is able to continue treatment immediately, then the harvested T-cells are transferred to the laboratory.
Days 4-12. Processing and gene modification of the T-cells pool lasts 7-10 days. During this time, the patient is receiving immunosuppressive chemotherapy drugs. The chemotherapy is aimed at suppressing the patient's own immune system, which will allow CAR T-cells to fight the tumor more effectively.
Day 13. Manufactured CAR T-cells are tested for the microbiological safety and functional activity. After the successful testing completion, the solution with CAR T-cells is administered to the patient intravenously.
Day 14 and other days. Control examination and further medical supervision in the hospital are carried out. If there are no side effects of CAR T-cell therapy, a stable tendency towards normalization of blood count is observed and the patient has stable general health condition, the patient is discharged from the hospital. Before the discharge, the patient receives the detailed recommendations for further follow-up during the disease remission.
Required documents
Complete blood count with white blood cell count
Biochemical blood test (renal and liver function tests), if available
Bone marrow biopsy results
CT scan, if available
Service
Price:
Type of program :
Expected duration of the program:
You may also book

Price:
About the department
The Department of Hematology and Oncology at the University Hospital Rechts der Isar Munich offers the full range of diagnostic and therapeutic services in these fields. The highly qualified team of the department's doctors provides effective treatment of all cancers and blood pathologies (for example, leukemia, multiple myeloma, non-Hodgkin's and Hodgkin's lymphoma) in accordance with the very latest international standards. The department performs autologous and allogeneic bone marrow transplantation, as well as provides innovative CAR T-cell therapy. It should be noted that the department is certified as the Comprehensive Cancer Center Munich, and also has a quality certificate from the German Cancer Society. The medical facility has the very latest equipment, implements innovative treatment methods, and at the same time pays due attention to comprehensive consultations and a humane attitude towards patients. Patients can get special nutrition counselling, as well as competent psychological care. The department is headed by Prof. Dr. med. Florian Bassermann.
Treatment tactics are developed at interdisciplinary tumor boards with the participation of hematologists, oncologists, surgeons, radiation therapists, radiologists, specialists in the field of pathological anatomy and nuclear medicine, so that each patient receives an optimal treatment plan corresponding to his particular clinical case. The department's main therapeutic options include classical chemotherapy, high-dose chemotherapy, targeted therapy, multimodal therapy, immunotherapy, radiation therapy, combined chemoradiation therapy, surgical treatment methods, etc.
It is worth highlighting the progressive type of CAR T-cell therapy. The essence of this treatment method is the collection of T-cells from the patient's body using apheresis and their follow-up processing, which makes it possible to program leukocytes for recognizing and destroying cancer cells. Once processed, leukocytes will be administered into the patient's body by an intravenous infusion. CAR T-cell therapy has shown excellent results, especially in cases where other treatment methods have failed. Another advantage of this therapeutic option is the low risk of side effects after the course of treatment. Even if they do develop, the side effects are temporary and can be easily controlled with medications. Indications for CAR T-cell therapy are aggressive lymphomas, acute lymphoblastic leukemia, and advanced multiple myeloma.
The department is also justly proud of its achievements in the field of autologous and allogeneic bone marrow transplantation. The doctors of the medical facility have over 30 years of successful experience in the field of autologous bone marrow transplantation. This procedure is indicated to patients with multiple myeloma, Hodgkin's and non-Hodgkin's lymphomas, germ cell tumors, sarcomas, etc. Allogeneic transplantation has been performed in the department since 2002. This type of treatment can be used in patients with acute or chronic leukemia, multiple myeloma, myelodysplastic syndromes, myeloproliferative neoplasms, and severe aplastic anemia. The department has a certificate from the Joint Accreditation Committee JACIE, which confirms the high competence of the medical facility in this area.
The department provides diagnostics and treatment of the following diseases:
Hematology

Acute and chronic leukemia
Malignant lymphomas (Hodgkin's and non-Hodgkin's lymphomas)
Multiple myeloma (plasmacytoma)
Chronic myeloproliferative diseases
Myelodysplastic syndrome (MDS)

Oncology

Small cell and non-small cell lung cancer
Malignant gastrointestinal tumors (esophageal, stomach, pancreatic, colon cancers)
Gastrointestinal stromal tumors
Malignant endocrine tumors (thyroid, parathyroid, adrenal cancers)
Malignant bone and soft tissue tumors (sarcomas)
Malignant tumors of the female reproductive system (uterine and cervical cancers, ovarian, vulvar, vaginal, fallopian tube cancers)
Malignant tumors of the male reproductive system (prostate, testicular cancers)
Malignant head and neck tumors
Skin cancer
Kidney and bladder cancers

Other hematological and oncological diseases
The department's diagnostic and therapeutic range of services includes:
Surgical treatment
Chemotherapy
Targeted therapy
Multimodal therapy
Immunotherapy
Radiation therapy
Combined chemoradiotherapy
CAR T-cell therapy
Autologous and allogeneic bone marrow transplantation
Other treatment methods
Curriculum vitae
Prof. Bassermann studied Medicine in Ulm, Munich and New York. He received his doctoral degree from the Technical University of Munich. The doctor began his clinical and scientific career at the Technical University of Munich, even before becoming a Postdoctoral Fellow at New York University (2006 - 2009). After returning to the Technical University of Munich, he became the Head of the Emmy Noether Junior Research Group (funding from the German Research Foundation). Here he had his board certification in Internal Medicine, Hematology and Oncology, as well as habilitation. In 2011, he was appointed as Senior Physician, and in 2015, he was invited to the position of Professor at the Technical University of Munich. Since November 2017, Prof. Bassermann has been the Head of the Department of Hematology and Oncology at the University Hospital Rechts der Isar Munich.
Awards and Honors
2015 ERC Consolidator Grant.
2015 Langener Science Prize.
2015 Theodor Frerichs Prize, German Society of Internal Medicine (DGIM).
2010 Walther Flemming Medal, German Society of Cell Biology (DGZ).
2009 Participation in the Emmy Noether Program of the German Research Foundation.
Photo of the doctor: (c) Klinikum rechts der Isar der Technischen Universität München
---
About hospital
Accommodation in hospital
Program [Description]
Treatment of acute myeloid leukemia (AML) with CAR T-cell therapy
Hospital: University Hospital Rechts der Isar Munich
Type:
Duration:
Price:
date_range
There are 26 acute myeloid leukemia treatment hospitals on Booking Health website
Show all clinics
Certificates