Treatment of brain av-malformation with partial resection and coiling (program ID:

406432

)
University Hospital Saarland Homburg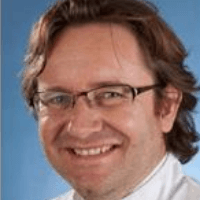 Head Physician
Prof. Dr. med.
Joachim Oertel
Specialized in: adult and pediatric neurosurgery
Department of Adult and Pediatric Neurosurgery
Program includes:
Initial presentation in the clinic
clinical history taking
review of medical records
physical examination
laboratory tests:

complete blood count
general urine analysis
biochemical analysis of blood
inflammation indicators (CRP, ESR)
indicators blood coagulation

neurological examination
functionality x-ray
CT/MRI scan
neuropsychological tests (on indications):

ENMG (electroneuromyography)
EEG (electroencephalography)
SEPs (somatosensory evoked potentials)
VEPs (visually evoked potentials)
BAEP tests (brainstem auditory evoked potential)

preoperative care
partial resection of the av-malformation with
subsequent coiling
histologically examination of the remote tissues
blood transfusions (if needed)
1-day intensive care unit stay
postoperative MRI control
symptomatic treatment
control examinations
the cost of essential medicines and materials
nursing services
full hospital accommodation
developing of further guidance
Required documents
Medical records
MRI/CT scan (if available)
MR/CT-angiography (if available)
Service
Price:
Type of program :
Expected duration of the program:
You may also book

Price:
About the department
The Department of Adult and Pediatric Neurosurgery at the University Hospital Saarland offers the full range of services in this medical focus and specializes in the surgical treatment of all diseases of the central and peripheral nervous system in adults and children. The department is headed by Prof. Dr. med. Joachim Oertel.
The department has 64 beds, 4 state-of-the-art operating rooms, including an integrated stereotaxic operating room for diagnostic and therapeutic procedures. Treatment is provided by a competent team of surgeons in accordance with the highest standards and recommendations of the professional societies.
The range of medical services of the department includes:
Vascular neurosurgery

Treatment of cerebral aneurysms
Treatment of cavernous hemangiomas
Treatment of arteriovenous malformations (angiomas) and dural arteriovenous fistulas
Treatment of circulatory disorders due to vascular occlusion or narrowing
Treatment of Moyamoya disease
Treatment of other vascular pathologies

Treatment of brain tumors

Pituitary gland adenoma
Craniopharyngioma
Meningioma
Chordoma
Rathke's cleft cyst
Other neoplasms

Hydrocephalus treatment

Intracranial pressure measurement (telemetry methods)
Shunt implantation
Endoscopic third ventriculostomy
Other treatments

Treatment of spinal diseases

Treatment of herniated intervertebral discs
Treatment of spinal stenosis
Stabilizing procedures for degenerative diseases of the spine
Surgical treatment of spinal injuries, inflammatory processes and tumors
Treatment of spinal cord and spinal canal tumors
Endoscopic surgery
Other services

Treatment of arachnoid cysts
Treatment of vestibular schwannomas (acoustic neuromas)

Surgical removal of the neoplasm
Targeted tumor irradiation (radiosurgery)
Monitoring of tumor progression in its slow growth (especially in elderly or high-risk patients)
Other treatments

Treatment of peripheral nerve compression syndromes

Carpal tunnel syndrome
Cubital tunnel syndrome
Other compression syndromes

Stereotaxy

Stereotactic biopsy
Deep brain stimulation

Pediatric neurosurgery

Hydrocephalus treatment
Treatment of brain tumors in children (for example, pilocytic astrocytoma, medulloblastoma, ependymoma)
Craniosynostosis treatment
Treatment of spina bifida
Treatment of other pediatric neurosurgical diseases

Special methods of preoperative planning and intraoperative techniques for the treatment of intracranial lesions

Preoperative navigated transcranial magnetic stimulation (nTMS)
Preoperative diffusion tensor imaging (tractography)
Intraoperative neuronavigation
Intraoperative neuromonitoring, as well as cortex and subcortical intraoperative stimulation

Other medical services
Curriculum vitae
Prof. Dr. med. Joachim Oertel began his career in 1989 with studying medicine at the Hannover Medical School and at the Harvard Medical School in Boston. After receiving his doctor's degree, he began working at the Neurosurgical Clinic at the Ernst Moritz Arndt University. After receiving the title of a Medical Specialist and completing habilitation at the Hannover Medical School, in 2006 he took the position of the leading Senior Physician in the municipal hospital Nordstadtkrankenhaus, Hannover. Since October 2008, he held the position of the leading Senior Physician in the Department of Neurosurgery at the University Hospital Mainz. On December 1, 2010, Prof. Dr. med. Joachim Oertel was appointed as a Full Professor and Head of the Department of Adult and Pediatric Neurosurgery at the University Hospital Saarland.
Photo of the doctor: (c) Universitätsklinikum des Saarlandes
---
About hospital
Accommodation in hospital
Av-malformation of brain
Program [Description]
Treatment of brain av-malformation with partial resection and coiling
Hospital: University Hospital Saarland Homburg
Type:
access_time Duration:
Price:
date_range
There are 64 av-malformation of brain treatment hospitals on Booking Health website
Show all clinics