University Hospital Tuebingen
Department of Pediatric Surgery and Pediatric Urology (

562047

)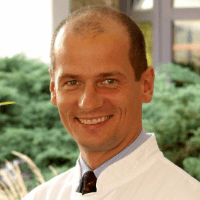 Prof. Dr. med.
Jörg Fuchs
Specialized in: pediatric surgery, pediatric urology
About the Department of Pediatric Surgery and Pediatric Urology at University Hospital Tuebingen
The Department of Pediatric Surgery and Pediatric Urology at the University Hospital Tuebingen offers the full range of services in these medical fields. It serves young patients of different age groups, ranging from newborns to adolescents under the age of 16 years. The department is headed by Prof. Dr. med. Jörg Fuchs.
The department widely uses modern minimally invasive interventions that play a crucial role in various diseases and malformations. The basis of the department's work is interdisciplinary cooperation with other departments of the hospital and other medical institutions at the national level. In addition, the department has gained a reputation as an Expert Center for the treatment of tumors of the liver, kidneys, neuroblastomas and soft tissue sarcomas.
The service range of the department includes:
General pediatric surgery

Appendix removal
Hernia repair (inguinal, umbilical hernia)
Hydrocele treatment
Correction of undescended testicles
Phimosis treatment

Minimally invasive surgery (more than 600 interventions per year)

Correction of congenital malformations in the chest and abdomen (liver, gallbladder, appendix, rectum)
Correction of malformations of the urological spectrum
Treatment of oncological neoplasms (certain tumors)

Neonatal surgery

Esophageal atresia
Abdominal wall defects (gastroschisis, omphalocele)
Diaphragmatic hernia
Lung malformations

Surgical treatment of short bowel syndrome and chronic intestinal failure
Endocrine surgery

Treatment of benign and malignant thyroid diseases
Treatment of disorders of sexual differentiation (intersexuality, adrenogenital syndrome)
Treatment of benign and malignant diseases of the adrenal glands

Surgical correction of anorectal malformations (diseases and malformations of the intestine, anus)

Anal atresia
Cloacal exstrophy
Hirschsprung's disease

Hepatobiliary surgery

Choledochal cyst
Biliary atresia
Cholelithiasis
Shunting (in portal vein thrombosis)
Liver tumors and metastases

Thoracic surgery

Lung malformations
Esophageal atresia
Diaphragmatic hernia
Lung tumors and metastases
Chest wall deformities (funnel-shaped, keeled chest)

Cancer surgery

Kidney tumors
Liver tumors
Neuroblastomas
Rhabdomynosarcomas
Soft tissue sarcomas
Germ cell tumors

Minimally invasive surgery
Cytoreductive surgery and subsequent intraoperative intraperitoneal hyperthermic chemotherapy (HIPEC)
Brachytherapy for bladder, prostate rhabdomyosarcoma

Trauma surgery

Soft tissue lesions (lacerations, cuts, bruises, ligament sprains)
Bone and joint lesions (fractures and dislocations)
Soft tissue and bone inflammation after injury
Impaired bone healing or incorrect position of bones after fractures
Spinal and pelvic injuries
Head and brain injuries
Thoracic and abdominal injuries
Burns, including steam burns
Polytrauma and injuries of high severity

Surgical treatment of benign bone lesions

Bone cysts
Exostoses
Bone fibroids
Osteoid osteoma

Correction of hand, foot malformations

Polydactyly
Syndactyly
Congenital annular ligament stenosis

Pediatric urology

Hypospadias
Epispadias
Urinary tract stenosis
Cystic ureteral reflux
Double kidney
Bladder dysfunction
Bladder exstrophy
Cloacal exstrophy
Spina bifida, meningomyelocele
Cystoplasty
Kidney tumors
Abnormal testicle position
Phimosis
Disorders of sexual differentiation

Other medical services
Curriculum vitae of Prof. Dr. med. Jörg Fuchs
Since 2002, Prof. Dr. med. Jörg Fuchs has been a full-time Professor of Pediatric Surgery at the University Hospital Tuebingen. From 1983 to 1989 he studied Human Medicine at the Humboldt University in Berlin. After receiving a diploma and doctoral thesis defense in 1989, the doctor began his professional training in Pediatric Surgery at the Carl Gustav Carus University Hospital in Dresden. Subsequently, he continued his studies at the Hannover Medical School and completed it in 1997. In the same year, he began working as a Specialist in Pediatric Surgery at the Hannover Medical School, while in 1998 he was appointed as a Senior Physician. Then he was offered to occupy the position of C4 Professor at the University Hospital Tuebingen. Also, in 2007, the doctor was offered a position at the Charité Hospital, but he declined the offer.
From 2010 to 2013, Prof. Jörg Fuchs was the President of the German Society of Pediatric Surgery (DGKCH). On July 1, 2017, he became the President of the German Society of Surgery (DGCH). His research interests include cancer and minimally invasive surgery, as well as oncological studies of solid tumors in children.
Photo of the doctor: (c) Universitätsklinikum Tübingen
Department of Pediatric Surgery and Pediatric Urology.
University Hospital Tuebingen:

Request more information now.
We will be happy to answer all your questions.
---
Certificates