Radical, extensive surgical resection of melanoma (program ID:

232879

)
University Hospital Ulm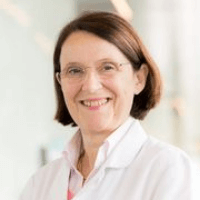 Head Physician
Prof. Dr. med.
Karin Scharffetter-Kochanek
Specialized in: dermatology, allergology
Department of Dermatology and Allergology
Program includes:
Initial presentation in the clinic
clinical history taking
physical examination
review of medical records
laboratory tests:

complete blood count
general urine analysis
biochemical analysis of blood
TSH-basal, fT3, fT4
tumor markers
indicators of inflammation (CRP, ESR)
indicators blood coagulation

ultrasound
CT/MRI scan
preoperative care
micrographic surgical treatment of facial skin melanoma
histologically and immunohistochemically
examination of the remote tissues
symptomatic treatment
control examinations
the cost of essential medicines and materials
nursing services
full hospital accommodation
explanation of future recommendations
Required documents
Medical records
Biopsy results (if available)
Service
Price:
Type of program :
Expected duration of the program:
You may also book

Price:
About the department
The Department of Dermatology and Allergology at the University Hospital Ulm offers the full range of therapy and diagnostics of skin diseases and allergic reactions. The department has 35 inpatient and 14 partially inpatient beds. The doctors use the very latest treatment methods, modern laser technologies, allowing to achieve the optimal therapeutic and aesthetic effect. Also, the department has an in-house laboratory for conducting all the necessary skin examinations. The department is headed by Prof. Dr. med. Karin Scharffetter-Kochanek.
One of the key focuses of the department is the treatment of skin tumors, which is carried out within the framework of the specialized Skin Cancer Center (certified by the German Cancer Society). The treatment is based not only on the well-designed therapeutic strategy, but also on the regular psychological and social consultations. The dermatologists' scope of tasks also includes the treatment of rare skin tumors. Сertainly, all the therapeutic measures are selected on an individual basis. If necessary, the specialists from the related fields are involved.
It should be noted that since 01.10.2005, the department is a certified interdisciplinary center of the European Network of Centers of Excellence for Allergic Diseases (Global Allergy and Asthma European Network (GA2LEN)).
The service range of the department includes:
Diagnostics and treatment of skin tumors

Malignant melanoma (black skin cancer)
Squamous cell carcinoma, basal cell carcinoma (white skin cancer)
Actinic keratosis (white skin cancer at the initial stage)
Skin lymphomas (fungal mycosis, B-cell lymphomas)
Rare malignant tumors (Merkel carcinoma, dermatofibrosarcoma, angiosarcoma)
Benign tumors

Diagnostics and treatment of allergic reactions

Hay fever
Asthma
Hives
Conjunctivitis
Drug reactions

Diagnostics and treatment of autoimmune skin diseases

Vesiculobullous (bullous) skin diseases
Dermatosis
Connective tissue diseases (collagenosis), for example, lupus erythematosus, dermatomyositis, scleroderma
Psoriasis
Neurodermatitis

Phototherapy for the treatment of various skin pathologies (polymorphic photodermatitis, allergies, lupus erythematosus, psoriasis, eczema, scleroderma, lymphomas and other diseases)

Extracorporeal photopheresis in patients with graft versus host diseases after allogeneic bone marrow transplantation
Photodynamic therapy for the treatment of precancerous skin lesions (for example, actinic keratosis, basal cell carcinoma)

Diagnostics and treatment of wound healing disorders
Diagnostics and treatment of skin and mucous membrane infectious diseases (caused by bacteria, fungi, viruses and parasites)

Lyme disease
Impetigo
Herpes
Lice and mites infestation

Diagnostics and treatment of sexually transmitted diseases

Syphilis
Gonorrhea
Genital herpes
Genital warts

Other diagnostic and therapeutic options
Curriculum vitae
Study of Medicine at the Rhine-Westphalian Technical University Aachen, University of Vienna (Austria).
Academic and Professional Career
2002 Invitation to the Department of Dermatology and Allergology, Ulm University.
1993 - 1995 Heisenberg Scholarship, Institute of Human and Molecular Genetics, Baylor College of Medicine, Houston, USA.
1988 Research Scholarship at the National Institutes of Health in Bethesda, USA.
1987 - 1989 Research Scholarship of the German Research Foundation, Connective Tissue Laboratory, Department of Dermatology, Ludwig-Maximilian University of Munich.
Senior Physician at the Department of Dermatology and Venereology, University Hospitals of Duesseldorf and Cologne.
Work at the Institute of Pathology at the Rhine-Westphalian Technical University Aachen.
Positions in the Scientific Societies and Committees
Deputy Spokesperson, Geriatric Competence Center, Ulm.
Board Member of the Comprehensive Cancer Centers.
Board Member of the European Tissue Research Society.
Awards and Honorary Memberships
Since 2008, Member of the National Academy of Sciences Leopoldina.
Main Research Focuses
Skin diseases.
Impaired wound healing.
Skin aging processes: diagnostics, prevention and molecular bases.
Photo of the doctor: (c) Universitätsklinikum Ulm
---
About hospital
Accommodation in hospital
Melanoma
Program [Description]
Radical, extensive surgical resection of melanoma
Hospital: University Hospital Ulm
Type:
Duration:
Price:
date_range
There are 56 melanoma treatment hospitals on Booking Health website
Show all clinics
Certificates