Hysterectomy salpingo-oophorectomy lymphadenectomy and hyperthermia for ovarian cancer with extension to the pelvic organs and lymph nodes (program ID:

251869

)
University Hospital Ulm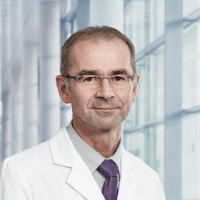 Head Physician
Prof. Dr. med.
Wolfgang Janni
Specialized in: obstetrics, adult and pediatric gynecology
Department of Obstetrics, Adult and Pediatric Gynecology
Program includes:
Initial presentation in the clinic
case history collection
general clinical examination
laboratory tests:

complete blood count
general urine analysis
biochemical analysis of blood
TSH-basal, fT3, fT4
tumor markers
indicators of inflammation
indicators blood coagulation

CT/MRI scanners
pelvic ultrasound
gynecological examination
transvaginal ultrasound
colposcopy
preoperative care
hysterectomy, salpingo-oophorectomy, lymphadenectomy
hyperthermia (cytostatic rinsing with heating to 42°C)
biopsy with histological examination of the material
symptomatic treatment
cost of essential medicines
nursing services
stay in the hospital with full board
full hospital accommodation
elaboration further recommendations
Required documents
Medical records
MRI/CT scan (not older than 3 months)
Biopsy results (if available)
Service
Price:
Type of program :
Expected duration of the program:
You may also book

Price:
About the department
According to the prestigious Focus magazine, the Department of Obstetrics, Adult and Pediatric Gynecology at the University Hospital Ulm is ranked among the best German medical institutions specializing in obstetrics and breast cancer treatment!
The department offers the full range of services in these fields and specializes in the diagnostics and treatment of general gynecological diseases, oncological diseases of the female reproductive system, breast, endometrial pathologies and urinary incontinence. In the clinical practice, only proven accurate diagnostic methods and effective therapeutic measures are used. In addition, the department is the Level I Perinatal Center, in which about 3,000 babies are born annually. The department is headed by Prof. Dr. med. Wolfgang Janni, who ranks among the top German doctors listed in the prestigious Focus magazine in the treatment of breast cancer and gynecological tumors!
The priorities of the department include the treatment of gynecologic cancers, many of which (for example, uterine fibroids, malignant tumors, pelvic prolapse) require surgical intervention. For this purpose, the department has modern operating rooms. The spectrum covers both small outpatient operations, and extensive interventions on the abdominal organs, breast robotic plastic surgery.
To provide excellent obstetric services, there are four perfectly equipped delivery rooms with a pleasant atmosphere in the arsenal of the department, including a special room for childbirth in water. The competent team of obstetricians, gynecologists and pediatricians works 24 hours a day, thereby ensuring maximum safety for patients and babies. Also, obstetricians make sure that during the childbirth a woman has minimal pain, so they offer modern methods of pain relief, for example, epidural anesthesia, homeopathy, acupuncture.
The service range of the department includes:
Diagnostics and treatment of benign gynecological diseases

Menstrual disorders
Menopause and its symptomatic manifestations
Elimination of the risk factors in early pregnancy
Chronic pelvic and lower abdominal pain
Infections of the external and internal genital organs
Cysts and benign ovarian neoplasms
Myomas
Cervical dysplasia
Endometrial diseases
Benign breast diseases
Gynecomastia in men

Full range of gynecological surgical interventions
Care for women and girls in the case of sexual abuse (necessary diagnostics, counseling)
Pediatric gynecology

Consultations on all kinds of issues in gynecology
Diagnostic measures (for example, vaginal smear, vaginoscopy, colposcopic examination, transabdominal ultrasound)
Development of special therapy regimens (in collaboration with all necessary specialists from the related fields)

Diagnostics, treatment (surgical, drug therapy, radiation therapy) and subsequent care for women with cancer

Breast cancer

Diagnostics (mammography, ultrasound, MRI, biopsy, etc.)
Organ preservation surgery
Reconstructive surgeries (using allogeneic tissues, expanders, silicone implants)
Aesthetic breast surgery (breast augmentation, reduction, correction of breast asymmetry)
Drug therapy (chemotherapy, radiation therapy, antihormonal therapy, immunotherapy, antibody therapy)

Cervical cancer
Uterine cancer
Ovarian cancer
Vaginal cancer
Endometrial cancer
Vulvar cancer

Diagnostics and treatment of urinary incontinence, pelvic prolapse, chronic bladder inflammations

Diagnostic services

Study of medical history
Urinalysis
Ultrasound examinations
Bladder pressure measurement
Cystoscopy
Disciplinary consultations

Conservative treatment methods

Physiotherapy
Drug therapy
Acupuncture
Installation of pessaries
Electrostimulation

Surgical treatment methods

Urethral stabilization through the imposition of vaginal tapes made of artificial material in stress urinary incontinence
Botox injections and implantation of the bladder stimulator in overactive bladder
Minimally invasive interventions in genital prolapse in women

Obstetric services

Medical care before, during and after childbirth
Prenatal diagnostics and therapy (non-invasive and invasive methods)
Management of high-risk pregnancy
Pain relief methods during childbirth (for example, acupuncture, homeopathy, epidural anesthesia)

Diagnostics and treatment of problems with conceiving a child (within the specialized center)
Diagnostics and treatment of hormonal disorders in women
Other medical services
Curriculum vitae
Academic and Professional Activities
Since 2012, W3 Professor and Head of the Department of Obstetrics, Adult and Pediatric Gynecology at the University Hospital Ulm.
2008 - 2012 W3 Professor in the Department of Medicine, Heinrich Heine University of Duesseldorf.
2008 - 2012 Head of the Department of Gynecology, Heinrich Heine University of Duesseldorf.
2005 - 2012 Leading Senior Physician and Deputy Head in the Department of Gynecology at the Ludwig Maximilian University of Munich.
2003 Habilitation, Faculty of Medicine, Ludwig Maximilian University of Munich.
2002 - 2005 Clinical Senior Physician, Gynecologic Oncology.
1997 - 2002 Research Fellow and Assistant Physician, Department of Gynecology, Ludwig Maximilian University of Munich.
1995 - 1997 Intern, Department of Gynecology, Ludwig Maximilian University of Munich.
1994 - 1995 One-year practice:

Yale University Medical Center New Haven, USA.
University of Michigan Medical Center in Ann Arbor, USA.
Bellevue Hospital, New York University, New York, USA.
University Hospital Hahnemann, Philadelphia, USA.

1989 - 1995 Study of Human Medicine, Ludwig Maximilian University of Munich.
Positions in the Scientific Societies and Committees
Since 2016, Board Member of the Working Group on Gynecologic Oncology.
Since 2016, Chairman of the Mamma Commission of the Working Group on Gynecologic Oncology.
Since 2015, Elected as a Gynaecologicum Board Member.
Since 2015, Advisory Council of the research project GBG Forschungs GmbH.
Since 2015, Scientific Council of the Working Group on Health Insurance in Germany.
Since 2015, Advanced Training Committee of the District Medical Association South Württemberg.
Since 2014, Scientific Advisory Board of NOGGO e.V. Berlin.
Since 2014, Scientific Advisory Board of the Central Health Insurance Authority.
Since 2014, International Network on Cancer, Infertility and Pregnancy (INCIP).
Since 2013, Oncology Advisory Council of the Ministry of Labor and Social Protection, Family, Elderly, Women of Baden-Württemberg.
Since 2012, Board Member, Comprehensive Cancer Center Ulm.
Since 2012, Steering Committee Member (Early Breast Cancer Collaborative Trialist Group), Oxford, UK.
Since 2011, Steering Group Member, Development Commission of S3 Recommendations for Breast Cancer, German Cancer Society.
Since 2010, Technical Committee for the Promotion of Young Scientists, German Cancer Society.
Since 2009, Board Member of the German Cancer Society of North Rhine-Westphalia.
Since 2009, Board Member of the German Association for Interdisciplinary Medicine (Medica).
2009 - 2016 Deputy Chairman of the Mamma Commission, Working Group on Gynecologic Oncology.
Awards and Honorary Memberships
Since 2017, Member of the National Academy of Sciences Leopoldina.
Since 2011, Elected as a Full Member of the Society of Pelvic Surgeons.
2006, 2004, 2002 and 2000 Honorary Award for Merits of the American Society of Clinical Oncology.
2001 Scientists Award, 24th Annual Breast Cancer Symposium in San Antonio, USA.
2000 Promotional Prize of the German Society of Gynecology and Obstetrics.
2000 Young Investigator Scholar Award.
Main Research Focuses
Gynecologic oncology.
Surgical and drug treatment of breast diseases.
Special obstetric services.
Perinatology.
Systemic therapy.
Photo of the doctor: (c) Universitätsklinikum Ulm
---
About hospital
Accommodation in hospital
Ovarian cancer
Program [Description]
Hysterectomy salpingo-oophorectomy lymphadenectomy and hyperthermia for ovarian cancer with extension to the pelvic organs and lymph nodes
Hospital: University Hospital Ulm
Type:
Duration:
Price:
date_range
There are 92 ovarian cancer treatment hospitals on Booking Health website
Show all clinics
Certificates