Chronic lymphocytic leukemia (CLL) diagnosis (program ID:

226555

)
University Hospital Würzburg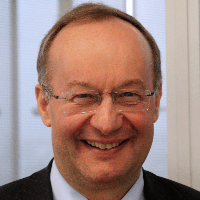 Head Physician
Prof. Dr. med.
Hermann Einsele
Specialized in: gastroenterology, hematology, oncology, hepatology, infectology, rheumatology, clinical immunology
Department of Gastroenterology, Hematology, Oncology, Hepatology, Infectology, Rheumatology and Clinical Immunology
The program includes:
Initial presentation in the clinic
clinical history taking
review of medical records
physical examination
laboratory tests:

complete blood count
general urine analysis
biochemical blood test
inflammation markers (CRP, ESR)
blood coagulation analysis (aPTT, PT, INR)
differential blood count

ultrasound of the abdomen
CT/MRI scan (if clinically indicated, additional cost is 650/1200 €)
aspiration biopsy of bone marrow (if clinically indicated, additional cost is 2500 €)

immunohistochemical study
cytogenetic analysis (Philadelphia chromosome detection)

nursing services
tumor board: consultation of specialists in
hematology, radiology, radiation therapy
treatment by chief physician and all leading experts
explanation of individual treatment plan
Required documents:
Medical records
MRI/CT scan (not older than 3 months)
Bone marrow biopsy results (if available)
Service
Price:
Type of program :
Expected duration of the program:
You may also book:

Price:
About the department
The Department of Gastroenterology, Hematology, Oncology, Hepatology, Infectology, Rheumatology and Clinical Immunology at the university Hospital Würzburg offers the full range of diagnostics and treatment in these fields. The department specializes in the treatment of benign and malignant diseases of the digestive system, liver and bile ducts, the hematopoietic system, etc. Much attention is paid to the interdisciplinary cooperation (Cancer Center Mainfranken, etc.). The Chief Physician of the department is Prof. Dr. med. Hermann Einsele.
The gastroenterological spectrum of the department includes the diagnostics and treatment of all diseases of the digestive organs (esophagus, stomach, small and large intestine, liver, bile ducts and pancreas). The team of the department has a unique experience in the treatment of chronic inflammatory bowel diseases, oncological diseases of the gastrointestinal tract, biliary tract and pancreas. In addition, the department ranks among the leading Centers for Neuroendocrine Tumors in Germany.
In the field of hematology, the department offers the diagnostics and treatment of the entire spectrum of diseases of the blood, hematopoietic and lymphatic systems. The department specializes in the treatment of benign (various types of anemia, thrombocytopenia, neutropenia, accumulation diseases, etc.) and malignant (acute and chronic forms of leukemia, malignant lymphomas, multiple myeloma, plasmacytoma, myelodysplastic syndrome, etc.) diseases. The malignancies are treated within the framework of the Comprehensive Cancer Center Mainfranken.
Another department's focus is hepatology. It provides a competent care for the patients with all acute and chronic diseases of the liver and biliary tract. In particular, the department specializes in the treatment of patients with impaired liver function, as well as with liver and biliary tract tumors. The patients with rare (often hereditary) liver diseases are treated in collaboration with the Center for Rare Diseases of Northern Bavaria.
The service range of the department includes the following options:
Diagnostics and treatment of gastroenterological diseases

Chronic inflammatory bowel diseases (Crohn's disease, ulcerative colitis, etc.)
Complex forms of celiac disease (spru)
Complex forms of pancreatic diseases
Rare immunologically mediated diseases of the digestive tract, biliary tract and pancreas
Suspected cancers of the digestive tract
Planning of atypical or complex endoscopic procedures
Gastrointestinal cancers

Esophageal cancer
Stomach cancer
Bowel cancer
Bile duct cancer
Pancreatic cancer
Other types of gastrointestinal cancer

Neuroendocrine tumors

Diagnostics and treatment of hematological diseases

Benign diseases

Different types of anemia
Platelet count reduction (thrombocytopenia)
Neutropenia
Accumulation diseases (disorders of iron (hemochromatosis) or copper metabolism (Wilson's disease))

Malignant diseases

Acute leukemia (acute myeloid leukemia (AML) and acute lymphoblastic leukemia (ALL))
Chronic leukemia (chronic lymphocytic leukemia (CLL) and chronic myeloid leukemia (CML))
Malignant lymphomas
Multiple myeloma / plasmacytoma
Myelodysplastic syndrome
Myeloproliferative diseases (chronic myeloid leukemia (CML), polycythemia vera (PT), idiopathic myelofibrosis (IMF), essential thrombocythemia (ET), etc.)

Diagnostics and treatment of diseases of the liver, bile ducts (hepatology)

Bile duct diseases
Chronic liver disease
Liver transplantation
Liver tumors
Special diagnostics of liver disease

Diagnostics and treatment of infectious diseases

Chronic viral hepatitis (hepatitis B, C, D)
Other inflammatory liver diseases
Liver cirrhosis of various etiologies
HIV infection
Opportunistic infections

Diagnostics and treatment of rheumatic and immunological diseases

Rheumatoid arthritis
Inflammatory rheumatic diseases of the joints and spine (spondyloarthritis)
Collagenoses
Vasculitides
Immune deficiency syndromes

Other diagnostic and therapeutic options
The patients of the department are provided with comprehensive, interdisciplinary treatment. Along with current conventional methods, in certain cases, doctors also use innovative methods as part of the clinical trials. In the treatment of oncological diseases, there is maintained active cooperation with the Comprehensive Cancer Center Meinfranken. In general, the specialists of the department are proud of the opportunity to offer the very latest achievements of medicine and are constantly working to further improve the treatment methods and schemes.
Curriculum vitae
Education and Professional Experience
1977 - 1980 Study of Medicine at Eberhard Karls University of Tuebingen.
1980 - 1981 DAAD Foundation Fellow, Owen University of Manchester.
1982 Guy's Hospital London.
1984 Examination for a medical certificate (Tuebingen).
1984 Admission to medical practice.
1986 PhD thesis defense, Toxicology Institute Tuebingen (summa cum laude).
1986 Scientific Internship at the Max Planck Institute, Martinsried.
1984 - 1993 Assistant Physician, Department of Internal Medicine II at the University Hospital Tuebingen.
1991 Certified as a General Practitioner.
1992 Research internship at the Fred Hutchinson Cancer Research Center (FHCRC), Seattle.
1993 Senior Physician at the Department of Hematology, Oncology, Rheumatology and Immunology at the University Hospital Tuebingen.
1996 Additional qualification in Hematology and Oncology.
1999 Appointed as an Extraordinary Professor, University of Tuebingen.
2000 Visiting Professor, City of Hope Hospital, Duarte, USA.
2001 Head of the Department, University of Tuebingen.
2003 Visiting Professor, City of Hope Hospital, Duarte, USA.
20004 Head of the Department of Internal Medicine, Julius Maximilian University of Würzburg.
2008 Invitation to the position of the Head of the Department of Internal Medicine III at the Johannes Gutenberg University Mainz (rejection).
2011 - 2015 Deputy Dean of the Faculty of Medicine, Julius Maximilian University of Würzburg.
Since 2015 Vice President of the Julius Maximilian University of Würzburg.
Awards
2003 Van Bekkum Award.
2011 Honorary Fellow of the Royal College of Pathologists (London).
2012 Nobel Lecture, Nobel Committee of the Karolinska Institute.
Since 2014 Member of the Academy of Science and Literature, Mainz.
Positions in Scientific Societies and Institutions
Since 1994 Leadership of the German Multiple Myeloma Research Group (DSMM).
Board Member of the European Network on Multiple Myeloma.
Since 2004 Head of the Working Group on Maintenance Therapy in the European Network of Competent Healthcare Institutions (EuroNet Leukemia).
Since 2011 Member of the Management of the Research Group on Indolent Lymphomas (StiL).
Since 2012 Board Member of the German Network of Healthcare Facilities for Malignant Lymphomas.
2013 - 2016 Member of the European Commission Consortium of the Research Project "T-Control".
Since 2013 Member of the Scientific Council of the Wilhelm Sander Foundation.
Since 2013 Co-Speaker of the Research Network of the Joint Research Center / Transregio 124 (Pathogenic fungi and human carrier organism) of the German Research Foundation.
Since 2015 Member of the Scientific Council of the Medical Faculty of the Friedrich Schiller University Jena.
Since 2018 Co-Speaker of the Research Network of the Joint Research Center / Transregio 221 of the German Research Foundation.
Publications:
Patriarca F, Bruno B, Einsele H, Spina F, Giaccone L, Montefusco V, Isola M, Nozzoli C, Nozza A, Morabito F, Corradini P, Fanin R. Long-Term Follow-Up of a "Donor" Versus "No Donor" Comparison in Multiple Myeloma Patients at First Relapse after Failing Autologous Transplantation. Biol Blood Marrow Transplant. 2017 Oct 12.
Einsele H, Engelhardt M, Tapprich C, Müller J, Liebisch P, Langer C, Kropff M, Mügge LO, Jung W, Wolf HH, Metzner B, Hart C, Gramatzki M, Hertenstein B, Pfreundschuh M, Rösler W, Fischer T, Maschmeyer G, Kanz L, Hess G, Jäger E, Bentz M, Dürk HA, Salwender H, Hebart H, Straka C, Knop S.Phase II study of bortezomib, cyclophosphamide and dexamethasone as induction therapy in multiple myeloma: DSMM XI trial. Br J Haematol. 2017 Sep 29.
Heidrich K, Thiede C, Schäfer-Eckart K, Schmitz N, Aulitzky WE, Krämer A, Rösler W, Hänel M, Einsele H, Baldus CD, Trappe RU, Stölzel F, Middeke JM, Röllig C, Taube F, Kramer M, Serve H, Berdel WE, Ehninger G, Bornhäuser M, Schetelig J Allogeneic Hematopoietic Cell Transplantation in Intermediate Risk Acute Myeloid Leukemia negative for FLT3-ITD, NPM1- or biallelic CEBPA Mutations. Study Alliance Leukemia (SAL). Ann Oncol. 2017 Sep 1.
Richardson P, Roy A, Acharyya S, Panneerselvam A, Mendelson E, Günther A, Lonial S, Einsele H. Treatment-free interval as a metric of patient experience and a health outcome of value for advanced multiple myeloma: the case for the histone deacetylase inhibitor panobinostat, a next-generation novel agent. Expert Rev Hematol. 2017 Oct; 10.
Tsamadou C, Fürst D, Vucinic V, Bunjes D, Neuchel C, Mytilineos D, Gramatzki M, Arnold R, Wagner EM, Einsele H, Müller C, Schrezenmeier H, Mytilineos J. HLA-E mismatch is associated with better hematopoietic stem cell transplantation outcome in acute leukemia patients. Haematologica. 2017 Sep 7.
Hefter M, Lother J, Weiß E, Schmitt AL, Fliesser M, Einsele H, Loeffler J. Human primary myeloid dendritic cells interact with the opportunistic fungal pathogen Aspergillus fumigatus via the C-type lectin receptor Dectin-1. Med Mycol. 2017 Jul 1.
Heinz WJ, Buchheidt D, Christopeit M, von Lilienfeld-Toal M, Cornely OA, Einsele H, Karthaus M, Link H, Mahlberg R, Neumann S, Ostermann H, Penack O, Ruhnke M, Sandherr M, Schiel X, Vehreschild JJ, Weissinger F, Maschmeyer G. Diagnosis and empirical treatment of fever of unknown origin (FUO) in adult neutropenic patients: guidelines of the Infectious Diseases Working Party (AGIHO) of the German Society of Hematology and Medical Oncology (DGHO). Ann Hematol. 2017 Nov Wurster S, Weis P, Page L, Helm J, Lazariotou M, Einsele H, Ullmann AJ. ntra- and inter-individual variability of Aspergillus fumigatus reactive T-cell frequencies in healthy volunteers in dependency of mould exposure in residential and working environment. Mycoses. 2017 Oct.
Wurster S, Thielen V, Weis P, Walther P, Elias J, Waaga-Gasser AM, Dragan M, Dandekar T, Einsele H, Löffler J, Ullmann AJ. Mucorales spores induce a proinflammatory cytokine response in human mononuclear phagocytes and harbor no rodlet hydrophobins. Virulence. 2017 Aug 7.
Ziegler S, Weiss E, Schmitt AL, Schlegel J, Burgert A, Terpitz U, Sauer M, Moretta L, Sivori S, Leonhardt I, Kurzai O, Einsele H, Loeffler J. CD56 Is a Pathogen Recognition Receptor on Human Natural Killer Cells. Sci Rep. 2017 Jul 21.
San-Miguel JF, Hungria VTM, Yoon SS, Beksac M, Dimopoulos MA, Elghandour A, Jedrzejczak WW, Guenther A, Na Nakorn T, Siritanaratkul N, Schlossman RL, Hou J, Moreau P, Lonial S, Lee JH, Einsele H, Salwender H, Sopala M, Redhu S, Paul S, Corrado C, Richardson PG. Panobinostat plus bortezomib and dexamethasone: impact of dose intensity and administration frequency on safety in the PANORAMA 1 trial. Br J Haematol. 2017 Jun 27.
Went M, Sud A, Law PJ, Johnson DC, Weinhold N, Försti A, van Duin M, Mitchell JS, Chen B, Kuiper R, Stephens OW, Bertsch U, Campo C, Einsele H, Gregory WM, Henrion M, Hillengass J, Hoffmann P, Jackson GH, Lenive O, Nickel J, Nöthen MM, da Silva Filho MI, Thomsen H, Walker BA, Broyl A, Davies FE, Langer C, Hansson M, Kaiser M, Sonneveld P, Goldschmidt H, Hemminki K, Nilsson B, Morgan GJ, Houlston RS. Assessing the effect of obesity-related traits on multiple myeloma using a Mendelian randomisation approach. Blood Cancer J. 2017 Jun 16.
Musto P, Anderson KC, Attal M, Richardson PG, Badros A, Hou J, Comenzo R, Du J, Durie BGM, San Miguel J, Einsele H, Chen WM, Garderet L, Pietrantuono G, Hillengass J, Kyle RA, Moreau P, Lahuerta JJ, Landgren O, Ludwig H, Larocca A, Mahindra A, Cavo M, Mazumder A, McCarthy PL, Nouel A, Rajkumar SV, Reiman A, Riva E, Sezer O, Terpos E, Turesson I, Usmani S, Weiss BM, Palumbo A; International Myeloma Working Group. Second primary malignancies in multiple myeloma: an overview and IMWG consensus. Ann Oncol. 2017 May 24.
Lapa C, Herrmann K, Schirbel A, Hänscheid H, Lückerath K, Schottelius M, Kircher M, Werner RA, Schreder M, Samnick S, Kropf S, Knop S, Buck AK, Einsele H, Wester HJ, Kortüm KM. CXCR4-directed endoradiotherapy induces high response rates in extramedullary relapsed Multiple Myeloma. Theranostics. 2017 Apr 8;7(6):1589-1597.
Fuji S, Einsele H, Kapp M. Cytomegalovirus disease in hematopoietic stem cell transplant patients: current and future therapeutic options. Curr Opin Infect Dis. 2017 Aug;30(4):372-376.
Kumar S, Moreau P, Hari P, Mateos MV, Ludwig H, Shustik C, Masszi T, Spencer A, Hájek R, Romeril K, Avivi I, Liberati AM, Minnema MC, Einsele H, Lonial S, Berg D, Lin J, Gupta N, Esseltine DL, Richardson PG. Management of adverse events associated with ixazomib plus lenalidomide/dexamethasone in relapsed/refractory multiple myeloma. Br J Haematol. 2017 May 9.
García-Guerrero E, Gogishvili T, Danhof S, Schreder M, Pallaud C, Pérez-Simón JA, Einsele H, Hudecek M. Panobinostat induces CD38 upregulation and augments the antimyeloma efficacy of daratumumab. Blood. 2017 Jun 22;129(25):3386-3388.
Lapa C, Schreder M, Lückerath K, Samnick S, Rudelius M, Buck AK, Kortüm KM, Einsele H, Rosenwald A, Knop S. [11 C]Methionine emerges as a new biomarker for tracking active myeloma lesions. Br J Haematol. 2017 May 3. doi: 10.1111/ bjh.14696.
Moreau P, San Miguel J, Sonneveld P, Mateos MV, Zamagni E, Avet-Loiseau H, Hajek R, Dimopoulos MA, Ludwig H, Einsele H, Zweegman S, Facon T, Cavo M, Terpos E, Goldschmidt H, Attal M, Buske C; ESMO Guidelines Committee. Multiple myeloma: ESMO Clinical Practice Guidelines for diagnosis, treatment and follow-up. Ann Oncol. 2017 Apr 27.
Etc.
Photo of the doctor: (c) Universitätsklinikum Würzburg
---
About hospital
Accommodation in hospital
Chronic lymphocytic leukemia (CLL)
Program [Description]
Chronic lymphocytic leukemia (CLL) diagnosis
Hospital: University Hospital Würzburg
Type:
Duration:
Price:
date_range
There are 63 chronic lymphocytic leukemia (cll) diagnostic hospitals on Booking Health website
Show all clinics
Certificates