Treatment of lung cancer by radiation therapy (program ID:

300508

)
University Hospital Würzburg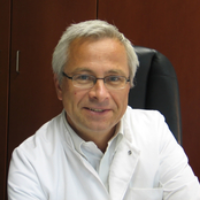 Head Physician
Prof. Dr. med.
Michael Flentje
Specialized in: radiation therapy
Department of Radiation Therapy
Program includes:
Initial presentation in the clinic
clinical history taking
physical examination
review of medical records
laboratory tests:

complete blood count
general urine analysis
biochemical analysis of blood
TSH-basal, fT3, fT4
tumor markers
indicators of inflammation
indicators blood coagulation

CT/MRI of the abdomen and chest
ultrasound/ x-ray examination
conducting radiotherapy
symptomatic treatment
the cost of essential medicines and materials
nursing services
control examinations
explanation of future recommendations
Price:
Type of program :
Expected duration of the program:
You may also book

Price:
About the department
According to the Focus magazine, the Department of Radiation Therapy at the University Hospital Würzburg is included in the ranking of the top German department specializing in radiation therapy!
The department offers all types of modern radiation therapy for the treatment of cancers. The competent medical team of the department annually provides its services to 2,000 patients. The department is headed by Prof. Dr. med. Michael Flentje.
The department is part of the Comprehensive Cancer Center Mainfranken, so the treatment is carried out in collaboration with the specialists from related fields, in accordance with an individually developed treatment strategy. The type and dose of radiation depends on the type of tumor and the degree of its spread. The cutting-edge technical equipment of the department allows doctors to carry out the most accurate irradiation of the pathological area, without exposing the negative effects of ionizing radiation to healthy tissues. In the case of terminal cancer, patients are also offered a special type of radiation therapy, which is used as palliative care to relieve pain and improve the quality of a person's life.
The therapeutic options of the department include:
Teletherapy (external irradiation)

Intensity modulated radiation therapy (IMRT) and rotational volume-modulated irradiation (VMAT)
Imaging-guided radiation therapy (IGRT)
Stereotactic irradiation and radiosurgery
Total body irradiation
Combined radiochemotherapy

Brachytherapy (internal irradiation)

Afterloading technique
Seed brachytherapy for prostate cancer treatment
Intraoperative radiation therapy for breast cancer

3D conformal radiation for therapy planning
Other types of radiation therapy
---
About hospital
Accommodation in hospital
Lung cancer
Price:
Program [Description]
Treatment of lung cancer by radiation therapy
Hospital: University Hospital Würzburg
Type:
access_time Duration:
date_range
There are 49 lung cancer treatment hospitals on Booking Health website
Show all clinics
Certificates