University Orthopedic Hospital Hannover-Annastift MHH
Department of Shoulder and Knee Surgery, Sports Orthopedics (

414317

)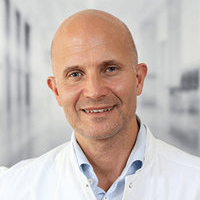 PD Dr. med.
Tomas Smith
Specialized in: shoulder and knee surgery, sports orthopedics
About the department
The Department of Shoulder and Knee Surgery, Sports Orthopedics at the University Orthopedic Hospital Hannover-Annastift MHH offers the full range of services in this fields. It uses the most modern treatments, high-quality endoprostheses of famous world manufacturers, which, in combination with the rich clinical experience and professionalism of doctors guarantees the optimal result. In addition, the department treats sports injuries of varying severity. The Chief Physician of the department is PD Dr. med. Tomas Smith.
The department's range of services includes:
Shoulder surgery

Special methods of shoulder replacement surgery (for example, application of an inverse endoprosthesis, joint surface replacement, etc.)
Operations to replace joint with implants that have an anatomical shape (partial and total joint replacement)
Revision shoulder joint replacement
Rotator cuff reconstruction
Stabilization of the shoulder and other joints
Surgical treatment of shoulder impingement syndrome
Treatment of forearm calcification
Other services

Knee surgery

Reconstructive interventions on a cruciate ligament
Meniscus stabilization
Meniscus replacement
Substitution therapy for cartilage lesions (for example, cellular therapy, HemiCAP)
Patella stabilization
Corrective osteotomy
Implantation of sliding prostheses
Total and partial knee replacement
Other services

Treatment of sports injuries of the musculoskeletal system
Other therapeutic options
Photo of the doctor: (c) DIAKOVERE Annastift
Department of Shoulder and Knee Surgery, Sports Orthopedics.
University Orthopedic Hospital Hannover-Annastift MHH:

Request more information now.
We will be happy to answer all your questions.
---