Ankle arthroscopy to treat ankle instability (program ID:

594492

)
Vitos Orthopedic Clinic Kassel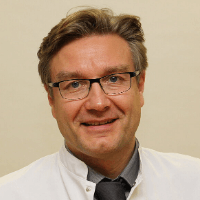 Head Physician
Prof. Dr. med.
Guido Heers
Specialized in: adult and pediatric general orthopedics, trauma surgery
Department of Adult and Pediatric General Orthopedics, Trauma Surgery
Program includes:
Initial presentation in the clinic
clinical history taking
physical examination
review of medical records
laboratory tests:

complete blood count
general urine analysis
biochemical analysis of blood
TSH-basal
indicators of inflammation
indicators blood coagulation

ultrasound of the ankle
MRI scan of the foot
X-Ray of the foot
preoperative care
arthroscopic ankle surgery
symptomatic treatment
control examinations
physiotherapeutic procedures
the cost of essential medicines and materials
nursing services
full hospital accommodation
explanation of future recommendations
Required documents
Medical records
X-ray examination, MRI/CT scan (if available)
Service
Price:
Type of program :
Expected duration of the program:
You may also book

Price:
About the department
The Department of Adult and Pediatric General Orthopedics, Trauma Surgery at the Vitos Orthopedic Clinic Kassel offers the full range of diagnostics and treatment of musculoskeletal pathologies. The specialization covers joint replacement surgery, foot and hand surgery, shoulder surgery, treatment of rheumatic joint lesions, treatment of injuries, sports orthopedics, treatment of orthopedic problems in children and adolescents, as well as pain therapy. The key to successful clinical practice is the highest professionalism and unique experience of the department's medical team combined with the very latest infrastructure and advanced equipment. The department is headed by Prof. Dr. med. Guido Heers. The doctor has performed many successful surgical interventions and saved many lives.
One of the main focuses of the department's work is joint replacement surgery. The department is a certified Maximum Care Endoprosthetics Center (EPZmax). The therapeutic options include joint knee, hip, shoulder, elbow, ankle endoprosthetics, as well as artificial replacement of the joints of the fingers and toes. The department's doctors mostly have to deal with the treatment of pathologies of the knee and hip joints. In general, the department's surgeons annually perform more than 1,200 joint replacement surgeries.
The focus of the department's medical team is always the patient with his individual needs. The comprehensive diagnostics using innovative computerized systems precedes the selection of the treatment method. According to the diagnostic results, the individual optimal treatment tactics are developed. It is worth noting that almost 100% of joint replacement surgeries are successful in the department. First of all, the use of modern sparing minimally invasive techniques contributes to this. In 1998, the department created a database of replacement surgeries in order to assess the quality of implanted artificial joints and patient's satisfaction. Nearly twenty years of researches and experience confirm that the prosthesis displacement, its premature wear and other problems with implanted joints in the department are practically excluded.
Another important field of ​​the department's work is foot surgery. For the treatment of foot problems, the specialized doctors have in their arsenal many surgical and conservative techniques. The most common pathologies in this field include hallux valgus, arthrosis of the big toe, claw and hammer toes, pain and metatarsal fractures, ankle arthrosis, ankle fractures, heel spur, etc.
The tasks of the department's doctors also include the treatment of chronic and acute sports injuries. The specially trained doctors take care of professional athletes and amateurs. Along with conventional diagnostic tests (classic X-ray, ultrasound scan, computed tomography), magnetic resonance imaging can also be performed. The department uses open MRI. Its advantage is a more accurate functional assessment of the damaged part of the body. The department offers all conservative and surgical methods for the treatment of sports injuries. The modern simulators in the department allow to perform highly effective therapeutic trainings. They are sufficient for the treatment of chronic sports injuries and recovery from surgical interventions. The therapeutic exercises are supplemented by balneo-physical procedures, therapeutic exercises, as well as physiotherapeutic procedures (for example, shockwave therapy). If surgery is required, preference is given to minimally invasive operations, in particular arthroscopic interventions. The department also applies the most advanced surgical techniques, including neuronavigation using computerized systems, robot-assisted and laser surgery.
Since the diseases and injuries of the musculoskeletal system in most cases cause severe pain, the department provides high-quality pain therapy. Once the cause of pain is detected, the doctor will prescribe the most appropriate treatment regimen for the patient. Anesthesia is usually based on medications, physiotherapy and occupational therapy. The interventional procedures can also be performed. These include X-ray- or CT-guided administration of painkillers. In some cases, it is possible to alleviate the patient's condition using special corsets and bandages. In chronic pains, the specialists develop a multimodal concept of pain therapy for the patient.
An important focus of the department's clinical activities is the treatment of orthopedic diseases in children of all age groups. The young patients are treated by a specially trained team of experts who are well aware of the features of a growing organism and the needs of children. One of the key tasks is the treatment of pediatric hip diseases, particularly, hip dysplasia. The competence also includes the treatment of Perthes disease, slipped capital femoral epiphysis, foot deformities (for example, clubfoot or hallux valgus), axial deformations of the lower limbs and rotational deformities (for example, X-shaped and O-shaped deformities).
The department's range of medical services includes:
Joint replacement surgery (minimally invasive techniques)

Knee replacement surgery
Hip replacement surgery
Shoulder replacement surgery
Elbow replacement surgery
Ankle replacement surgery
Replacement surgery of the joints of fingers and toes

Foot surgery

Conservative treatment of stiffness in foot movements using physiotherapy and occupational therapy
Correction of foot deformities
Surgical and conservative treatment of foot fractures
Treatment of toe deformities (for example, hallux valgus, claw toes)
Minimally invasive treatment of compression syndromes (tarsal tunnel syndrome)
Ankle replacement surgery
Arthroscopic ankle interventions (for example, removal of free bodies)
Cartilage implantation (osteochondritis dissecans)
Corrective interventions on the tendons
Treatment of arthrosis (for example, hallux rigidus)
Forefoot and hindfoot surgery

Hand surgery

Conservative treatment of stiffness in hands using physiotherapy and occupational therapy
Treatment of arthritis in the fingers
Treatment of arthritis of the thumb saddle joint
Minimally invasive treatment of compression syndromes (carpal tunnel syndrome)
Replacement of joints of the fingers and hands
Arthroscopic interventions on the wrist joint

Elbow surgery

Muscle repair and correction of damaged elbow tendons
Reconstruction of fresh and old fractures
Conservative treatment using physiotherapy and occupational therapy (tennis elbow)
Minimally invasive treatment of compression syndromes (carpal tunnel syndrome)
Surgical treatment of epicondylitis
Arthroscopic removal of free bodies from the joint (minimally invasive surgery)
Shoulder replacement surgery (individually manufactured prosthesis), including in complex clinical cases
Replacement of prostheses (revision and septic arthroplasty)

Hip surgery

Joint-preserving interventions
Arthroscopic hip interventions
Sparing minimally invasive interventions
Partial or total hip replacement surgery, including in particular complex clinical cases
Hip revision surgery
Treatment of hip fractures
Cartilage transplantation/implantation

Knee surgery

Conservative therapy
Joint-preserving interventions
Arthroscopic knee interventions
Minimally invasive knee surgery
Partial or total knee replacement surgery, including in complex clinical cases
Knee revision surgery
Joint replacement surgery in knee oncological lesions
Knee ligament replacement (for example, cruciate ligament plastic surgery)
Anatomical reconstructions in patellar instability
Treatment of fractures in case of knee lesions
Cartilage transplantation/implantation

Shoulder surgery

Conservative treatment (for example, drug pain therapy, ultrasound-guided targeted injection therapy)
Individual physiotherapy
Minimally invasive surgery
Reconstructive interventions for injuries of the shoulder muscles and tendons
Stabilizing interventions
Treatment of compression syndromes
Treatment of fracture with shoulder joint lesion
Implantation of cartilage tissue or cartilage stem cells
Shoulder replacement surgery (individually manufactured prosthesis), including in complex clinical cases
Joint revision interventions

Diagnostics and treatment of joint and bone lesions in rheumatic diseases

Hand and foot interventions, including minimally invasive ones
Replacement of all large and small joints, including complex injuries and axial defects
Treatment of small joint arthritis using "bioprostheses"
Clinical and laboratory diagnostics of inflammatory rheumatic systemic diseases
Local treatment of affected joints by means of cortisone injections
Infusion procedures using basic biological medicines
Inpatient treatment of patients with rheumatism caused by severe concomitant diseases (for example, diabetes mellitus)
Selection and recommendations for the use of orthoses
Treatment of osteoporosis

Orthopedic sports medicine

Treatment of tendinitis
Treatment of tendon injuries caused by excessive physical activity
Treatment of muscle tears
Treatment of tendon tears
Treatment of fractures caused by excessive physical activity
Treatment of cartilage tissue injuries caused by excessive physical activity

Trauma surgery

Care in acute pain syndromes
Accidents at work and at school
Bone fractures
Joint injuries
Paralysis, loss of sensation
Postoperative complications
Sports injuries

Pain therapy

Drug pain therapy
Electrotherapy
Physiotherapy
Manual therapy
Acupuncture
Use of special corsets and bandages
Therapeutic local anesthesia
Shock wave therapy
Psychological care, including relaxation techniques, sensorimotor trainings
Qigong exercises
Radiofrequency therapy
Exercises on special simulators

Pediatric orthopedics

Diagnostics and treatment of hip diseases

Ultrasound hip scan in infants
Ultrasound-guided treatment of hip dysplasia
Treatment of hip dysplasia using a special splint
Clinical and X-ray examinations for monitoring of health condition in young children with hip dysplasia

Diagnostics and treatment of foot deformities

Clubfoot
Ponseti method
Planovalgus foot deformity

Diagnostics and treatment of axial and rotational deformities of the lower limbs
Surgical correction, including minimally invasive techniques

Other medical services
Curriculum vitae
After studying Human Medicine at the Ruhr-University Bochum, Prof. Heers underwent training in Orthopedics and Traumatology. In addition, he spent a year at the Mayo Clinic in the United States, where he was engaged in research. After returning to Germany, Dr. Heers had his board certification in Orthopedics and Traumatology. In 2009, he held the post at the Center for Rheumatology in Bad Abbach (at that time the center worked under the patronage of the Bavarian Red Cross). Now the center is called Asklepios Hospital Bad Abbach. While working in the hospital, Dr. Heers also worked for eight months as a Trauma Surgeon at the Brothers of Mercy Hospital in Regensburg.
On January 1, 2018, Prof. Heers held the position of Chief Physician of the Department of Adult and Pediatric General Orthopedics, Trauma Surgery at the Vitos Orthopedic Clinic Kassel. In addition, he is authorized to conduct advanced training courses in Orthopedics, Traumatology and Special Orthopedic Surgery.
Additional Qualifications
Hand surgery.
Sports medicine.
Special orthopedic surgery.
Orthopedic traumatology.
Photo of the doctor: (c) Vitos Orthopädische Klinik Kassel
---
About hospital
Accommodation in hospital
Ankle instability
Program [Description]
Ankle arthroscopy to treat ankle instability
Hospital: Vitos Orthopedic Clinic Kassel
Type:
Duration:
Price:
date_range
There are 70 ankle instability treatment hospitals on Booking Health website
Show all clinics
Certificates