Vivantes Auguste-Viktoria Hospital Berlin
Department of Urology (

332387

)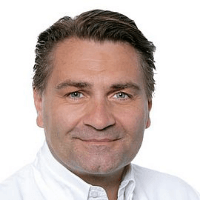 Dr. Dr. h.c.
Mario Zacharias
About the Department of Urology at Vivantes Auguste-Viktoria Hospital Berlin
The Department of Urology at the Vivantes Auguste-Viktoria Hospital treats the whole spectrum of urological diseases. One of the key areas of specialization is the diagnosis and treatment of prostate, bladder and kidney tumors with the minimally invasive methods. The Center for Prostate Diseases is the foremost institution of specialized medical care for cancer and other prostate diseases. The head of the department is Dr. Dr. h.c. Mario Zacharias.
An important direction of the department`s activity is the Urology Laser Center Berlin (ULZB). Since 1998, it conducts holmium laser enucleation of the prostate gland (HoLEP) - an innovative method of treating benign tumors of the prostate, which helped many patients to achieve good results. In the field of this method, the Department of Urology at the Vivantes Auguste-Viktoria Hospital is a European leader.
Also much attention is paid to the surgical treatment of malignant bladder tumors. The whole range of operational methods to treat malignant bladder tumors is offered here - from surgical removal of tumors through the urethra (transurethral resection, TUR of the bladder) to more complex removal of the bladder followed by the formation of an artificial bladder (orthotopic artificial bladder in men and women, the Mainz- Pouch) or reservoir (from the site of the ileum). In other words, all common surgical urological interventions are performed at the department.
Clinical directions are:
Radical removal of the prostate
Laparoscopic (partial) kidney removal
Treatment of benign prostate enlargement with HoLEP
Plastic reconstructive urological operations
Surgeries for malignant bladder tumors
Treatment of testicular cancer
Photo of the doctor: (c) Vivantes - Netzwerk für Gesundheit GmbH
Department of Urology.
Vivantes Auguste-Viktoria Hospital Berlin:

Request more information now.
We will be happy to answer all your questions.
---